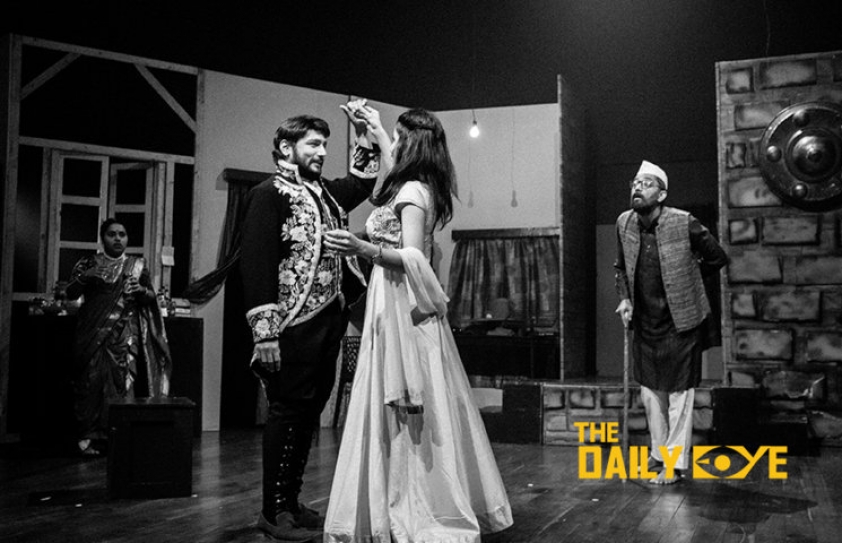 War of Words
by Deepa Gahlot
August 2 2018, 6:45 pm
Estimated Reading Time: 2 mins, 31 secs
Though many of his plays have been absurd or surreal, Makrand Deshpande wanted to experiment with an all-out farce, and what invites ridicule more than an Indian wedding? However, it is not like Deshpande to be predictable, so the idea of the grand wedding goes off the rails quite fast and into another direction altogether, without sacrificing the humour or an internal logic of its own.
Epic Gadbad is his 50th play, an irreverent comedy that grew out of his 2016 play, Shakespearecha Mhatara, in which had turned King Lear on its head. Some parts of the set and props of the earlier play also find themselves in the new one.
Epic Gadbad (manishmansinh.com)
A young woman, Aarti (Akanksha Gade) wants a historical wedding, and so her mother (Madhuri Gawali), uncle Mamaji (Sanjay Dadich) and a sharp-tongued odd job man Babya (Bharat More) await the arrival of descendant of the Peshwa (Ajay Kamble) to arrive on his horse Bijlee. But Shakespeare (Ninad Limaye) arrives instead to have a duel of words with the playwright Deshpande, at Prithvi Theatre (the play's assistant director Tushar Ghadigaonkar, makes a brief appearance in a curly wig, playing a younger Makrand Deshpande, getting the voice and gestures down pat).
Nothing is what it seems, like so many of Deshpande's plays, there is no linear narrative or even a straightforward progression of events. It is actually happening, or it a play within a play? Why does Mamaji, who insists he has the main part, make a farewell speech and reappear as another character? But the actors seem in on the jokes, and the play has a delightful improvised quality to it, which can only be arrived at if the scenes and lines are actually ad-libbed, or the actors have rehearsed so rigorously that they appear effortless.
Makrand Deshpande (bhawanasomaaya.com)
However, the problem with a play like Epic Gadbad—enjoyable though it is—that it has too much of the kind of humour only those who are familiar with the playwright-director's work, and the Prithvi Theatre ethos would get. Take it out of this natural habitat to an audience not made up of those in the know, and they would be completely bewildered. Not that it has ever prevented Deshpande from writing the kind of plays that cannot be easily slotted. So, most of the time he directs his own plays, and his draft remains a work of progress during the rehearsal process, and he keeps tweaking it till the last minute. Not many of his plays have been published, but one suspects they won't make much sense on a page; it's only when they reach the stage do the disparate ideas he flings up fall together with a fluidity that cannot always be pre-determined or controlled. That's the fun of watching a Makrand Deshpande play and it is an acquired taste.