The peerless entertainer
by Dhruv Somani
March 14 2021, 12:00 am
Estimated Reading Time: 9 mins, 16 secs
Film historian Dhruv Somani, pays tribute to Nasir Hussain, wizard of the undervalued romantic musicals of Bollywood.
Nasir Hussain commenced making films during the era of the greats: Mehboob Khan, Guru Dutt, Bimal Roy, V. Shantaram, Raj Kapoor, B.R. Chopra and Yash Chopra. Yet Nasir Husain had his own legible as a master of unalloyed entertainment.
His oeuvre was targeted at the teenagers and budding lovers, and not for the classes or the critics. His films were modern with a westernized touch. His song sequences spelt style and grandeur and were known for their feather-light imaging. He was fond of staging picnic scenes, would weave in light banter between the hero and the heroine, and would add a comedy track, quite often with the funster Rajendranath.
Around the late 1940s and the '50s, the Bombay film industry was ruled by the studio system: actors, directors, music composers and other technicians worked for specific studios. The scenario was dominated by Bombay Talkies, Ranjit Studios, New Theatres, Prabhat Studio and Filmistan Studios founded in the 1940s by Sashadhar Mukherjee (S. Mukherjee) in partnership with Ashok Kumar, Rai Bahadur Chunilal (father of Madan Mohan) and Gyan Mukherjee. Filmistan's first film Chal Chal Re Naujawan (1944) headlining Ashok Kumar was a resounding success.
Mukherjee with a reputation of spotting talent often gave opportunities to newcomers to prove their mettle. Nasir Hussain, who hailed from Bhopal, started his journey as a writer for Filmistan's Chandni Raat (1949) after which he became a regular writer for the studio where he was given opportunities to interact with technicians and worked towards becoming an independent director.
The films, which Nasir Husain wrote for Filmistan were the hits Anarkali (1953), Munimji (1955) and Paying Guest (1957). Although Nasir Hussain and Subodh Mukherjee jointly made Paying Guest, it marked his first go at independent writing. He was credited for its screenplay and dialogue after which he ventured into making breezy entertainers that guaranteed house-full shows.
Quite amazingly, he regurgitated the story of Tumsa Nahin Dekha in all his subsequent films with minor twists and turns. He would cast camera-friendly actors, use scenic hill towns as his locations and possessed an intuitive sense for extracting melodious music from his composers. This, in fact, became his success mantra.
Here's valuing Nasir Hussain's long and estimable journey in the domain of Bollywood entertainment.
Tumsa Nahin Dekha (1957)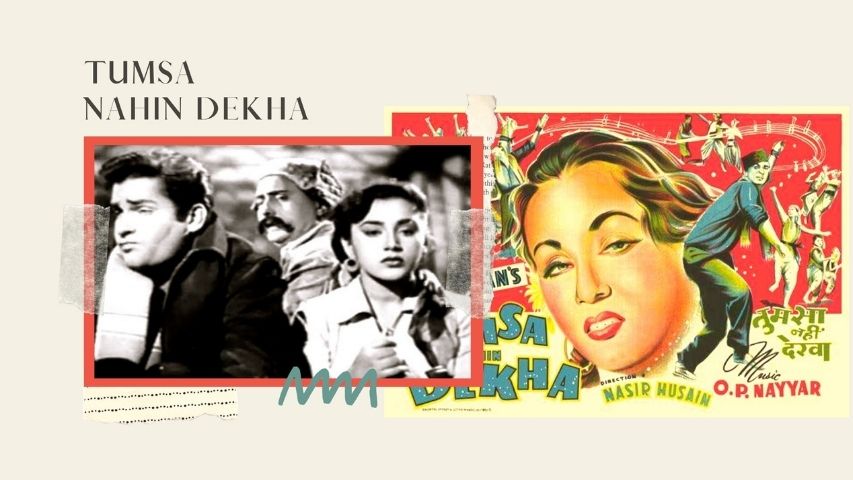 He had already written its script but could not give a narration to his mentor S. Mukherjee who was unwell then and had travelled to London for medical treatment. On the recommendation of his mentor's brother, Subodh, he narrated the script to Filmistan's Tolaram Jalan who liked what he heard but was doubtful about Hussain's capabilities as a director and grudgingly assigned him a shoestring budget.
Originally, Dev Anand was chosen as the hero but he wasn't keen to team up with the upcoming Ameeta. S. Mukherjee suggested the name of Shammi Kapoor, who changed his look and style of acting. Result: an instantaneous hit, highlighted by the spirited performance of Shammi Kapoor and the chartbusting music score by O.P. Nayyar.
Dil Deke Dekho (1959)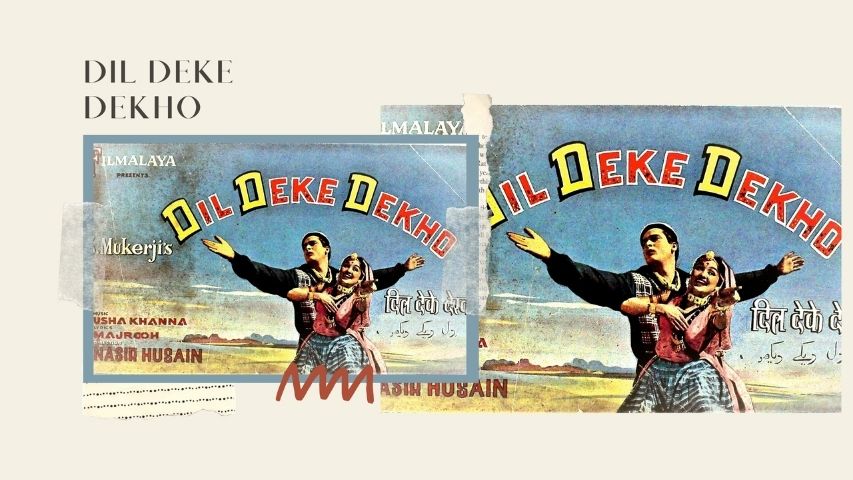 Shammi Kapoor was keen to work again with the director when Dil Dekhe Dekho was being planned. The snafu was to find a suitable heroine. Though Shammi Kapoor was keen on Nutan, it was felt that a fresh face would make for better casting. Hussain had seen the screen test of a newcomer who was also signed for Goonj Uthi Shehnai (1959) but was dropped by its director Vijay Bhatt after shooting for two days and replaced with Ameeta.
The newcomer who was eventually penciled was none other than Asha Parekh. Sadhana had also been considered for the same role but R.K. Nayyar requested Nasir Husain to excuse her, since he was introducing her in Love in Simla.
Dil Deke Dekho was a bigger hit than Tumsa Nahin Dekha and is a template for romantic musicals. Usha Khanna composed its snappy score.
Jab Pyar Kisise Hota Hai (1961)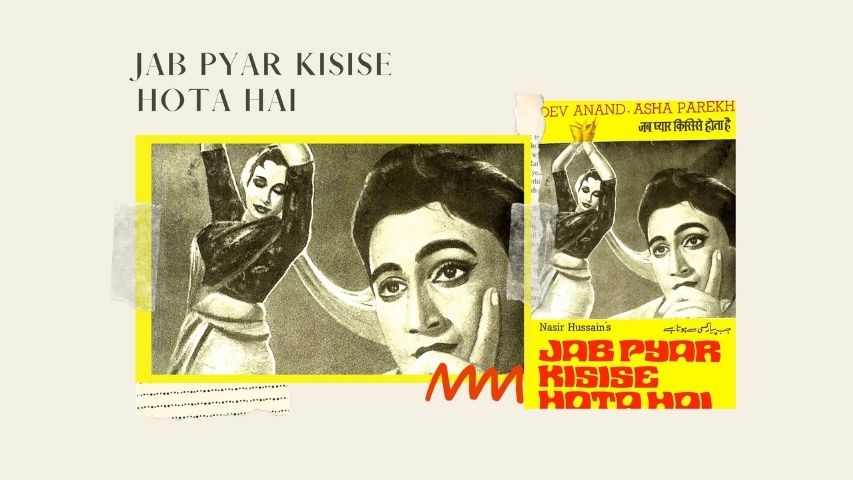 Next, Nasir Hussain established his independent banner N.H. Films and launched Jab Pyar Kisise Hota Hai. Finally, Dev Anand came on board opposite Asha Parekh who had become a huge star. She was the director's favorite; dependable and hardworking. Pran was cast as the ruthless villain. The musical score by Shankar-Jaikishen was a money-spinner at the record shops.
Phir Wohi Dil Laya Hoon (1963)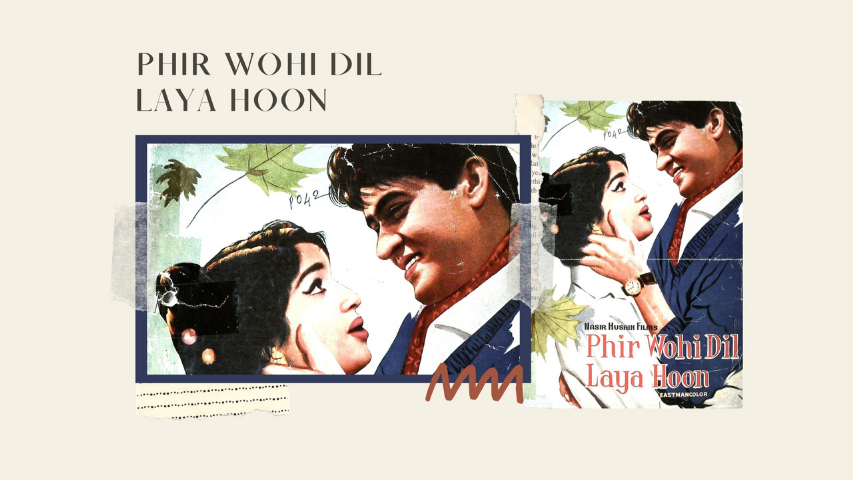 With the '60s, color films became the norm. For this ageless entertainer, Joy Mukerjee was paired with Asha Parekh and O.P. Nayyar returned to compose the music. The end result was yet another monster hit.
On the anvil then were two films, the offbeat Baharon ke Sapne set in the slums in black-and-white, which he directed himself with Asha Parekh and the rising superstar Rajesh Khanna. It didn't click and the tragic end was altered but to no avail. However, its music by R.D. Burman continues to be on playlists today.
The other one - the iconic murder mystery Teesri Mazil (1966), was helmed by Vijay Anand and hasn't dated even decades later. Premnath was the suave baddy, while Shammi Kapoor and Asha Parekh were in the lead. Initially, Dev Anand was to play the hero but after an acrimonious argument between the actor and the director, Shammi Kapoor stepped in willingly. Script-writer Salim Khan as Rocky, the club drummer, featured in one of his most recallable roles in this slick whodunit.
Baharon ke Sapne (1967)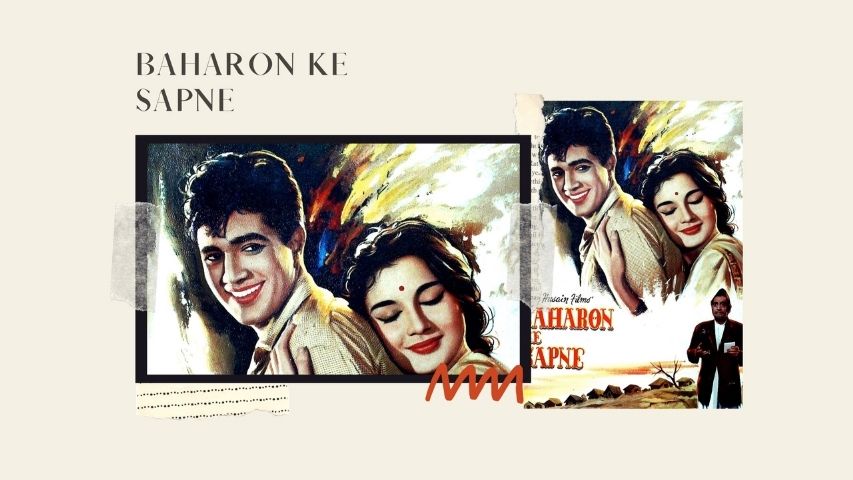 To return to the director's most unusual work, he signed a relative newcomer Rajesh Khanna opposite Asha Parekh. At the outset the heroine's role was offered to Nanda. The extra-busy Asha Parekh was already doing Teesri Manzil and had date issues, which were sorted out. This was his dream project and its commercial failure was a disappointment. Unbeknownst to many, Husain had a serious side to him. In fact, the film was inspired by a prize-winning short story published in an Urdu magazine Aaj Kal, written by Nasir Husain during his college days. It was Baharon Ke Sapne, which impressed Shakti Samanta who signed on Rajesh Khanna for Aradhana, which made the actor a national craze.
Pyar ka Mausam (1969)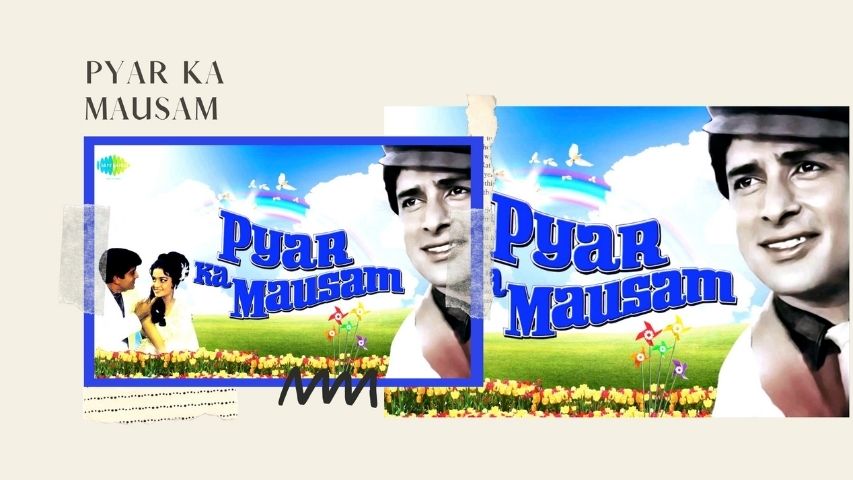 Hussain decided never to attempt a downbeat, socially concerned theme again and returned to his success formula. He launched Pyar Ka Mausam immediately, a rehashed version of his Jab Pyar Kisise Hota Hai but by now the lost-and-found theme had been overdone - explains why it just about did average business at the box office. Featuring Shashi Kapoor, Asha Parekh, Bharat Bhooshan and Nirupa Roy, its music by R.D. Burman was exceptional.
Caravan (1971)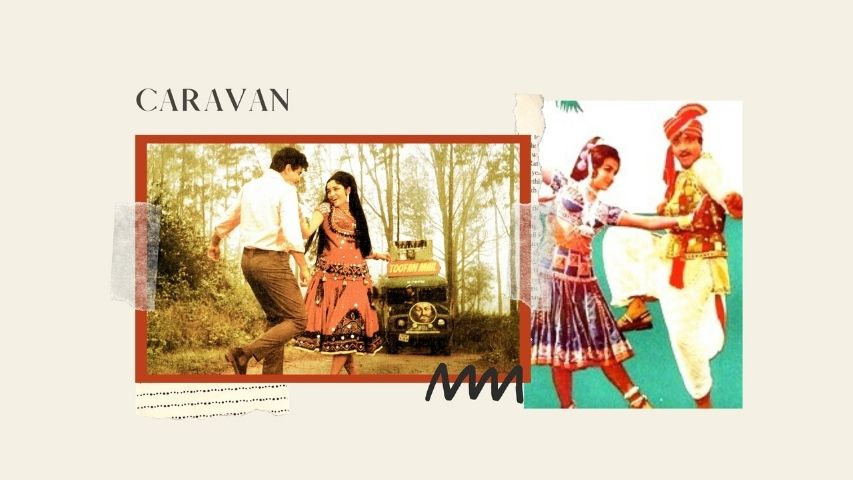 A one of its kind of road movie, its attractive ingredients included characters of gypsies, colorful sets and R.D. Burman's infallibly superb music. It showcased 'Jumping Jack' Jeetendra opposite Asha Parekh, with Aruna Irani in a scene-stealing supporting part. According to Ms. Parekh, Caravan was based on the book Paprika. Guru Dutt wanted to make a film based on the book with Asha Parekh. When Guru Dutt canned the project, she passed on the book to Nasir Hussain who used its plot premise for the screenplay. Hussain had been advised to replace R.D. Burman but he stuck to Panchamda. Indeed, the film's biggest draw proved to be its music soundtrack. Incidentally, this was the director's last film with Asha Parekh as the heroine, who continued to appear in the supporting ensemble in his later works.
Yaadon ki Baaraat (1973)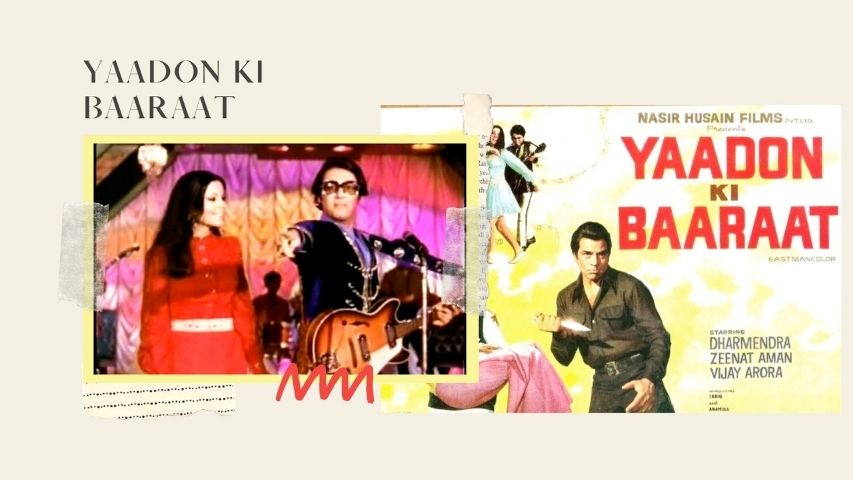 Here's a blockbuster, which hasn't dated. Essentially a revenge drama infused again with the lost-and-found formula, here was an uncomplicated story about the reunion of three separated brothers. It brought back Bombay city to the fore and its hotel ballrooms became the staple villain's den.
A multi-starrer, it flagged off a trend, which was waiting to emerge. As told to me by Zeenat Aman, Hussain cast her opposite newcomer Vijay Arora after having seeing her walking and sipping coconut water at the Frederick Hotel in Mahableshwar. The director's nephew Tariq Khan made his debut and so did Jayshree Khosla as Anamika in a brief part opposite the star of the show Dharmendra.
R.D. Burman delivered young, inventive sound; the songs still remain fresh and define Bollywood music. This film, among my personal favorites, I have seen numerous times.
Hum Kisise Kum Nahin (1977)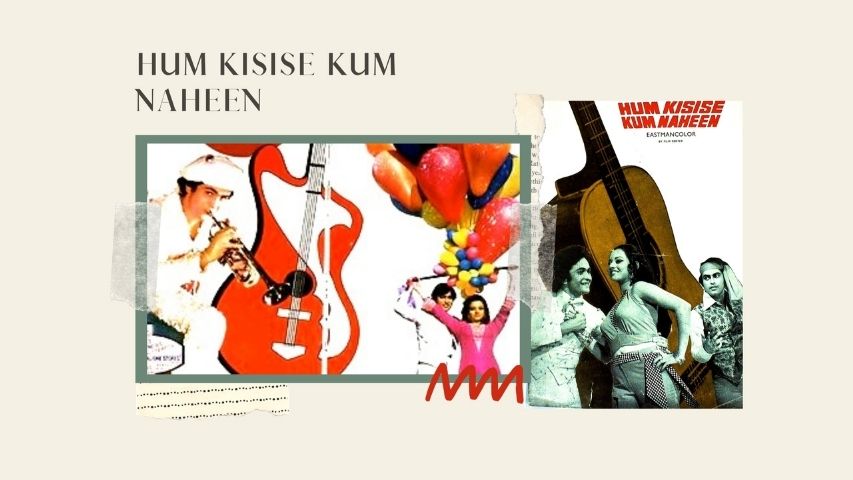 This was woven around music and lover boys. Rishi Kapoor and Tariq were cast opposite Sunita Kulkarni who was renamed as Kaajal Kiran. Like most of Husain's films, this one too had longish multiple song-and-dance sequence which had become extremely popular. Rishi Kapoor was paired for the first and only time opposite the sassy Zeenat Aman, both were in top form during the title qawwali number. And the song Yeh Ladka Hai Allah showed Kaajal Kaajal levitating in the sky with big air balloons, which went on to be imitated frequently by locals.
Zamane Ko Dikhana Hai (1982)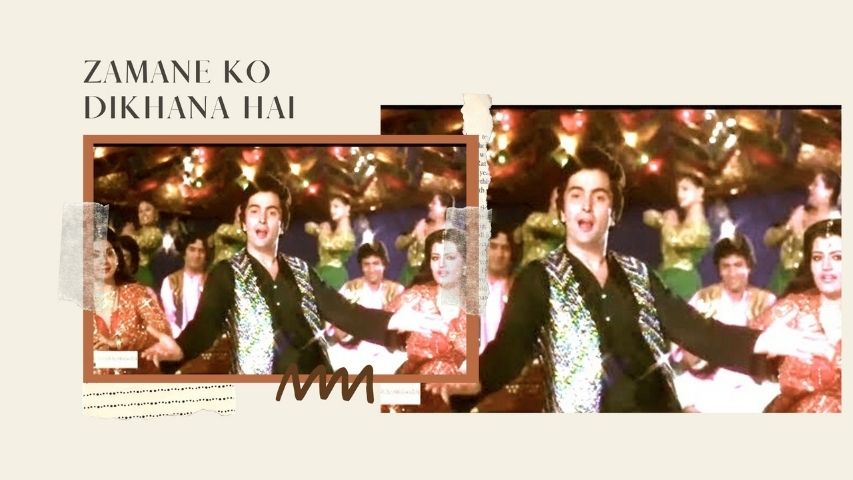 Much before Chal Chaiyya Chhaiyya (Dil Se), Zamane Ko Dikhana Hai featured a song on the top of a train - Hoga Tumse Pyaara Kaun picturised on Padmini Kolhapure and Rishi Kapoor. Although well made, bankable and embellished by the magical music of R.D. Burman, it flopped at the ticket counters.
Just before this, Hussain had suffered a major setback because of scrapping Zabardast, a multi-starrer with Dilip Kumar opposite Asha Parekh, Dharmendra opposite Zeenat Aman, Rishi Kapoor opposite Tina Munim, Raj Kiran opposite Kaajal Kiran and with Amjad Khan as the main villain. Reason: it is said Dilip Kumar, after shooting for a few reels, wanted some changes in the script that the director rejected firmly.
Manzil Manzil (1984)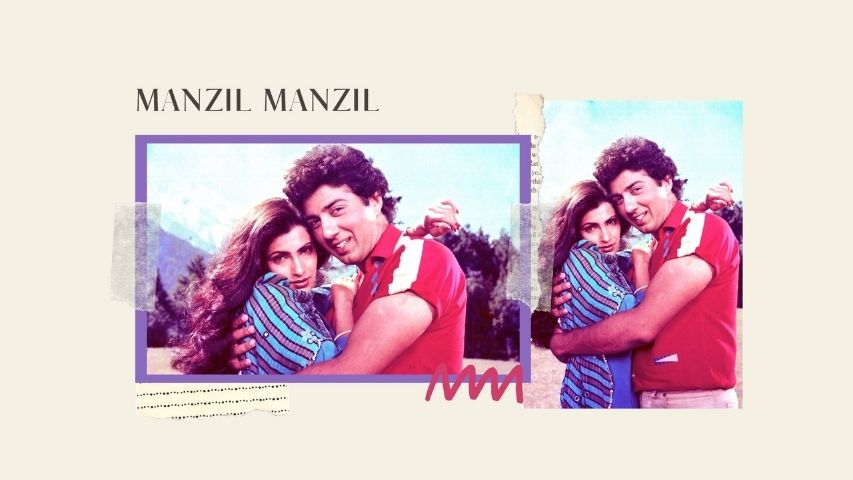 Rishi Kapoor avoided the project - Sunny Deol, who was on the ascent after his debut, Betaab (1983), replaced him. Dimple Kapadia was penciled in as the heroine. But the film tanked as tastes were changing in favor of action dramas. Moreover video piracy had become rampant. Even its music score by Panchamda couldn't save this love story from becoming a downer.
Zabardast (1985)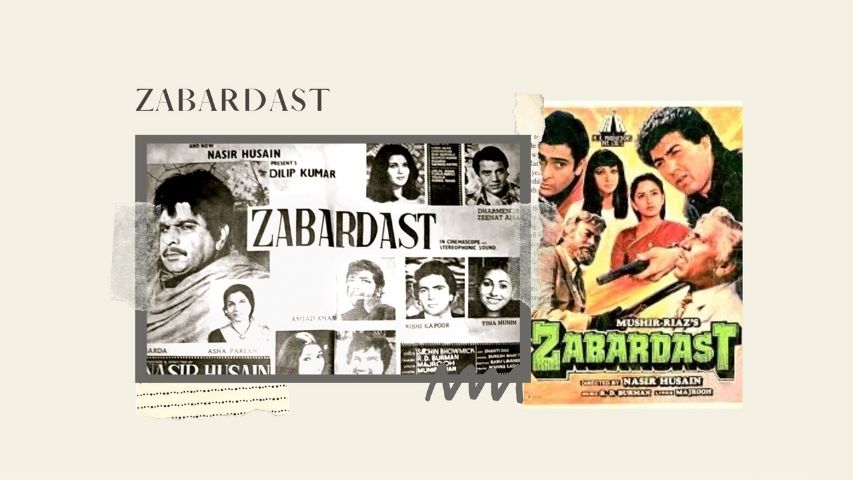 He retained the title Zabardast, although the script was changed considerably for a project with Sanjeev Kumar, Rajiv Kapoor, Sunny Deol, Jaya Prada and Rati Agnihotri. Produced by Mushir-Riaz, the film's music couldn't set off a buzz as R.D. Burman was going through a low phase.
Nasir Hussain quit as a director but did write Qayamat se Qayamat Tak on the lines of a modern-day Romeo and Juliet. Directed by his son Mansoor Khan, it introduced his nephew Aamir Khan opposite Juhi Chawla. The outcome was a stupendous hit. After QSQT, he wrote Jo Jeeta Wohi Sikandar for Mansoor Khan, which has gained a cult status among youth audiences.
He had bounced back as a storyteller. With advancing age and ailments, the entertainer retired from the scene and passed away at the age of 75 on 13 March 2002.