Pravesh Sippy: Never in Dire Straits
by Vinta Nanda
April 2 2021, 12:00 am
Estimated Reading Time: 9 mins, 10 secs
Water of love deep in the ground/But there ain't no water here to be found/Some day baby when the river runs free/It's gonna carry that water of love to me - the song playing in my mind while working on this piece, writes Vinta Nanda
In 1959, an audacious man stormed the film Industry, which at the time was mired in losses and bankruptcies. He debuted as producer with the unforgettable and landmark film Qatil. The young man was N.N. Sippy.
Today the name of N.N. Sippy Productions is synonymous with the biggest and best films Bollywood has seen. The 25 blockbusters he produced are testimony to the visionary's understanding of cinema, creativity and economics. N.N. Sippy Productions is presently owned and managed by scion Pravesh Sippy.
After studying film at the San Francisco Art Institute and assisting the editor duo Waman-Guru, Pravesh Sippy produced five super hit Hindi movies and subsequently forayed into international co- production ventures like the Indo-Finnish film, The Real Mc-Coy (1999). He was also the Associate Producer in the feature Mukti Bhawan (2017), which has won accolades across the world. His film Daayra (The Square Circle) was in the TIME Magazine's top 10 picks and had its world premiere at Toronto International Film Festival; the US Premiere was at the Hamptons International Film Festival. It has also received two awards at the Valenciennes Film Festival and excellent reviews at the Singapore International Film Festival.
Wow! So on the eve of the release of his latest home production The River of Love, written and directed by Akash Khurana who is also playing one of the main parts with co-stars Sheetal Menon, Romana Isar, Sarang Sathaye and Imran Rahsheed, I was fortunate to have this electric conversation with Pravesh Sippy. So over to him then…
Where did the film start for you? What was about it that made you decide to produce The River Of Love?
Akashji had embarked upon this passion project as a director and I came into the film a little later - but purely on a gut feel and trust in the man. I asked him to allow me to take over the project so that he could concentrate on acting and directing. And, Swara became The River of Love!
You have a great friendship and working relationship with Akash Khurana.
Akash Khurana and I go back a long time and multiple collaborations and roles played professionally. He was a writer in Silsila Hai Pyar Ka, the boss I was reporting at Nimbus (I produced a Telugu film, which was directed by Suresh Krissna), where he was the CEO. He has also acted in a film that I co-produced internationally - The Real McKoy!
Can you elaborate about the festivals and screenings that you have already taken The River of Love to?
The film was held back for most of the year 2020, because the world went into the pandemic. Festivals were cancelled and they slowly devised smaller avatars online. We were forced to change strategy and we prepared ourselves to build its reputation organically - the most important aspect being, believing in the film that we have made. We know it's a very good film and hence never panicked. Thus started the journey in October 2020 after we had got a hold on ourselves and understood the pandemic and its impact globally.
So by now we have been in approximately 10 festivals and in most of them we have won awards; it makes us hold our heads high - Best Film, Best Actor, Best Actress, Best Sound Design, Best Writing etc. Our hard work has been validated internationally. The one big disappointment is not winning the National Award. It was all on merit earlier when I won the Best Film for Daayraa, but alas!
However the international awards are prestigious and help with the reputation of the film. Someday it adds up to give value to a film like The River of Love - the market-first approach demands a well-known star cast for obvious reasons. The International acclaim that we got has led us to a theatrical release in France - delayed due to COVID as France is in lockdown - and a possible interest in UK - under negotiations.
Sadly, the OTT platforms here in India, are still to take notice of this little gem that I have made. I am ready to license it at a reasonable cost. People want to see alternate cinema and keep asking me where and when it's gong to show.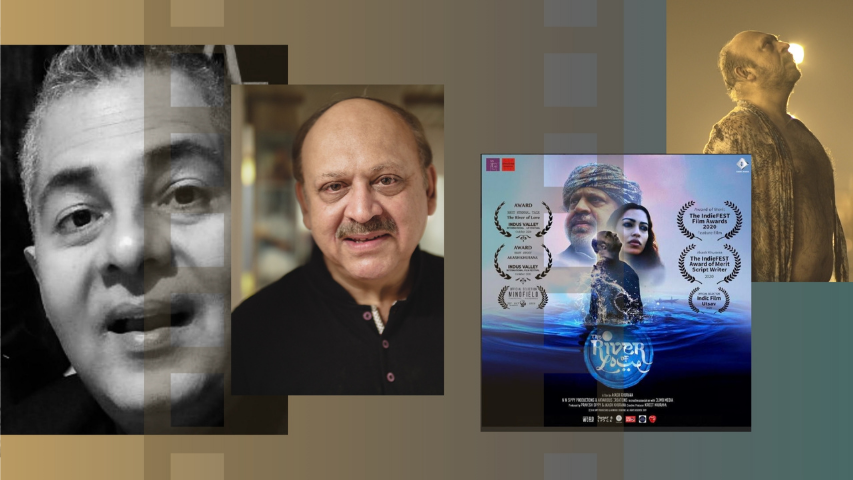 Can you tell me a little about your journey as a film producer? From the first film after you returned from film school in San Francisco to now?
Aah! I have great memories of the time I joined the big league with my very first film Meri Jung. I was still an assistant editor with Waman-Guru where I was working on Hero, the blockbuster, when I made Meri Jung. My father N.N. Sippy attended the mahurat party, came to the shooting once for lunch and for a preview of the first cut - his valuable suggestions were noted and then again he was shown the finished film.
I learnt much from Subhash Ghai while working with him. Handling Javed Akhtar Saab was a job at hand those days. Working with Laxmikant Pyarelal, Anand Bakshi, Amrish Puri, Nutan and such stalwarts was immensely satisfying. Anil Kapoor's dedication to his work was inspiring. Then several big star-cast films came along with their share of heartaches and torture – it was all a part of the learning curve. This was until I realized how professional it was to work in South India - the biggest superstar Chiranjeevi was a dream come true. He is like the Rolls Royce - none other compares to him when it comes to professionalism, talent and humanity. It was the high point of my career for sure.
From thereon I felt trapped in a rat race - the changing times and multiple reasons and experiences taught me to take control of things and start becoming independent. I did many international projects in various capacities.
I was co-producer, associate producer and line producer - just the working style and ethic was so different and more suited to my temperament. I decided to break free with Daayraa - a film I knew that would be pushing the envelope and how! It went on to become a cult film in certain parts of UK and Europe and it still opens doors for me globally.
In India, it wasn't appreciated; not too many have seen the film here unfortunately. Saregama bought the music of the film but one of Anand Milind's greatest scores with Gulzar having written the songs never got what it deserves. We won Best Film Special jury award at the National Awards but even Doordarshan didn't show the film. The subject is too controversial even today - in modern India! Nirmal Pandey and Sonali Kulkarni were unbelievably good with their performances.
I took a break from films and did a live musical theatre show for 9 months in Sweden and Finland - 2 shows a day daily! What a huge success that was - directed by Remo Fernandez, who was breaking through those days as a choreographer in the times when Farah Khan and Vaibhavi Merchant were queens.
Then things changed and I returned to the corporate filmmaking culture – Nimbus and Suniel Shetty's Popcorn Entertainment were great experiences and much learning happened. Subsequently, with dad's cancer I had to withdraw from a huge film project I was producing for UTV. Dad passed away and the onus of being the only son and keeping N.N. Sippy, the legend, alive was the mission.
The toughest days of my life were fighting off the vultures that tried every trick in the book to establish rights and ownership over dad's films. It took a lot to clean it up and stand tall with a clear message to the sharks that I was not a push over - that I know my business and that I am capable of dealing with the wrong doers.
Since then I have looked after the library and continue to make Independent films, most of which have succeeded - the awards and reasons they were made for were achieved, a little money, enough to encourage the next project happens and life goes on.
Mukti Bhawan as an Associate producer is one of the best films I have been a part off in recent times. And of course, My Home India, directed by Anjali Bhushan, makes me proud too; we have won so many prestigious awards globally with it.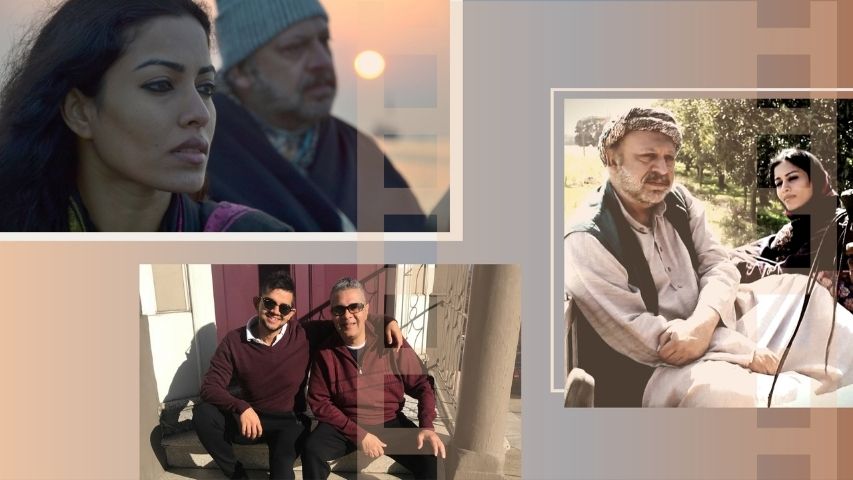 I can see that the last few films produced by you are rooted in India - in terms of imaging, characterization, spirituality and mysticism - do you believe these are essential elements that resonate with International audiences?
Yes to a great extent. But it's not easy. What we find funny, they don't, what we find boring they don't, what we find serious they laugh at. See Mukti Bhawan as a recent example - they find the film very humorous and actually laugh aloud in the cinema whereas in India everyone is like - what's this serious death based film? Why should I watch it?
Lastly, what's next?
A superb documentary feature directed by 6-time national award winning director Kireet Khurana called The Invisible Visible (Ek Koshish). It's almost done. There've been delays in postproduction due to the virus and we lost a big chunk of a promised investment from the USA around Christmas last year for reasons unknown - I suppose COVID related financial difficulties?
I have since then raised a part of what is needed but we are still looking for about Rs. 10-15 lacs to complete the project. It has the backing of strong names like R. Balki. Gauri Shinde, Rashmi Lamba and Nagarjuna. They are all on board and will help to take the film to great levels of achievement.
About The River of Love:
After a violent attack, a man is left to die. As his lifeless body floats down the mighty Ganga, he is rescued by some good folk and nursed to consciousness. But he has lost his memory. Elsewhere upstream near the mountains, an estranged woman leaves her young daughter Swara in a monastery. Time passes by. The amnesic man gets an adopted name - Raahi. He moves around rudderless, looking for purpose and any clues to his past that he can find. Serendipity comes calling when Raahi meets Swara, the traumatized girl who has now transformed into a spiritual woman. The rudderless Raahi decides to accompany Swara on her journey downstream to the Kumbh Mela for an event. Little do they know their destines are intertwined and the journey will transform their lives.