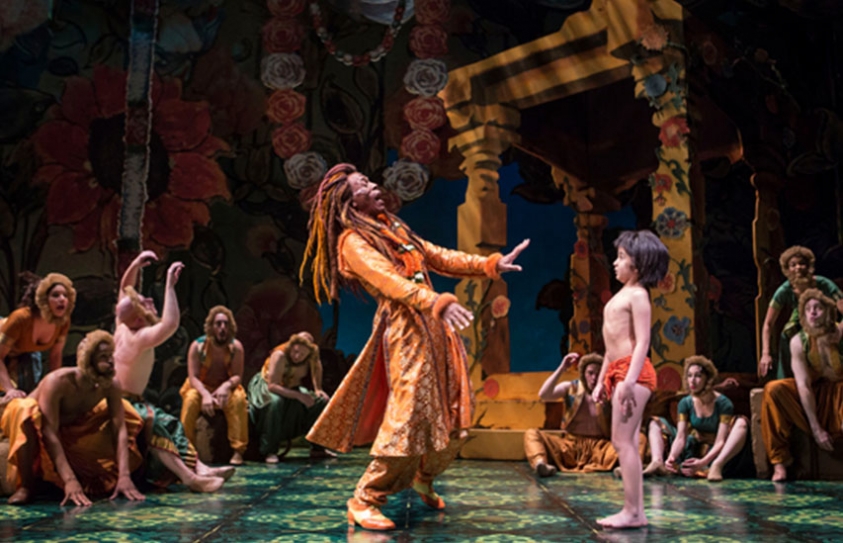 Kaleidoscope - Kiddie Party
by Deepa Gahlot
June 17 2016, 5:06 pm
Estimated Reading Time: 4 mins, 29 secs
As summer vacations draw to a close, the marvellous season of children's plays also comes to a halt. Very few groups who work on children's theatre during the summer months carry on throughout the year. Once they get back to school, they get so caught up with daily routine that culture is far from the minds of kids and their parents. It is undoubtedly a challenge to attract attention-span-deficit, kids who are almost attached to their smartphone, so not everyone attempts a play for kids. When there are blockbuster movies with animation and state-of-the-art CGI, what would bring children to the theatre to watch small, shoestring budget plays, that are high on energy and invariably low on funds?

So it is always heart-warming to find so many new children's plays coming out every summer, and some old ones returning. There is something to be said in favour of parents –mothers mostly, sometimes fathers, often grandparents—who bring their children to the theatre to watch plays, thus inculcating in them a love for the performing arts early in life. The thought would strike most theatre folk, that they are preparing an audience for the future, though that must be a small part of the thrill of performing for children, who are coming into the theatre, leaving behind more sophisticated forms of entertainment. A stage version of The Jungle Book, for instance, enthralls them in a different way, with the experience of a live performance .

There's one thing theatre groups have, by and large, left behind—the idea that plays (or films) for children must have a message. Some of them still manage to 'teach' the kids something, but that is no longer an essential factor. A play like Dhara Ki Kahani, for instance, talks of conserving resources, like water and electricity, using the clever premise of making household goods protest against their misuse, by going on strike. When the fan, light, and tap don't work, an urban kid is thrown off balance, because they take these things for granted.

But then, there's a play like Krishna Kidding, that makes the story of little Krishna fun and irreverent; what's more kids who have seen animation films and TV serials about Krishna, still enjoy the play, which has infectious energy, music and wit going for it. When, for instance, the episode with the serpent Kaliya is converted into a dance number with snakes, it makes kids giggle with amusement.

Sometimes familiar material works better with kids—you'd imagine, Enid Blyton with her quaint books about kids in the English countryside would no longer appeal to Indian kids, but Vikash Khurana of Nagpur-based group Stagecraft, did a production of Five On A Treasure Island, and many children discovered the writer loved by generations of young readers the world over, who read her books, even though they were set in a time and place not familiar to them. It is possible, that parents came to watch the play, out of nostalgia for their own childhood spent reading Blyton, Nancy Drew, Hardy Boys and such innocent delights. Today, of, course, Harry Potter and copycat books rule, absorbing kids in their tales of magic and sorcery; the films and games that follow, leaving nothing for the child's imagination to conjure up.

In the fun and games department, there's nothing to beat our own Ruskin Bond, whose tales of adventure set in the mountains have entranced children for years and quite possibly, their parents too. Akarsh Khurana directed A Special Bond 3, the third in his series of plays based on the works of the genial Mussourie-based writer, who gave him permission to turn his words to plays. The third part is a deft blending of Ruskin Bond's own life (a sort of unhappy childhood) and his charming stories. Who wouldn't like a crazy friend like Koki or Daljit always ready for adventure—the kind that would be alien to an urban child, some who may never have been to a town in the Himalayas?

Surprisingly, the old fairy tales still work and Vishal Asrani and Jiji Subi have almost captured this market with their polished and colourful productions of stories like A Magical Tale Of Cinderella, A Tale Of Snow White And The Seven Dwarfs and An Enchanted Tale Of Jack And The Beanstalk, with Rashmi Sharma's Progressive Theatre Group tackling Little Red Riding Hood, Rapunzel, Pinocchio & The Blue Fairy, Ali Baba & The Forty Thieves, with a little less finesse.

Sinbad The Sailor remains a perennial favourite, as does Alice in Wonderland. Somehow, Roald Dahl has slipped through the net, with only James Aur Ek Giant Peach being produced, out his many marvelous stories. This happens to be the centenary year of Dahl, and one can only hope a production worthy of his wild creativity will make it to the stage.

Today's children are easily bored, however, it is always wonderful to discover afresh, how easy to please they are, how open to the idea of enjoyment, quick to laugh, uninhibited in their response. At least the little ones are, as they grow older they tend to get caught up in peer groups, trends and tween sulkiness.