Just Carry on: Ebrahim Alkazi
by Aparajita Krishna
August 11 2020, 1:18 am
Estimated Reading Time: 36 mins, 5 secs
Aparajita Krishna walks you through the life and times of Ebrahim Alkazi; also what it was, that he meant to Indian Theatre.
M K Raina would WhatsApp me on the 8th August 2020, as his tribute, the recount of a particular incident that summarises what this teacher-mentor Ebrahim Alkazi, was all about and what is the legacy he has left behind. "He left the National School of Drama in 1977, nearly 43 years back. He should have been forgotten long back. But in his leaving this world, he and his work was reborn. His contribution to Indian contemporary theatre is again written about and recognized. What he inculcated in us, beyond the world of theatre, was to develop the holistic view of the world. The world is a complex and multilayered experience and yet all aspects of it are interconnected, which keeps this planet going. The lesson in compassion which he gave me after I had left drama school is still ingrained in me. It was in the 1970s. He was a chairman of a selection board to select young scholars in traditional theatre. I was one of the selectors. I had left the drama school long back. In this interview session there was a young girl from Nagaland who could not talk or explain her work or answer any question that was asked by the selection panel. So most of us in the panel decided to drop her and move on. But Alkazi Saheb said otherwise. He said, no, we will break for lunch. He gave me the responsibility to take care of the girl and her father, to give them lunch, get one of the NSD students from Nagaland to find out what would she require to give us a full demonstration? When we all came back after the lunch break, the girl performed her piece, which was outstanding. All were surprised and happy. Alkazi Saheb gave me a smiling look and his words to me were: You know Raina when people from far off places come to Delhi, the seat of power and governance, those villagers cross many villages and all the villagers come to know that this Delhi has called them. And when they go back they carry the impression of Delhi and about people like us back to the villages. They become our ambassadors and they should carry back the correct image of people in power when they talk to those people in the village. Whenever I sit in judging others this lesson of Alkazi Saheb always guides me till date." Indian Theatre, more so the Modern Indian Theatre, owes to Ebrahim Alkazi, much gratitude and many curtain calls and applauses. It was majorly mastered by him. The Master made his final exit at the age of 95 on the 4th of August this year.
He was a Teacher to even those he did not directly teach, also someone like me. I have had in my custody for years a most valuable communication from him which was for an assignment. In this piece I share that communication and excerpts of talks I have had in the past with some of his students who are names to be reckoned with. Some talks are with other noted personalities and some relevant excerpts from the media. All of it is now archival-memorabilia.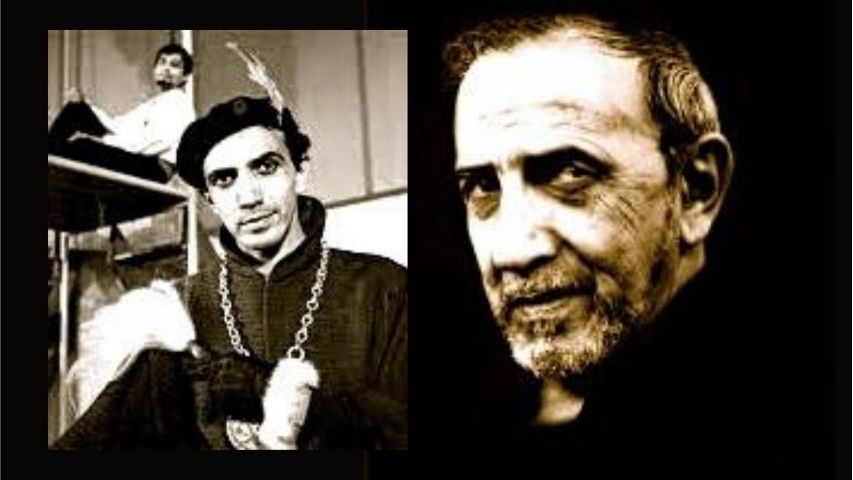 Ebrahim Alkazi was of Arab descent, born to Saudi Arabian and Kuwaiti parents. Boy Ebrahim Alkazi went to school at St Vincent's in Pune, run by the Jesuits. He would participate in school plays. He did his college from St. Xavier's College Bombay, and joined the Theatre Group headed by Sultan Padamsee. Mr Alkazi, later married into the family, Sultan's sister, Roshan. They were from Gujarati Khoja community.
He was quoted in an article by Shyama Haldar in Tehelka dated 16th December 2006, "Years ago, just after the War, I was in England with my wife as a student of art. I was not happy; but one evening, as I was out walking, I saw a place called the Royal Academy of Dramatic Art. I thought I'd like to try getting in and when I met the principal, Sir Kenneth Barnes, though it was not time for auditions, he arranged one for me. I was accepted but after the first two or three months, I couldn't afford to pay the fees. I thought I would have to leave but all Sir Kenneth said was that I should carry on and I don't need to pay the fees. That is a very rare attitude to learning - you're sized up, yes, but if you're serious, then you are encouraged in every possible way; there are people who will just open their doors. I was really interested in studying direction but the Academy at that time was only a school for actors. Amazingly, Mr Kenneth recommended me for a summer course in direction."
This grateful student educated his art and would get awarded the Starred Certificate for work of exceptional merit by the British Drama League and win the BBC Broadcasting Award in 1950.
Back in India brother-in-law Sultan Padamsee passed away in a few years. Mr Alkazi and his wife returned to India. He set up his own group, Theatre Unit School of Dramatic Arts, in 1954 in Bombay. The group produced a varied range of plays, from the classical to the contemporary, in English and Hindi.
Ebrahim Alkazi and Roshan Alkazi had two children, Amal Allana and Fiesal Alkazi.
In the meanwhile the National School of Drama (NSD) at Delhi was set up in 1959 by the Sangeet Natak Akademi as one of its constituents. The Sangeet Natak Akademi was one of the three apex cultural bodies mooted by Jawaharlal Nehru to promote art and literature. NSD, a new institution, was headed by lighting expert Satu Sen and assisted by theatre scholar Nemichandra Jain.
By a lucky co-incidence the RADA educated Ebrahim Alkazi had touched base home in India. In 1962 this man of great genius was appointed the Director of the NSD at Delhi. It was under his vision and direction that the scope and stature of the NSD got elevated to another plane altogether. He truly laid the foundation as its first director, directing his first play in its aangan. The classes were held in modest quarters in Kailash Colony. He would remain the director of the NSD till 1977.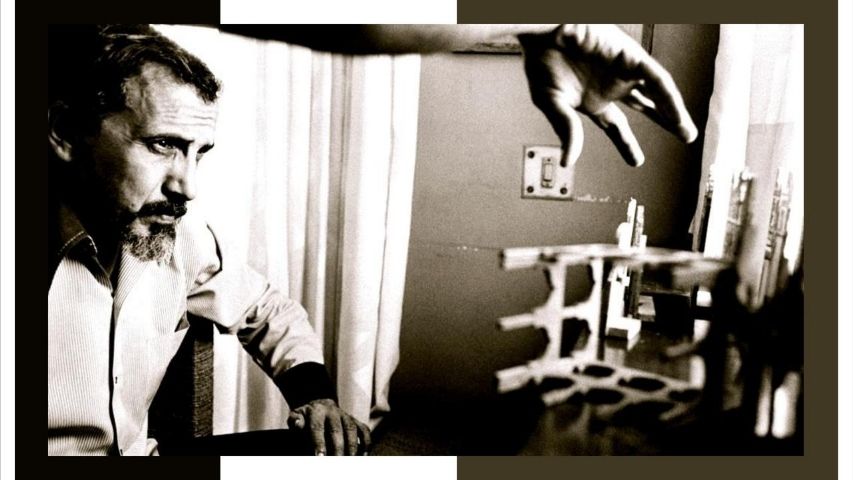 In time the NSD would shift from its unsuitable rented premises to Rabindra Bhawan. It was a modest school space housed on the third floor premises of Rabindra Bhawan, Copernicus Marg, Mandi House, N Delhi. A small provision in the School budget was made for creating a repertory company. It started with four members in 1964 and gradually expanded. The National School Of Drama Repertory Company came into its more definite being in 1967.
NSD chalked out a three year post-graduation course in the various disciplines of theatre. Mr Alkazi came from a very educated and informed cosmopolitan background and his expertise in the visual arts made him mentor theatre students, plays and an audience.
An open-air theatre, Meghdoot, was designed by Alkazi himself, in the Rabindra Bhawan premises. Under Mr Alkazi's stewardship the students lent their hands and labour towards its construction. M K Raina, one of the most respected alumni, recalled, "He made us experience the joy in the dignity of labour when he wanted to build the iconic Meghdoot Theatre at Ravindra Bhawan. All the students of NSD along with him worked as manual labourers with spades, shovels and baskets carrying bricks, mud, mixed-cement etc., till The Meghdoot Theatre came up. Innumerable performances are being performed by generations of theatre people till date."
In and around 1970 the National-School-of-Drama would get its assured address to now get situated at Bahawalpur House No 1, Bhagwan Das Road, Mandi House, New Delhi. It was a sprawling cultural environment. A tea shop outside the NSD was the den. Spaces got innovated and used. A room was converted into a small studio theatre with a sitting capacity of 80 which was sometimes used as a simple proscenium stage, sometimes for a multiple set within a small acting space, at other times the acting space got extended into the audience to create the impression of 'Hanamichi' of Kabuki stage. Alkazi taught his subject in live practice and made the students erect a stage by digging in the backyard and putting up platforms and steps. Almost always, a Tree remained an integral part of the design, be it an Indian realistic play set in a village or, a Shakespearean play or a historical with its period setting. The tree not only gave compositeness to the entire set but also acted as an effective lighting grid providing very dramatic lighting because of the flickering shadows of the leaves. This tree called the 'Wisdom Tree' swayed all through the times to give enlightenment, shade and platform to generations of students. Mr Alkazi also innovated the use of Delhi's historical sites as performing spaces. Girish Karnad's play Tuglaq, and Dharamvir Bharati's Andha Yug, were among the plays directed by Mr Alkazi to get staged amidst the imposing monuments of Delhi's Purana Qila and Ferozshah Kotla.
Initially the NSD did not have a hostel facility. It would come up later. It is said that Alkazi's biggest contribution was to nurture professionalisation into theatre practice.
This tenure-ship an audience got created. He demanded on-stage and off-stage regimen from his students and himself led by example by sweeping the stage and cleaning the greenroom toilets. The curriculum taught comprehensive theatre craft. Classroom exercises were replaced by full-length productions. These productions of the school contributed, in no small measure, to a cultural revival in the capital and to the establishing of a truly national theatre.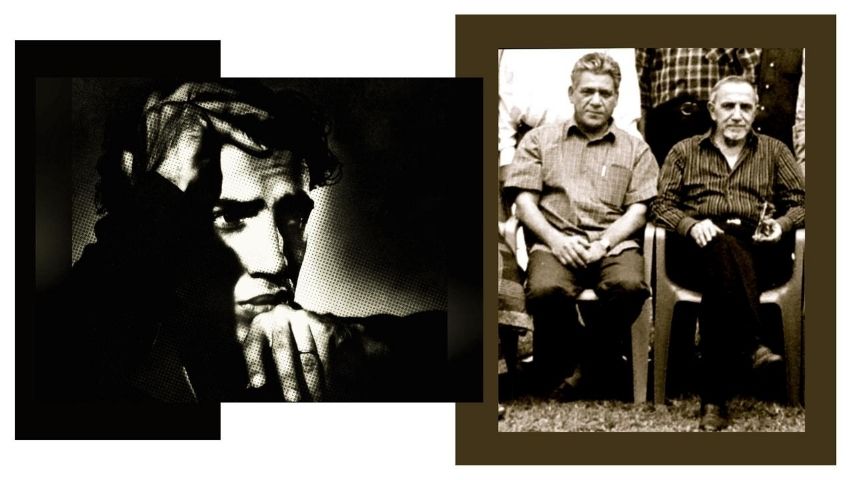 The National School of Drama Repertory, gave professional training to the graduates of the NSD and offered socially and artistically relevant theatre to its audiences. The plays were in Hindustani. A wide range of theatrical productions would unfold in coming years: Indian and western classics, musicals, plays based on contemporary fiction and folk theatre idioms.
Fritz Bennewitz from Germany and Shozo Sato from Japan did meaningful interaction with the Indian theatre tradition. Original and adapted works were performed. The Repertory over the years also revolutionized the concept and practice of set, lights and costuming in Indian theatre. Regular weekend performances would be held and the repertory tours would travel the country and abroad; in rural and urban centres, festivals and workshops.
A line-up of significant dramatic presentations transformed the Delhi theatre scene and created new standards and references for meaningful theatre across the country. Among the noted plays were adaptations of Shakespeare's King Lear (1964), Moliere's Miser – Kanjoos (1965), Anouilh's Antigone (1967), Hori (1967), Shakespeare's Othello (1968), Brecht's Caucasian Chalk Circle (1968) and The Three Penny Opera - Teen Take Ka Swang (1970), Buechner's Danton's Death (1973) and John Osborne's Look Back in Anger (1974).
Among the notable original Indian works were Girish Karnad's Tughlaq (1966), Premchand's Godan adapted as Hori (1967), Lakshmi Narayan Lal's Suryamukh (1971), Balwant Gargi's Razia Sultan (1972), Dharamvir Bharati's Andha Yug (1974), Mani Madhukar's Rasgandharva (1974) and Begum Ka Takia (1977).
In addition, there was some exposure to traditional theatre, like our own Bhavai in Jasma Odan (1968) and Yakshagan in Bhishma Vijaya (1972), and Noh and Kabuki from Japan in Ibaragi (1973).
Mr Alkazi was instrumental in getting the NSD an autonomous status towards the end of 1975, breaking away from the aegis of Sangeet Natak Akademi. It was now fully financed by the Ministry of Culture, Government of India.
The role-call of his students would today be read as citizenry of Indian theatre and films. It has shaped some of the finest actors - Om Shivpuri, Sudha Shivpuri, Manohar Singh, Uttara Baokar, Surekha Sikri, M K Raina, Nadira Zaheer, Rohini Oak/Hattangadi, Naseeruddin Shah, Om Puri, Jyoti Deshpande, B. Jayashree, Raj-Babbar, Ajit Vachani, Anupam Kher, Punkaj Kapoor, Anu Kapoor, K.K. Raina, Anita Kanwar, Ratna Pathak Shah, Neena Gupta, Kavita Chowdhry, Hema Singh, Himani Shivpuri to name some. It has trained very fine directors. In the list are Amal Allana, Ratan Thiyam, Mohan Maharishi, Devendra Raj Ankur, Bansi Kaul, M K Raina, Bhanu Bharati, Neelam Mansingh Chowdhry, Ranjit Kapoor among others.
Uttara Baokar, the admirable alumni actor would reminisce on 25th December 2006, "I wanted to become a singer. My voice was fine. I was also undergoing training in classical music. In my second year of college Alkazi Saheb came to direct a play, Abhigyana Shakuntalam. I played the role of Priyamvada. Chacha told my parents to send me to the NSD. At that time you could count the few who would go to the NSD. I joined the theatre in fluke. Om Shivpuri was a senior."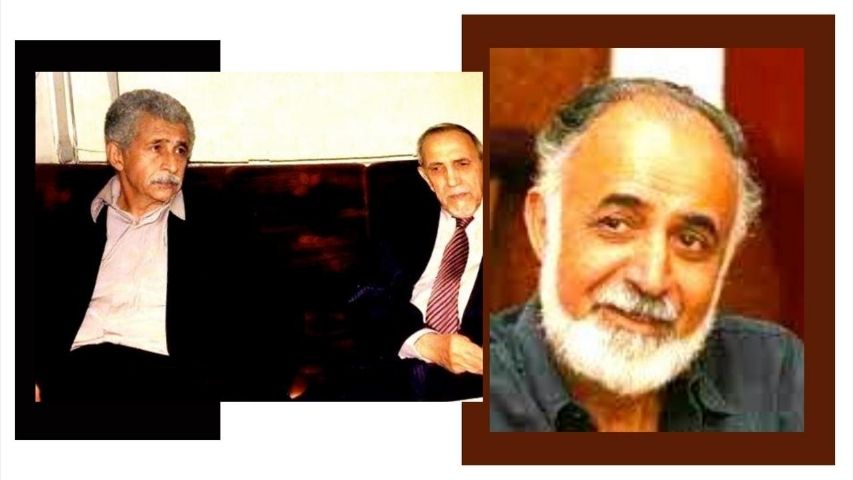 "Why did you all call Alkazi Saheb Chacha?" I had asked Uttara Baokar, B Jayashree and Jyoti Deshpande, the three most respected senior alumni actors. All three had laughed out the past.
Uttara Baokar: I don't know. This was a legacy bequeathed to us by our seniors. We would call him Chacha Alkazi.
B Jayashree: I don't know.
Jyoti Deshpande: The tradition was going on for years.
Ebrahim Alkazi taught not just acting, but also the grooming that went behind the making of the actor-man.
Uttara Baokar kept stored in her memory the days of her chiselling as an actor. She informed me, "First we felt that coming to the NSD was the biggest blunder we had made in our life. I wanted to leave. Had I made the right decision of coming here? One had no knowledge and here at the NSD, it was like landing up in a vast, deep ocean of knowledge. Gradually we started to merge in. He (Mr Alkazi) may well have been accused of favouritism, but that person has made personalities out of people. Teachers like him had the dedication to surrender to the cause. Today who carries this attitude? In our time there were no other attractions, distractions to trap us with. So we carried on with theatre. That only benefited us."
Om Puri would recall that at the NSD he was beset with acute financial constraint and could not even manage to pay the fees. Ebrahim Alkazi told him, "You don't need to pay the fees, just carry on." Time had come full circle. Back at the Royal Academy of Dramatic Art, student E. Alkazi couldn't afford to pay the fees and had thought of leaving. His principal, Sir Kenneth Barnes, had told him, "You don't need to pay the fees, just carry on."
Theatre veteran Bansi Kaul threw more light. "Once you have experienced life you have some training. But to make that training much more scientific was at the drama school. It's like a folk artiste who learns from his father but then to put in some kind of methodology that relates acting to other subjects is what drama school did to all of us."
Devendra Raj Ankur had joined the NSD in 1969 in the direction course. He was a year senior to the batch of Naseeruddin Shah and Om Puri. In 2006 I
met him as the Director of NSD (2001 - 2007). To quote him, "At that time (1969) the NSD was a very small institution. The total strength including repertory members was of 32 students. We were hostellers. The first year students got the dormitory. We in the second year got allotted three 3-seater rooms. It was such an intimate atmosphere. And at that time in the NSD there was more influence of English. We had come from a more educated background. I was a post-graduate. So were some others. My family was in Delhi and still I stayed in NSD hostel. I would get home food to share."
Rita Ganguly had become part of the NSD teaching faculty in 1968. She taught movement and mime. Her specialization was satwik abhinaye, the study of natya shastra. She would recall, "There were always two different opinions to sort of sabotage Alkazi's vision."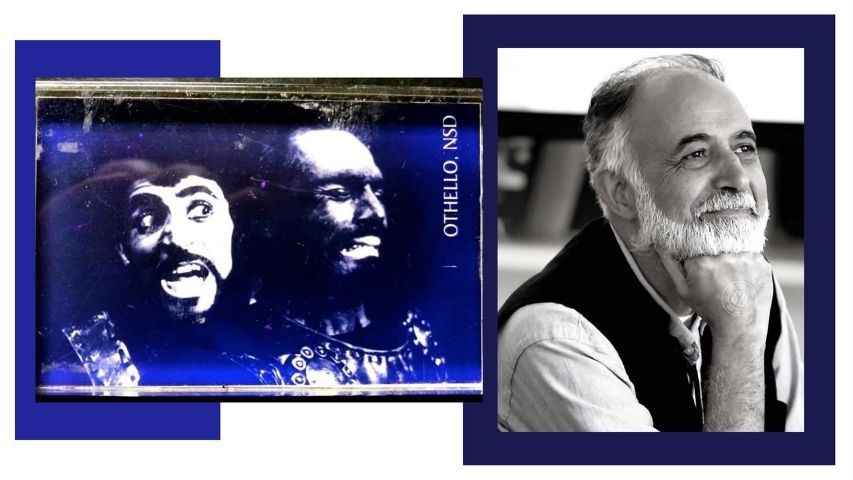 Chhaya Anand, an NSD alumni of the 1970-1973 batch would much later in decades communicate in her words, "Mr Alkazi was a great teacher who knew his students well. He knew the capabilities of each of his students and knew exactly what buttons to push. I do remember him coaching students in the dining hall. I also remember him coming to the hostel very early in the morning and exercising with overweight students. I think most of us were either terrified of him or in awe of him."
B Jayashree's tribute said, "Alkazi Saheb showed us the road. You would not come to know how and when he would rid us students of our individual inferiority complex. You never felt insulted. So expertly he would tackle us. I respect him like anything. Like anything! His intention was never to hurt anyone. The polishing I learnt was at the NSD".
Jyoti Deshpande added, "Mr Alkazi would appreciate it if a person was straight forward and spoke."
Theatre man Bhanu Bharati would reminiscence, "As a teacher he had this thing of establishing a personal rapport with each one of us, which would be private and secret between the two and which would never be known outside."
"Did Mr Alkazi play favourites?" I had asked Bhanu Bharati.
Bhanu Bharati clearly stated, "He did. He certainly did. Naseer was. And I remember I had a big fight with Naseer and I told him that it is not Naseer's fault but it is Mr Alkazi's fault. He has spoilt him. He was favouring him with the roles and all that. He had this great thing for the English speaking medium. I had this little fight with Naseer but then it was not a personal thing. See in the very first year Om, Naseer and me; we were also complimenting each other."
Alkazi's students also played mischief. The mega play Tughlaq, with a huge cast also lent itself to a history of anecdotal recalls. One such D R Ankur shared from memory. "I was in the final year. The last scene of Tughlaq was being acted on stage. In that show Manohar Singh was playing Tughlaq and Om Puri was Barni. Barni takes Tughlaq's leave. That scene was getting enacted. At a point in time a guard is scripted to come in with the news that 'Huzoor Azamjehan ka qatl ho gaya hai' (Your lordship, Azamjehan has been killed). The show was going on at Meghdoot (auditorium). Just across the road some classmates were smoking. Meaning bad smoking. (he meant pot). They had made the actor playing the guard/pehredaar in the play do their real life duty. He was deputed to keep a watch just in case Alkazi Saheb was anywhere in sight then he was to raise an alarm. There on the stage this actor had missed his cue. Manohar Singh and Om Puri's exchange of dialogues got over… pause… one second… two seconds… fifteen seconds… half a minute… pause is very long on stage. Now Manohar Singh improvised. 'Barni, Jaa kar dekho bahut derr se koi khabar nahi aayi. Kya ho raha hai?' (Barni, go look what is the matter? It's been quite a while and we have not had any news. What is happening?). Om Puri went into the wings. Backstage too no one could fathom where the actor playing the guard had disappeared. Now Om returned onto the stage saying, 'Huzoor meri bhi samajh mein kuch nahi aa raha hai ki kya ho raha hai. Lekin haan itna zaroor pata chala hai ki Azam Jehan ka qatl ho gaya hai.' (Your majesty, I too cannot fathom what has happened to him, but yes, I have gathered this news that Azam Jehan has been killed). And Om improvised the dialogue to salvage the situation."
In the present of our talk both Ankurji and I had burst into off-stage laughter.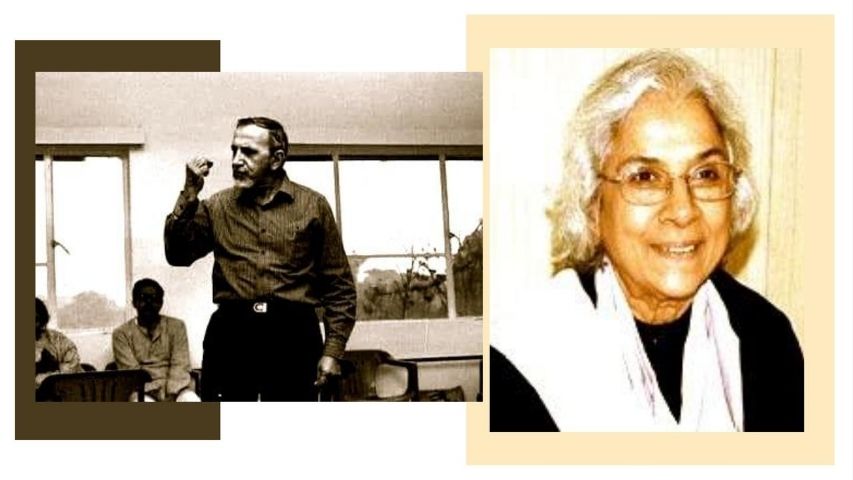 Neelam Mansingh joined the NSD in 1973. Her fine articulation would inform as a summary. "The three years were so intense, so full, in a certain way so insular, from what was happening outside, that we got our meaning and our value from them. The adjustment problems for everyone was completely different. I came from a more urban, English speaking background and it was completely traumatic. I felt I was on the other side of the fence. None of the roles were coming my way. I felt nobody was taking me seriously because I was not part of the vernacular, regional context. Alkazi only respected those actors who came from a more anchored and rooted kind of a situation. I was a complete anomaly. There was no such thing like a standardized kind of a person who came to the NSD. You had someone like Rohini Hathangady, or Rohini Oak, who came from families, which had long traditions of Marathi theatre, or B Jayshree who came from the Gubbi company and Jyoti Deshpande whose brother was a famous playwright, Govind Deshpande, and also did a lot of Marathi theatre, or Ranjit Kapoor who came from a company tradition. Let me tell you those people were far more significant to the school because they fitted into the concepts of what the school was moving towards. A sense of indigenous Indianization."
B Jayashree gave me her own account from her final year at the NSD in 1973. "Until now at the NSD I did no main roles. That was the problem. In the play Danton's Death, there was a prostitute scene. Danton comes to her always. It is just one scene but a key role. Jyoti Deshpande, me, both decided that we will rehearse that role without his (Alkazi Saab's) knowledge. Jyoti working in her way and I preparing my way, the same role. Naseer was with me as Robespierre. Om was rehearsing with Jyoti. Early morning we used to get up at 5 o'clock and go to the open air auditorium to practice. Naseer would also rehearse with Jyoti and so would I with Om. One day a rehearsal with Alkazi Saheb was going on of Danton's Death, in the studio theatre. It had only one door to walk in and enter. So Jyoti and I decided to enter late, five minutes after the rehearsal started. Alkazi Saheb was in the centre with a table, the script, pen, pencil, eraser, his chasma, everything. He was watching the rehearsal. Dharak (making sound) we opened the door. (Laughs) Just on purpose to irritate. We knew that something is going to happen to us but we should not get nervous and leave our confidence. We had to be bold and very brave to face him. He is like a lion you know. Singha! My God! Alkazi Saheb is also full of knowledge. He observes a great deal. So, that day, we noisily opened the Studio theatre door… khatak! He looked up through his chasma. We walked on the steps... thak… thak… thak… thak… thak… and went behind and sat down. We were also sweating because we knew this is our real examination. Om and Naseer were privy to our plan. They were waiting for Jyoti and me to make our entry. Alkazi Saheb waited till the rehearsal got over. The news had already reached him that we had been voicing our protest that good roles were not coming to us."
B Jayashree enacted Mr Alkazi (pointing with fingers), "You, you two… Come on do it. You want to do the role. Do it here."
Jyoti Deshpande first finished her act.
Then B Jayashree took her turn. Her recall would inform, "My God what to do? I just stood there for about two minutes. Scene was me lying on the bed and Naseer in his role. The scene starts like that. I finished. Relaxed. Then Alkazi Sahib called Jyoti and me close to him and he hugged us. Our exam was finished. Now who is going to do the first show? Don't know. He took a coin and tossed it. Jyoti did the first show as the prostitute character. The only main role I did was in Danton's Death. I do not repent that because theatre is team work so I learnt other aspects of theatre. And Indiraji (Indira Gandhi), came to see the show. Kavita Nagpal was the critic."
Neelam Mansingh's assessment of the man said, "Alkazi in a certain way was really a teacher's teacher. He was an excellent teacher. He may have had his likes and dislikes but they never manifested themselves in the work scenario. He was nurturing an institution. He was building professionalism in India. He wanted to do good plays. He wanted the best actors to come forth. Being a director myself I may love A but if B is more talented then the role goes to B. All the plays Alkazi did were epics. Tughlaq, Andhayug, Suryamukh."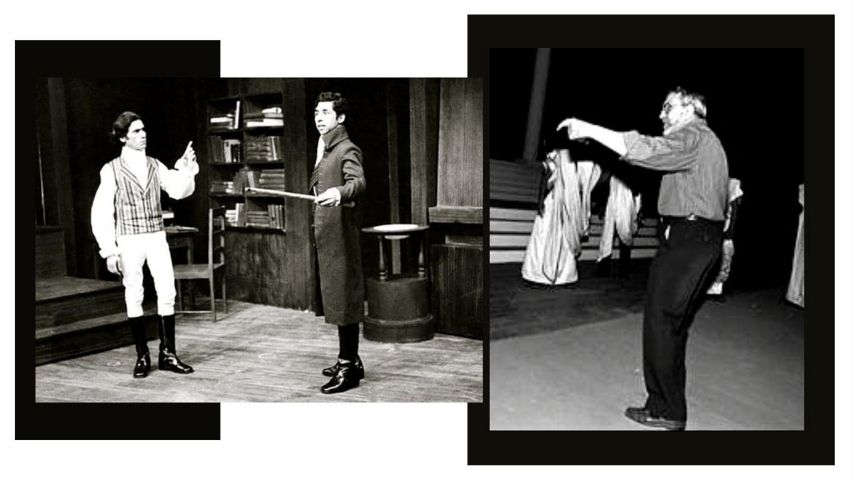 Bansi Kaul further analysed the master and his own times at the NSD. "Alkazi Saheb was very, very anglicised. With people like us he did not have that kind of a relationship. You will have to understand one thing, which I think they would not agree probably with me. To me Alkazi Saheb ran drama school like a repertory company. This is what everybody has to understand. To run a training institute and to run a repertory company are two different things. In a training institute people have to get the same opportunity. Here Mr Alkazi was doing major productions putting all students together. Tughlaq, a big production! And probably he also had ambitions of getting projected as one of India's best theatre directors and designers. I would say Mr Alkazi needed actors more than students. I would go even to that extent to say that in whoever he found an actor he would grab that person. Here in drama school it became more of productions. He had Manohar Singh in whom he saw an actor with loudness. Loudness not in a negative sense. He liked these actors."
I remarked that in fact Neelam Mansingh had said something quite the contrary. She said that Mr Alkazi would favour those actors who came from a more rooted, native background. Not someone like her who was urban and sophisticated.
Bansi Kaul explained, "No, I won't say that. He would favour them in terms of research. He was brilliant enough to understand that he would ultimately need these desi/rooted people to become his actors because they had experience, that rough quality, earthiness, loudness. If he was doing theatre in English then he would naturally opt for others. Secondly, credit for refining the acting of actors ought to go to teachers like Sheela Bhatia and Nemichandra Jain who made them aware of literature. To teach the understanding of design and the whole world architecture in world theatre history was Govardhan Panchal. In group theatre activity, an amateur actor learns only in a production not in a classroom."
On 29th September 2006 I would receive via courier this communication from Mr E.Alkazi. It was then related to a work in progress.
THE NATIONAL SCHOOL OF DRAMA: It's Approach to training and Performance
The NSD was a commingling of cultures, classes, castes and creeds. It was a coming together of students from all regions of the country, each with its own language, values, frame of mind, and outlook.
There were Brahmins and Untouchables; the fairly well to do and the poverty stricken; the urbane and the provincial; the flashy and self-assured, and the timid and retiring. One thing they had in common was the fact that they had come to pursue a career in theatre against the wishes of their parents, who considered such a profession as being undignified, unbecoming of a self-respecting family - in fact, a shameful slur on it. And also one that did not ensure a secure future.
Then there was the problem of instruction: we used Hindi, Urdu, English, depending upon the subject taught.
The plays were performed in Hindi, Urdu or one of the regional languages - Punjabi, Bengali, depending upon the availability of students familiar with those languages.
The plays studied and performed were from all periods of history, from all regional languages (Bengali, Marathi, Gujarati, Punjabi and Kannada), as well as translations of international classics, ancient and modern.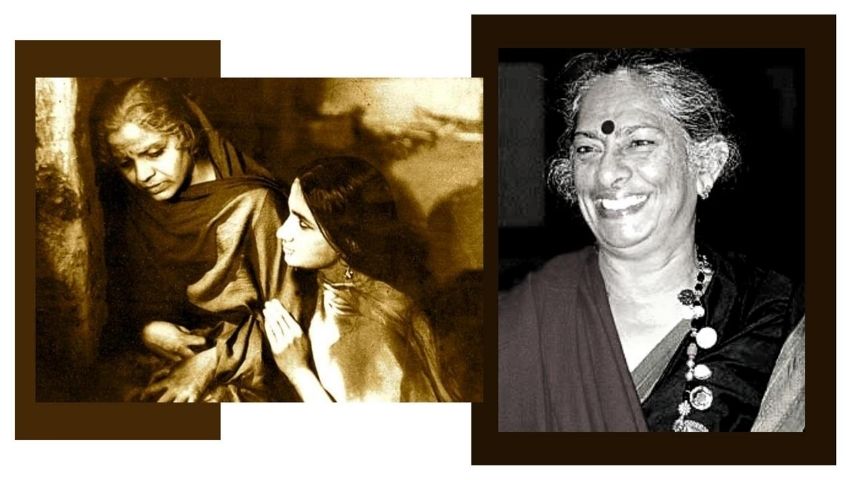 There was a wide range of English plays, stretching all the way from Shakespeare to John Osbourne and Samuel Beckett, there were French plays from Moliere, Jean Paul Sartre and Anouilh, there were German plays from Brecht and Buchner, Russian plays from Gorky to Chekov; plays from a variety of Indian regional folk forms: Nautanki, Bhavai, Tamasha, Kudiyattam, Yakshagana - there were plays from the Japanese Kabuki and Noh.
I do not know of any school of drama, anywhere in the world, with such an extraordinary wide coverage of plays and theatrical forms.
All this was a great challenge as well as an incentive, to the students and the staff.
We worked with the single individual and the collective, moulding them into a cohesive body, striving, singly and collectively, towards a common goal: the handling of great and meaningful themes with finesse, subtlety and dignity, and sharing all that with an audience that had to be slowly nurtured and built up.
We dealt with the body, the mind and the soul of the student through yoga, dance, music classes and the challenge of the great classics, and of plays breaking new ground.
The students performed on all types of stages: proscenium, arena, open-air, against historical monuments (Ferozshah Kotla, the Purana Qila, the Lodhi Gardens, the Mughal Gardens at Pinjore), to a vast variety of audiences in schools, colleges, villages, cities - Delhi, Lucknow, Bombay, Calcutta, Hyderabad, Bangalore - to audiences in their scores and in their thousands. We were not merely training actors; we were cultivating audiences for serious, meaningful theatre.
Mr Alkazi had the foresight to hold Film Appreciation Courses. He would encourage students to go see painting and sculpture exhibitions and read in the Library. His communication in 2006 said, "A school is a preparation for a career, one that should provide the graduate student with a decent livelihood. I knew there was no such future for the student in India, where there were hardly any professional theatres to speak of and such as there were, did not perform on a regular basis every day, and offered only a pittance by way of salary. So, at the NSD, I felt that the student had to acquire, in addition to theatre, the skills and the versatility to perform in films, television and the radio. I tried to come to a regular arrangement with the Film & Television Institute at Pune (whose director was a member of our Advisory Committee, as I was of their's), but the response was negative. Accordingly, I felt that one of the ways of circumventing that problem was by organizing at the NSD, as a first step, a regular one-month Film Appreciation Course, under the guidance of a staff member of the Film Institute, Prof. Satish Bahadur. This I succeeded in doing in the last 4-5 years of my tenure at the NSD. Later, I went even further. When there was a more hospitable environment at the Film Institute, I insisted that our students do a six-month term there before they could acquire the Diploma of the NSD. As for the appreciation and study of classical Indian Art, at a certain stage, students were sent once a week to the National Gallery, under the guidance of a distinguished Hungarian scholar and critic, Charles Fabri. I myself was passionately interested in contemporary art and was very closely associated with the leading contemporary Indian artists, such as M.F.Husain, Tyeb Mehta, Akbar Padamsee, Gaitonde, Laxma Goud, Somnath Hore, A. Ramachandran etc., some of whom had even designed sets for my productions and shared my enthusiasm with the NSD students. Besides, my wife, Roshan Alkazi, ran a series of art galleries in Delhi in those years, as she continues to do till today."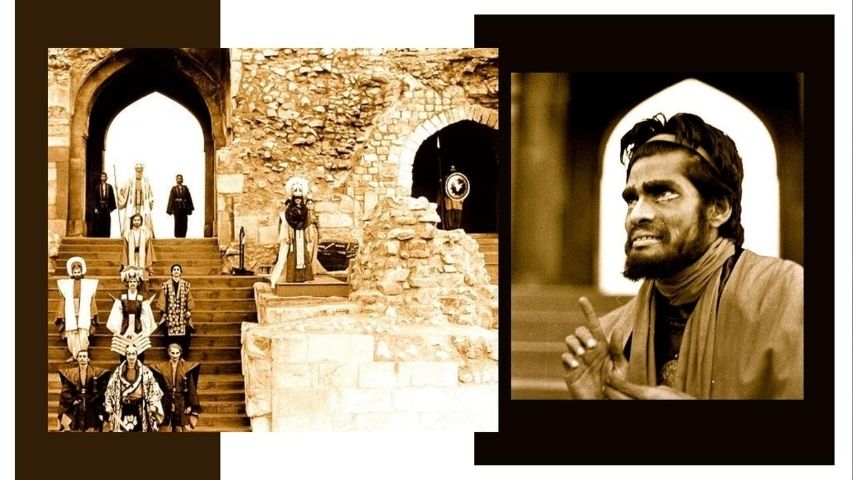 His evaluation of the Hindi film industry in around 2006 spoke thus. "I don't know much about the Indian film industry. There are many directors whom I respect a great deal: Satyajit Ray, Mrinal Sen, Chetan Anand, Adoor Gopalakrishnan, Shyam Benegal, Govind Nihalani and Shekhar Kapoor."
As for his evaluation of the actors he had taught, his communication said, "In the course of my 16 year stint at the NSD, I found the late Om Shivpuri, Manohar Singh and Pankaj Kapoor to be absolutely outstanding in whatever role they played - however small. There was a wider range of talent among the actresses; Sudha Shivpuri, Surekha Sikri, Uttara Baokar, Usha Banerjee, Suhasini Kale, B. Jayashree, Rohini Hattangady and Anita Kanwar are the ones that come immediately to mind."
To my rather audacious and perhaps a little mischievous query, as to whether he had felt betrayed by Naseeruddin Shah and Om Puri leaving the NSD repertory to go join the FTII to become film actors, his missive had given a fitting reply, "To come down now to mundane matters. It is distressing to see how one is misinterpreted. Why should I have ever felt that acting in films was betraying the theatre? After all, it was I who had initiated the Film Appreciation Course at the NSD and it was I who had insisted that the NSD students should undertake a further six-month course in Film Acting after completing their studies. I had long realized that there was no livelihood for our graduates in theatre alone and that their training had to be supplemented with grounding in radio, T.V. and film."
Ebrahim Alkazi would summarise most eloquently, "Art, in the final analysis, is exploration and discovery shared with the rest of mankind; but in a spirit of humility."
I had asked the noted theatre critic Kavita Nagpal to evaluate Mr Alkazi. She had said, "He was a very good teacher. I did approve of the plays he did but I did not approve of his autocratic system. I found it difficult to understand, how they respond to Alkazi teaching them in English? I used to find this very amusing and amazing. Plays were in only Hindustani. He would teach in Angrezi. We would wonder how some of these students learnt?"
And then one day, back then in time, Ebrahim Alkazi left the NSD. He would maintain that it was to reinvent himself in another field - the visual arts. Whispers going around then said that a lobby working against his vision accused his stewardship of forcing international standards and the westernization of Indian theatre.
Rita Ganguly had communicated in her words, "Alkazi would invariably call me because the ambience at that time in the National School of Drama was not a very happy one. There was acute politics going on anti-Alkazi. The Hindi group was very active and they didn't like Alkazi's success. So there was a continuous activity going on."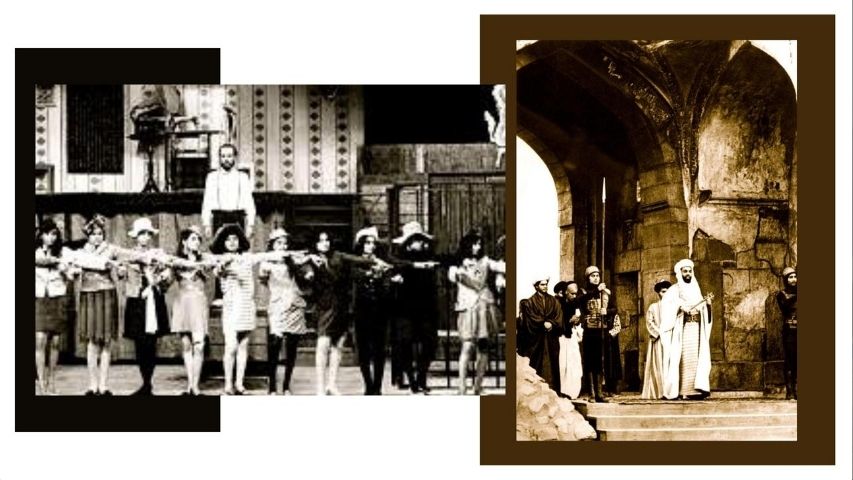 An excerpt from an article in Frontline dated March 14, 2008 - 50 years of drama - by Gowri Ramnarayan has theatre scholar Samik Bandyopadhyay, vice-chairman of the NSD, say, "After Alkazi and (B V) Karanth, the NSD had administrators as directors." The article further reads - Remind him of renowned director Ratan Thiyam's brief, stormy headship, and Bandyopadhyay replies, 'I feel the opposition had to do with Thiyam's ethnicity. A Manipuri could not be accepted in a predominantly Hindi set-up. Wasn't Heisnam Kanhaiyalal, one of the greatest theatre directors of India, kicked out of the NSD as a student?" The article further mentions, "A visiting professor at the NSD, Kanhaiyalal laughs as he recalls his expulsion after three months in the school as unfit, because he could not speak Hindi, despite pleas for time to learn."
Actor Jayati Bhatia recalled with deep regard being part of the Living Theatre, which Mr Alkazi started after the 1991 convocation of the NSD. There were 22 students in the acting course and 8 in the direction course. It was held in the premises of the LTG auditorium, next to Kamani Auditorium in Mandi House.
In recognition of his services to theatre and the arts Mr E. Alkazi was over the years honoured with exemplary recognitions: Sangeet Natak Akademi Award for Direction in 1962, made a Fellow of the National Academy of Performing Arts in 1967, Padma Shri conferred in 1966, Padma Bhushan in 1991 and the Kalidas Samman in 1998.
In April 2008, NSD completed 50 years of its existence. The 10th Bharat Rang Mahotsav, held its golden jubilee celebrations from January 3 to 20, 2008. It showcased not only productions by the NSD and its alumni, but also plays from Germany, Poland, Switzerland, Norway, China, Afghanistan, Pakistan and Bangladesh.
Many well-meaning and ill-meaning patrons, critics have over the years questioned the continuing existence of the NSD at the expense of the tax payer's money. In the issue of Frontline – March14 2008, M. K. Raina gave a fitting reply, "Do you ask such puerile questions about law schools? Medical schools? With 500 years of theatre tradition, this country should have at least 20 NSDs in all its regions. One school in one city (New Delhi), with 20 students a year for a billion people is rubbish."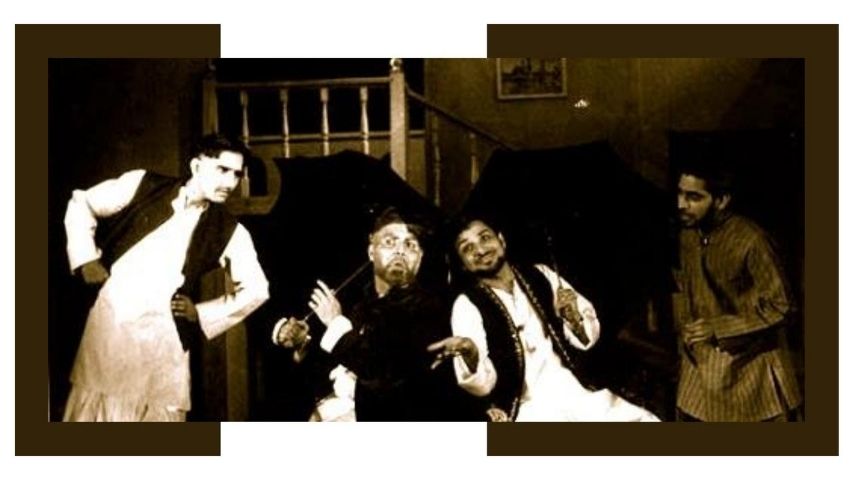 I had on the 26th June, 2007, met Mr Govind P Deshpande (GDP). This noted playwright and academic, who retired as a professor of Chinese studies from JNU, of which he was also an alumnus, was also a television and film writer. I had asked Deshpande to assess Alkazi as a director. His very relevant analysis informed, "Alkazi is a very difficult person to analyse. His reputation as a disciplinarian is well known. As a director his major contribution was that, till Alkazi's time in Delhi nobody knew theatre was a serious business. He made Delhi conscious of it. The other thing is in Maharashtra and Bengal, it was always understood that theatre is a serious business but professional training happened only if you were lucky. But for Alkazi, Delhi would not have known this. Some of the problems NSD now faces are precisely (because) this professionalism has now gone. Third thing Alkazi did, was to establish that the language theatres of India together make Indian theatre. It is his NSD, which started off in one sense looking for plays from all over India. So as a consequence what happens is, and it has a philosophical meaning in my opinion; that different people who were facing similar situations in different parts of the country started getting together. And it became a common problem. And that progression would not have happened and I dare say, it has also contributed in-turn to regional theatre inter-mixing. I think Satish Alekar, Mahesh Elkunchwar and myself - we are part and product of that movement. After all it is the time Alkazi had just taken over. I write my play in 1973, Udhwastha Dharmshala, first production. It is mounted in 1974. Shreeram Lagoo did it here. So in one sense it is part of that which begins with Tughlaq. A play like Tughlaq, became a play of Nehruvian vision. All said and done, Alkazi saw it. Like all movements one can say that the Alkazi movement made its point. Perhaps there is a need to go to a different pattern now and re-address yet again. It is like what parallel cinema was, within cinema. That it makes a point historically and socio-politically. It is really like the waves of the sea. You have one range of waves coming, dying out and then another takes over. One has to see it in that light. As a consequence most of these people introduced certain professionalism. Part of the prestige that my sister Jyoti Deshpande enjoys in Marathi theatre, among other things, is sheer professionalism. Consistency of performances."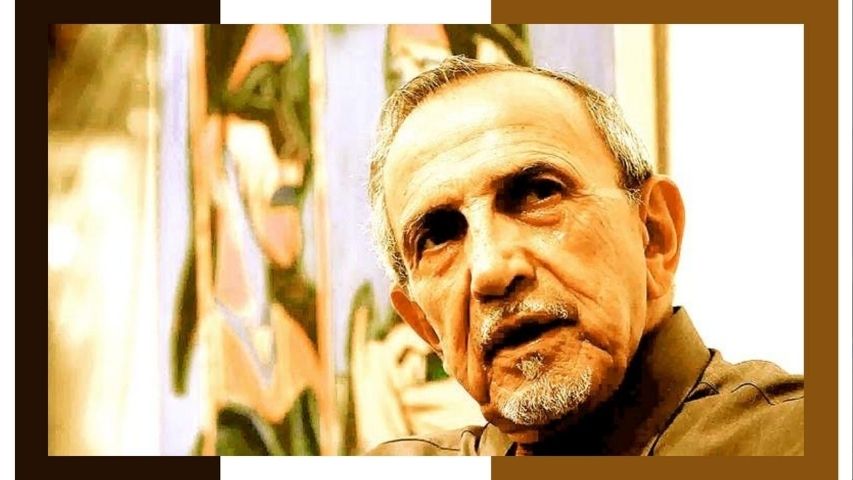 An anomaly constantly bedevilled the NSD Repertory. The remuneration of its members and its chief continued to be woefully inadequate and unrealistic. Films and advertising companies offered better opportunities. The real trouble lay in the overall approach and lethargy, particularly of the department of Culture, Government of India. As a society, India has not helped flourish itself with a self-sustaining theatre livelihood. Dance and music, the components of natya, are better recognized on all platforms, while theatre is left to lurk in the shadows. Each dispensation and political colour paints a new intent or wipes out the old one.
It was 2010, when Alkazi would be awarded with the Padma Vibhushan and later with the Sangeet Natak Akademi Fellowship for lifetime contribution to theatre.
The growing and penetrating influence of cinema and television would throw up many a challenge for institutions like the NSD but its alumni would do it proud. In the regional language theatre most notably original work and experimentations got nurtured. Two of the greatest theatre directors of India, Ratan Thiyyam and Heisnam Kanhaiyalal, both NSD alumni, have made outstanding contribution to Indian theatre in regional language. Ironically Heisnam Kanhaiyalal was expelled from the NSD but would in later years return there as a visiting professor.
Through many highs and lows, entries and exits of directors brought in to helm the institution, NSD continues to exist in the present. That itself is of reckoning. Any question mark put on NSD's validity could be best answered with, 'Why, the fact that it exists is reason enough for it to exist.'
In the present, amidst the pandemic, the NSD website shows a curated Webinar Series, Theatre For All, scrolling its Join Our Webinar, information and presence.
As for the nonagenarian founder, now departed, his theatre, the visual art and archives remained till the end intertwined strands in his life. They live on. Apart from his scale of work in theatre, The Alkazi Foundation for the Arts (AFA), a registered charitable trust in New Delhi, is dedicated to the preservation and study of the cultural history of India. It houses The Alkazi Collection of Photography (ACP), as well as the Alkazi Theatre Archives (ATA); a collection of materials relating to post-independence theatre in India. The website can be clicked on and accessed.