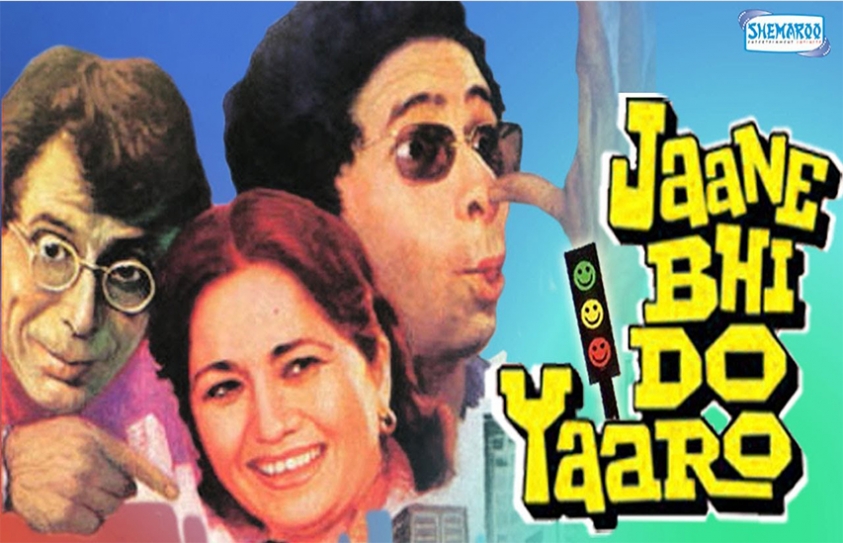 Jaane Bhi Do Yaaro
by Rinki Roy Bhattacharya
February 11 2017, 5:17 pm
Estimated Reading Time: 3 mins, 43 secs
Comedy, for some odd reason, has not been a favourite genre for Indian film makers. There is a marked preference for sentimental romances, love stories, family melodrama, grim tragedies and of course an overdose of screen violence that nearly make you run for the exit. Language cinema as well as the cinema of Bollywood has been shy of comedy. Lets us see how many comedy features can we count in the history of Indian cinema? GOLMAAL, PADOSAN, CHALTI KA NAAM GADI, ANGOOR, CHASME BADOOR? Great comedy actors Utpal Dutt, Kishore Kumar, Agha, Ravi Bhaswani, Johnny Walker, Tuntun, Mehmood were in the ensemble cast.
In this bleak scenario of non existent comedies, Director Kundan Shah's JAANE BHI DO YAARO holds a secure place. Doubtless a classic, the film has endured brilliantly as we witnessed at the special screening held by Bimal Roy Memorial (BRMC) in memory of actor Om Puri who passed away last month. In his repertoire, Om has several landmark films. This includes his overseas works like the delightful, One Hundred Foot journey, or East is East. Why then did we choose Kundan Shah's work where Om has a minor cameo? We chose this film as Om makes an extraordinary debut in that cameo role. His portrayal as the wily beer soaked, sloshed Ahuja sparkles in memory for its authentic tone. It is a flawless rendition. In fact, as Ahuja, it is quintessential Om Puri.

At the BRMC show, Kundan Shah threw in a few nuggets. He confessed that Om was called in last minute when one actor dropped off. Also that Pankaj Kapoor was to play Ahuja. But with Om's entry into the sensational cast of JAANE BHI DO, roles were reversed. Kundan generously ​acknowledges his debt to his dialogue writer team - Satish Kausik and Ranjit Kapoor. Satish also has a plum role as the go between man Ashok in JAANE BHI DO. And Ranjit Kapoor's sister, Seema, is Om Puri's widow. Present at the screening, Seema warmly recalled Om Puri.
Many considers JAANE BHI DO a cult classic. Some dub it an iconic work adding the film is veritably India's only black comedy. It can be called a comic thriller par excellence but in the final analysis – Kundan Shah's film defies label. Indeed, it is a work with multiple layers and underlying socio-political reference that are relevant even today. A comedy that is so delightfully original that sticking a label will be gravely unfair. JAANE BHI DO YAARO is certainly beyond labels.
"There was a lot of anger!" Kundan Shah modestly confessed at the screening. He recalled one particular incident, for example when he went to meet the local BMC officer. His building gutter was leaking into the water tank. Concerned they would be drinking polluted water he asked the officer for urgent action. The officer retorted:
"So what? Many people drink that water?"
In JAANE BHI DO YAARO the gutter in fact is a metaphor of the failed civic system, of corrupt officers who talk big but do nothing.

From the first frame to last, Naseeruddin Shah and Ravi Bhaswani sustain the film. Their crazy journey through bizarre situations, comic interludes, and frighteningly real implications impacting on the life of millions is exposed through a bold expose intelligently disguised as comedy. Kundan's film is deceptively simple. It's strength – and charm – lies in the fact that he has raised our awareness without making it boring. In the finale – when two innocents are made the fall guys the film goes on a roller coaster ride making the audience aware how ordinary people are made "bali ka bakra". I consider it truly the last word in political satire that sets out to expose our society's hypocrisy. And does it with unfailing and sinister wit. The ensemble cast of JAANE BHI DO –adds to its iconic stature.
In the last shot the two jail birds, Sudhir and Vinod walk into the frame.
They make a silent sign of being hanged. We are reminded of a memorable one liner from a classic Hollywood film:
"You can take our lives but not our freedom"!!! or shall we say?
"The king is dead. Long live the king!!"
A standing ovation for Kundan Shah and his immortal film JAANE BHI DO YAARO.