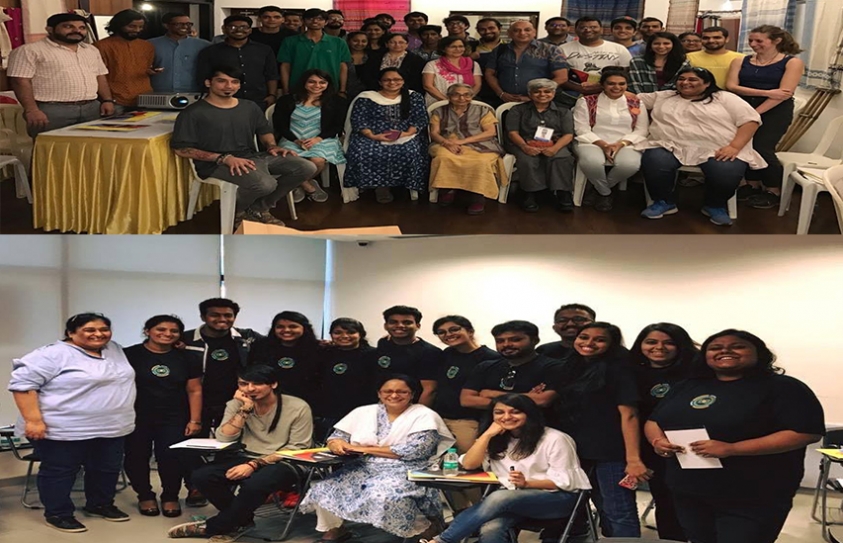 Change Makers: Using Entertainment Education For Social Change
by Kopal Khanna
March 28 2017, 11:00 am
Estimated Reading Time: 2 mins, 50 secs
Change Makers: Using Entertainment Education for Social Change
Asian Center for Entertainment Education and its flagship program The Third Eye, in association with Hollywood Health and Society conducted an interactive workshop to help the participants develop and hone tools to affect measurable social change by tapping into the immense power of storytelling. We delved into different storytelling techniques as well as channelling possibilities from distinct mediums to amplify messages and ideas, while simultaneously retaining its entertainment value. We addressed how to create relatable stories, keeping the former sentiment in mind. In this process the participants learnt how to collaborate, delegate and overcome challenges through perseverance and strategy.
The two hour long workshop was conducted at St. Paul's institute of Communication Education and Kala Ghoda festival in mumbai on the 4th and 6th of February 2017 respectively. The workshops were conducted by Deepa Bhalerao, Director Programs, Shiv Bhalla, Creative Director and Kopal Khanna, Head of Communications,

Session at St. Pauls institute of communication education, 4th February, 2017.
The change-makers workshop at St. Pauls institute of communication education was held as an event at the annual festival, Mediathon 2017. The workshop was attended by a bunch of 16 enthusiastic students from the institute itself who thoroughly enjoyed the two hour long session and came up with fantastic ideas in their group presentations.
The presentations each of the above 5 topics were innovative and thought-provoking. The students detailed how they would best utilise posters, street-play, television and film for the dissemination of the issues, and calibrate social media towards maximising their outreach. Their storytelling skills and experimenting of mediums brought forth simple but very effective ideas. Creativity coupled with the media at hand made for unique and doable campaigns.
A participant of the workshop, Himanshi Saboo, had the following to say about the workshop,
"At this time, the change makers workshop introduces a fresh perspective to bring out a social change which is much needed. Evolving on an idea that works towards betterment,we really found some stories worth bringing on screens. Entertainment education is indeed a small step for a big change."
Session at Kala Ghoda, 6th February, 2017.
ACEE held the second workshop at Kala Ghoda, 2017 where people from almost all walks of life came to learn more about how to become an effective changemaker. The 26 participants came from different backgrounds ranging from fashion designers, filmmakers, writers and poets to engineers and cyclists, with ages ranging from 18 to 75.
This diverse set of persons were divided into groups of five who put together elaborate presentations on how they would address social issues on given mediums like films, TV serials, street plays and theater. They outlined their strategies and gave interesting and engaging ways to achieve the best possible outreach in the groups specified.
A participant of the workshop, Rishi Ashok, had the following to say about the workshop, "I'm a mentor at Green batti (NGO) and had brought my mentee along for the change-makers workshop. I must say it was an enriching experience for me as well as my mentee."
The first two sessions of the change-makers workshop were a success and the team at Asian Center for Entertainment Education plans to conduct this workshop in its various forms in many other places in the future. If you wish to collaborate and have ACEE conduct this workshop for you please contact us at contact@acee-thethirdeye.com