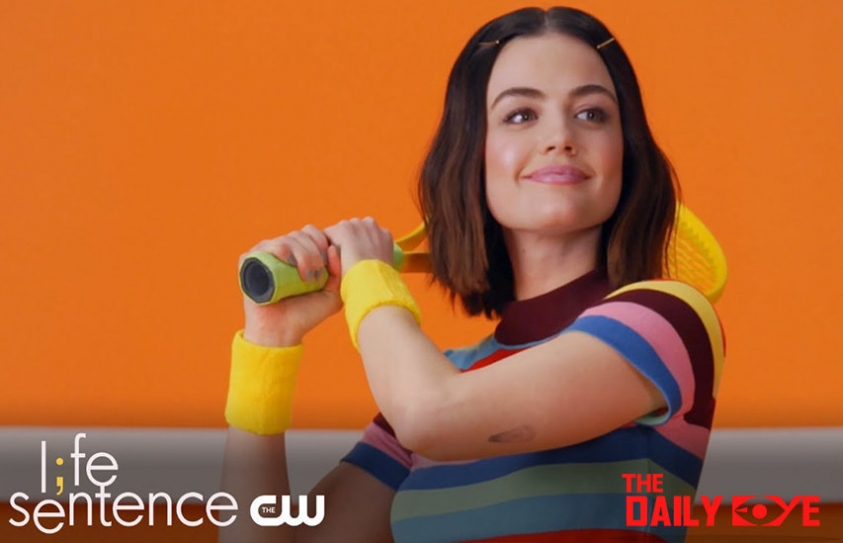 Life Sentence- A Deurmekaar Seriocomic
by Shubhangi Jena
March 12 2018, 4:44 pm
Estimated Reading Time: 3 mins, 1 sec
When life gives you lemons what do you do next? Squeeze it o' not, the answer is entirely subject to individual perspectives and their devices in hand. Life Sentence unravels the story of a teenage girl Stella Abbott (Lucy Hale), who lives her whole on the edge of an abyss, the edge that marks the brim of her life and death.
Stella Abbott is quite a sprightly person for her age. With a sunny disposition like that she summons the sun beams at her doorstep, you bet, only to discover one day, that her days to cherish are few and the dreams in those eyes, fathomless. On learning that she has been detected with some form of incurable cancer, the entire family including Stella gear up to embellish her last of days quite pompously. With the numbered days that she is left with, Stella decides to cross out her wishes from the checklist, a teenage girl, who simply passes over the responsibilities of growing up to board her chariot of death.
She marches on doggedly to pursue the rosy picture of a perfect life she had embroidered in her own figments. Stella marries an exceptionally handsome Wes whose love scales ad infinitum. The duo, go through some challenges and in the process Stella has to take the effort of reading and understanding him as of course their marriage too.
Once you enter the premise of Life Sentence, there is a world of contrariety to register. The storyline is supposedly doleful but the narration tries to evoke a genial, entertaining vibe that somewhat veers on a disjointed tangent. There are a number of first world problems strewn into the plot, yet surprisingly Life Sentence tries to be a light, breezy breather. The degree of despondency projected is whitewashed by strokes of brow-raising gaiety. There's a broke family, few unattended siblings (mind you that breeds depression naturally) and to top that two dissevering marriages but the twee drama evinces unnatural vibrancy.
Cancer-Miracles-Fiction, is no neoteric combination, but save that grin for the last jest. When Stella's doctors break the big good news to her about that 'malady being curable' her entire life seems to flash before her eyes and now she has to brace herself for the game called 'life'. Since Stella decidedly stayed in a bubble floating in the sea of escapism, her new gift posed a serious challenge to her, however, unthinkably not to her family members. They promptly went on their ways, spat acrimoniousness and bickered about how wretched a life they all had been silently enduring in order to bid Stella a perfect adieu.
Life Sentence tries at length to present itself as a seriocomic and rigorously does its damnedest to instil new spirits and give strength to the story line. Stella's story can be fairly relatable to a certain degree given a young adult who is not obliged to shoulder her duties because she is dying, (who wouldn't love tossing aside their responsibilities and chase those dreams?) So many years of pretended togetherness couldn't help the family to stick longer nor has Stella learned anything significant by sweeping those responsibilities under the rug all this time.
In the end, the drama leaves us with a few adults- adults who have been handed lemons and devices- however are clueless and messed up, trying to gauge what to do next with a new life their own kith has been bestowed with and how to respond exactly to the fallouts marching towards them.