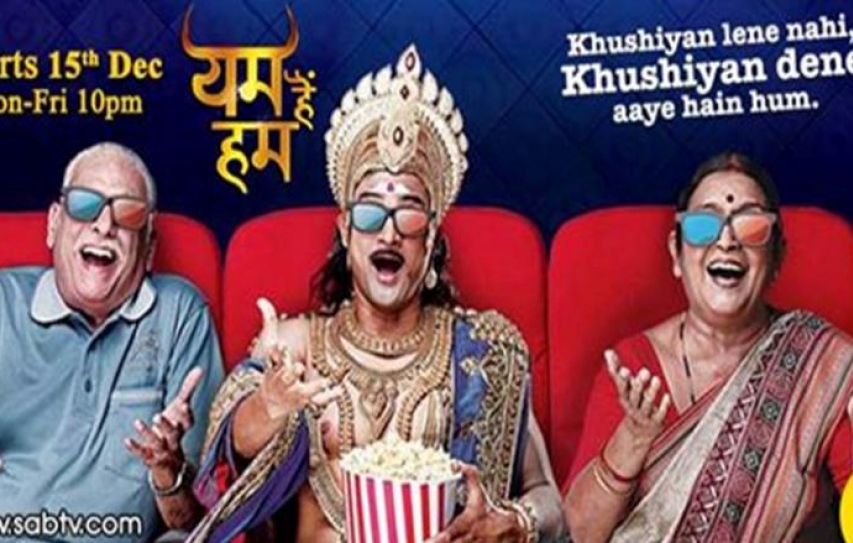 TV Review: Yamraaj's Double Debut
by Piroj Wadia
December 3 2014, 4:21 pm
Estimated Reading Time: 1 min, 56 secs
I find it strange that sometimes television channels tend to launch shows which are similar in plot, lead characters and time slots. I am not alluding to the saas-bahu fare, on call here are two fantasy sitcoms revolving Yamraaj, the God of Death!
The newbie channel, Epic has included a sitcom in their launch lineup of shows -- Yam Kissi Se Kam Nahi. This revolves around a modern day Yamraaj, who bungles up situations. This offbeat sitcom is helmed by Rajesh Kumar, an accomplished actor whose forte is comedy. TV audiences can?t forget Roshesh the dimwitted, wannabe poet and actor from Sarabhai V/s Sarabhai. This classic comedy featured Ratna Pathakh Shah, Satish Shah, Sumit Raghavan, Rupali Ganguly and Rajesh Kumar. As Yamraaj, Rajesh Kumar sports a burlesque, dark look complete with an oversized moustache. Loveable and goofy, this God of Death is anything but grim.
Low TRPs have forced Sony SAB to replace Chandrakant Chiplunkar Seedi Bambawala with Yam Hai Hum, inspired by the mythical Yamraaj. The title role is essayed by Manav Gohil, an actor best known for his dramatic roles. The sole objective of Yamraaj?s visit will be to make people learn that life is beautiful, but it's our bad deeds that make it worse. Manav Gohil has been outfitted with ornaments topped a crown. Chitragupt, Yamraaj?s trusted assistant is played by Atul Parchure. Other than laughs, Yam Hai Hum will also include social messages, the promo showed Yamraaj advocating the use of the seat belt. This serial is supposedly based on the story of Taqdeerwaala which featured Kader Khan and Asrani among others.
One will only have to wait and see which one of the Yamraaj tales make a connect with the viewers.
In the meanwhile, Star Plus is replacing Ek Hasina Thi, which was always a finite show and was to end within the year. An award winning show with respectable ratings, it was unable to boost the numbers, so this well made story of revenge and murder come to an end in mid-December. The next fortnight will be action packed as many a skeleton will come tumbling out and the culprits booked. The thriller at 8 will be sorely missed.
Television viewers will go in to 2015 with a clutch of new shows; and new seasons of many a show.