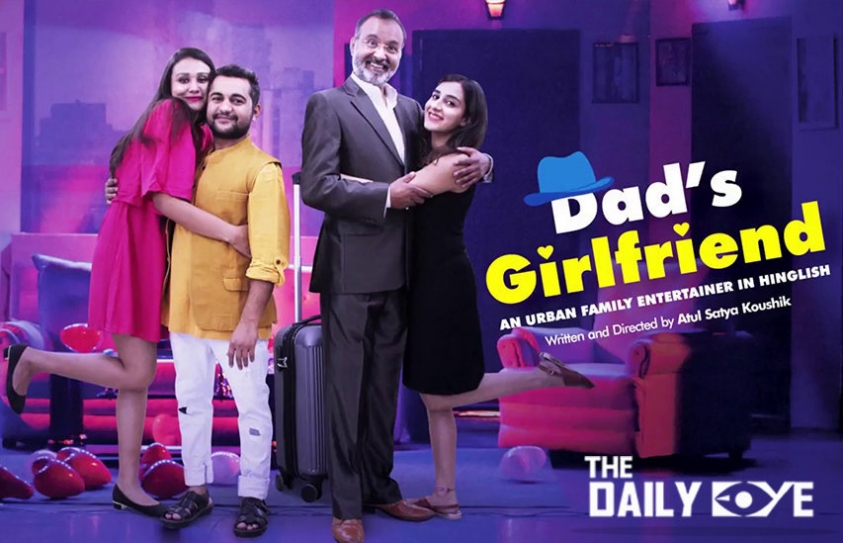 Daddy's Day Out
by Deepa Gahlot
June 22 2018, 4:45 pm
Estimated Reading Time: 2 mins, 28 secs
The saas-bahu domestic conflict is old hat now, Atul Satya Koushik comedy-drama, Dad's Girlfriend, twists genders for sasur-damad tug-of-war.After heavy duty mythological plays, like Chakravyuh, Draupadi and Raavan Ki Ramayan, Koushik has attempted a play set in contemporary Delhi, with mixed results.
A successful architect, Diya (Karisma Singh) has married the happy-go-lucky, and visibly shorter Kanav (Satyendra Malik), a mostly idle theatre actor. Suddenly, her estranged father Dalip Vaidya (Suman Vaidya), a famous author, decides to visit on a mission to mend fences with her. He chooses to live in their small apartment (a fancy, spilt-level set with ostentatious lighting), which makes Kanav nervous.
Source : HollywoodBollywoodeverythingElse
Vaidya clearly disapproves of Kanav—and later in the play, directs a vitriolic speech at him, indicating that everyone thinks he and Diya are an "odd couple." This tension between Dalip and Kanav, with Diya caught up in the crossfire, was enough to fuel a full-length comedy. However, the bigger conflict arrives in the form of a young, aspiring writer Avni (Anumeha Jain), who makes a play for Dalip, who offers to get her book published (in a week, at that!)
Initially, it seems as if Avni is the typical gold-digger who takes advantage of Dalip's attraction to her and uses him to launch her career. But, it turns out that she is genuinely a talented writer and in love with the older Dalip, because she likes "men, not boys."
It seems odd that an internationally renowned celebrity writer, who must meet many interesting women during his travels, falls so easily for Avni, that, much to Diya's annoyance, he invites her to stay with them. The focus shift from the Dalip-Kanav spats—which are undoubtedly funny—to Diya fighting Avni for her dad's attention. She is hurt when he chooses to go to Anvi's book launch over her birthday, which she looked forward to celebrating with him after several years.
The situation of an older man being smitten by a younger woman is not that unusual for Diya's excessive hostility. Also, Koushik plays safe by not even referring to the obvious sexual charge between the two, perhaps because he wanted it to be a 'family' play.
The burden of keeping the play alive through its many dull bits, is on Satyendra Malik, so much so that when Kanav is off the stage, the play sags. He is so vivacious and has such perfect comic timing that the other three simply cannot keep up with his energy.
Dad's Girlfriend had the potential to raise quite a few issues about modern families and the changing dynamic between parents and children but is content to gets its laughs without too much strain. Audiences are also easily pleased with comedies.