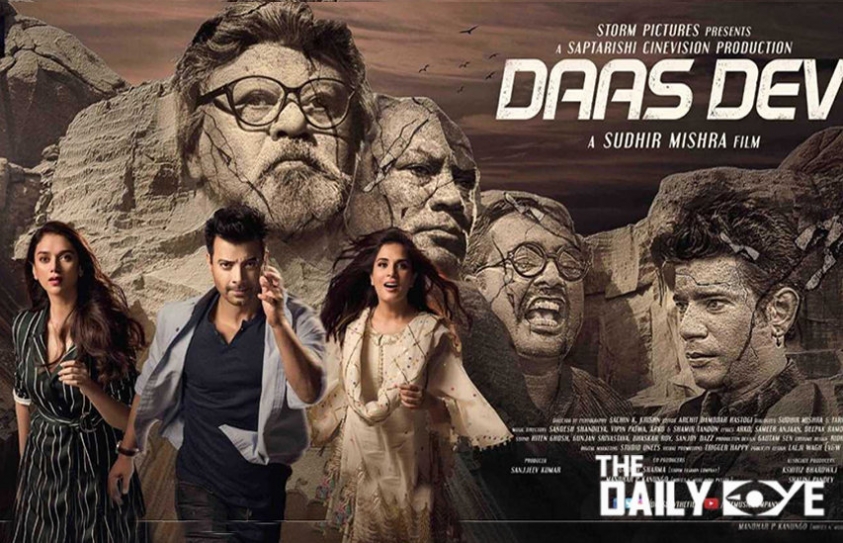 Daas Dev
by Aakanksha Solanki
April 27 2018, 4:19 pm
Estimated Reading Time: 2 mins, 30 secs
Cast: Rahul Bhat, Richa Chadda, Aditi Rao Hydari, Saurabh Shukla, Vineet Kumar Singh, Dilip Tahil, Anurag Kashyap
Director: Sudhir Mishra
Producer: Sanjjeev Kumar, Gaurav Sharma, Manohar P Kanungo
Writer: Sudhir Mishra, Jaydeep Sarkar
Genre: Romance, Thriller, Drama, Comedy
Duration:140 Min*
We've all seen the choice of Sudhir Mishra's films. Daas Dev is an adaptation of the 'Devdas' story but with a political edge to it. But yet politics continues to be the prominent position in the movie.
Daas Dev is the story of Dev (Rahul Bhat) who's an inheritor of a political cathedra. But instead of that, he's busy living his life to the fullest with his eternal love Paro (Richa Chadha) away from Jahana, where his inheritance waits. Dev is raised by his uncle Avdhesh Pratap Singh (Saurabh Shukla), as he loses his father at a very young age in an accident. Not to forget that there's also Chandramukhi is the story and she is Chandini (Aditi Rao Hydari). And now the triangle is complete. Dev returns back to his hometown and now has decided to join politics as everything back there is in a very bad shape. Chandini, on the other hand, is the succour for Dev. She makes sure that at any given cost all his and his family's mistakes are dusted under the rug. Why? Because she's in love with him!
And as usual, the story goes, Dev deserts Paro just when she needs him most. Not knowing that Dev is the victim of his Uncle's conspiracy of trapping Paro's father and forcing him to take the responsibility for the crime he did not commit. That creates a hedge between them. But the twist is that she doesn't grieve about it but chooses to fight back.
Sudhir Mishra in spite of the upturned title fails to communicate the story likewise. Talking about the cast, Saurabh Shukla does justification to the role assigned to him. Rahul Bhat does a good job as the drunken version of him. Richa Chadha, assuming there's so much one gets out of her when it comes to her performance, she's just dull. Aditi Rao Hydari for a change acts as the one in power and an authoritarian, which is agreeable.
Source : Scroll.in
But there is one thing that comes out straight in the movie - the obnoxious world of politics. Where a person who has the power to compel masses to do what they say or even kill people without even second thought. Human life never meant anything to these politicians. The only thing they bother about is to grab anyone at any time and at a certain point if the person is of no use or is an interference, erase them, kill them or destroy them! Trust is sold, help is only offered when expected something in return