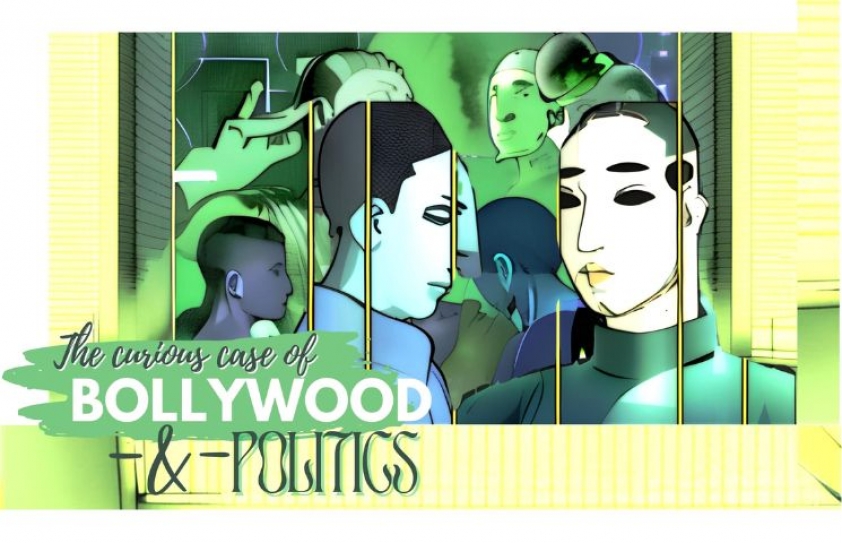 THE CURIOUS CASE OF BOLLYWOOD AND POLITICS
by HUMRA QURAISHI
May 27 2023, 12:00 am
Estimated Reading Time: 5 mins, 18 secs
One's been listening to viewers of The Kerala Story. The common refrain is, "Ye picture dekh kar Musalmano se darr lag raha hai! (After watching the film one feels afraid of the Muslims!)", writes Humra Quraishi.
Perhaps, the motive of making the film has been achieved! In these horrific times, films are made to portray the Indian Muslim community in the darkest ways. Truth is clearly bypassed in this mission to intensify communal polarization. And, it has not happened overnight. However, one cannot ignore that it is reaching unthinkable limits now.
It's important to remind ourselves that several years ago, a bureaucrat of the J&K cadre, Parvez Dewan, was one of the first persons to have researched on how Bollywood films and television serials stereotype communities and influence audiences. He exposed harsh truths. According to his findings, Christians are shown in a negative light with their men drunk and as petty criminals and the women are mostly shown wearing skirts that bare their legs, which stereotypes them to be women with loose morals - the smoking-drinking type. Sikhs are generally portrayed as well-meaning dullards. Dalits and the tribal communities are portrayed in another shade of the make-believe. Parsis are silly and old.
The Chinese who have settled in India were usually portrayed as evil, and as gangsters. Muslims are shown in another kind of negativity - invariably the villains in the movies and serials. Muslim men are shown in typically 'Muslim' attire. They are either old, handicapped, subordinate, sterile or homosexual. If they are not any of these, then they produce many children. Less than 20 percent of the Muslim men are portrayed as young, but even in this category they are depicted as backward and as fundamentalists, mazhab ke pakke, so much so that many of the opening shots start with a Muslim character offering namaaz. Another trend, ever since the film Tezaab (1988), is the portrayal of Muslim men terrorising the local populations.
I had met and interviewed actor Farooq Sheikh twice - once in the 1990s, and then around 2005. He lashed out about the misleading portrayals of Muslims in Bollywood films. "Filmmakers in Bollywood have little concern to show the real halaats that an Indian Muslim is going through - the actual condition of the Indian Muslims. They have big budgets but little sensitivity towards relevant issues. Today, cinema has become a commodity to be sold. Community perceptions in our films have always centred around stereotypes: the Christian character is a girl dancing or wearing short skirts, with ample indications that she's a fast girl. The Parsee is shown as blundering. The Sikh is either a soldier or eating parathas. In the case of Muslims, the characters are hardly believable. Why do they portray the Muslim men to be wearing lungis and a vest, or as ghaddars? Sometimes, as an exception or token, one of them will be shown as patriotic so that the entire community is not misunderstood. The other stereotypes: with 300 adaabs in one film and women wearing ghararas or cooking qormas, which are usually absent in an average Muslim household."
He said that Bollywood was no place for sensitivities: "The film industry and filmmaking is just a dhanda today – about sheer money-making, so all these things don't really bother the makers. Today there are no film producers like K Asif, Guru Dutt, Bimal Roy, Mehboob sahib. Mehboob sahib had no money, yet his passion drove him to make films. And, Bimal Roy lived in a rented accommodation all his life. The fact that it took MS Sathyu 20 years to repay the debt he took upon himself to make Garam Hawa is a testimony in itself. That level of commitment, passion and sensitivity, is missing in today's film producers."
So, getting back to the blatantly wrong, bizarre and lopsided portrayal of the Muslims - there seems to be no end to the myths and misconceptions in circulation about them. Also gaining ground, today, are the weirdest notions of the 'other' - that Muslims are violent and brutal, dangerous and terror striking, over-sexed, they marry 4 times, and produce many children. Or that they hardly played any role in the freedom struggle, and that their loyalty to the country must be questioned because most of them are pro-Pakistan.
One cannot ignore the fact that in today's polluted atmosphere there are barely any occasions left for interactions between the Muslims and non-Muslims. You get to interact with each other only when you are at par, isn't it? A middle-class Hindu and a Muslim can only talk, walk or share a meal together if they live in the same neighbourhood or they work, study together. But with lopsided ratios on these fronts, when and how do they interact? Moreover, when moral brigades and private senas are unleashed upon the Muslims men if they dare to befriend Hindu women, obviously it spreads fear, and the divides between them widen. Bogus propaganda about opposition parties' appeasement of the Muslims further complicates and compounds the situation. In fact, in contrast to appeasement theories, the stark truth is that a great majority of Indian Muslim have faced at least one, if not more, humiliating experiences.
The concerned ministries and commissions should have countered this but there seems no apparent measure taken to control this damage done systematically, as myths and misconceptions in circulation are gaining ground due to there being a lack of will to cement the ties. On the other hand, the silence maintained over the injustices visible to everyone helps to polarise and there is a particular politics that it fuels, don't we know?
I will end my column with a verse by PRIYA ANAND, from the Amity Peace Poems (Hawakal Publishers):
A message To The Almighty/My prayers glide on air currents/They travel to distant lands/They bow to the many Gods/that have made their homes there/They dip and swoop and surf the wind/The words whirl and dance/The letters drop one by one or all at once/They find a kindred soul in other words/and form new sentences in unknown lyrical languages/They may sound strange and exotic/but the essence is the same/A message to the Almighty.