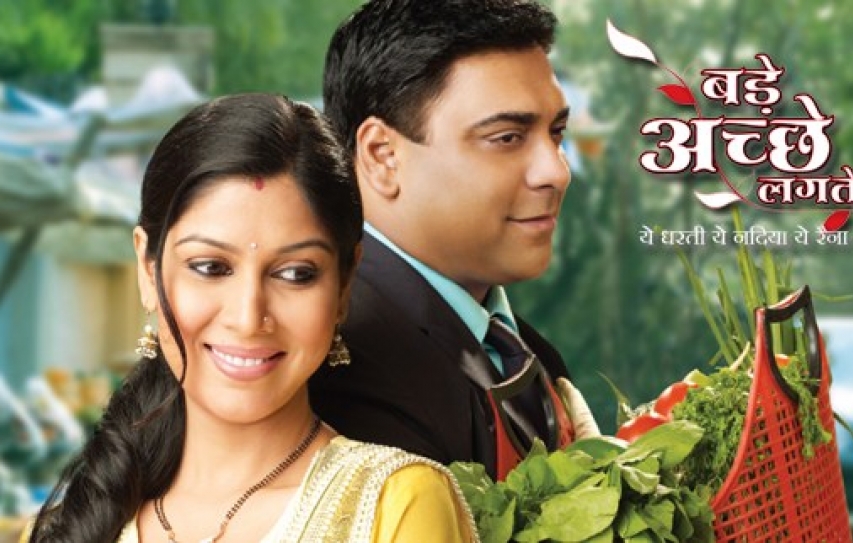 Of Mirth And Soaps
by Piroj Wadia
September 17 2014, 8:07 am
Estimated Reading Time: 3 mins, 46 secs
There was this scene in Thakan, last week, where the newly married bride Sadaf goes into the kitchen to make tea. Foxed by an unfamiliar kitchen in the lavish house of her husband Kashaan, she asks a servant for a cup of tea. The servant asks her: How do you want your tea? Black or White? When she says white, the next question is with cream or with milk? Do you want Chinese tea? Or English tea? Exasperated, Sadaf tells her that she?s changed her mind. About two years back, a similar scene was enacted in Bade Achche Lagte Hain when a newly married Priya asks for a cup of tea and the butler asks similar questions. Ekta Kapoor was there first, I would like to believe; but it would be interesting to find out where the scene originated.
Whilst on BALH and Thakan, both stories feature middle aged marriages of convenience. This certainly augurs a sense of progressive thinking in scripting TV soaps. Here?s hoping that more mature love stories emerge on television. However, Thakan has another Indian connection. It has been inspired by Ritwik Ghatak?s 1960 Bengali movie Meghe Dhaka Taara; reiterating that stories go beyond borders and countries.
Thakan strikes one as a tugging tale of a young woman Sadaf, who has lost her youth working herself to the bone to support her demanding mother, an invalid grandfather, besides two spoilt and demanding younger siblings. In BALH, Priya Sharma too had to contend with a dominating mother and a spoilt younger sister. Sadaf?s older sister Deeba, who is married to an auto rickshaw driver, dies giving birth to the fourth child. The mother wants Sadaf to marry her brother-in-law, who is finally married off to the youngest Mehak. Fortunately, the viewer is spared and overdose of Sadaf?s tribulations. In a moment of desperation, she is offered a window of hope and takes that one step of marrying Kashaan, a wealthy tycoon, much older than her with two young children. Her additional responsibility is to look after Kashaan?s challenged sister.
Sure there are episodes which tinge the narrative with melodrama, but it isn?t given to soap operatic over-indulgence. Sadaf is a self-sacrificing soap opera heroine, who is betrayed by everyone including her own mother, her friend Jawad and finally even by her mentor-cum-mother-in-law. Sadaf?s story has to come to an end in 22 episodes. As I write this column, the end is a few episodes away and more dramatic revelations are yet to follow.
Saba Qamar who plays Sadaf fills the screen with her sometimes fragile look, but tough as nails presence. Saba Hameed, the mother has the toughest role, she does everything for the younger two children which include a lout for a son and the married eldest daughter by making demands on Sadaf. Even after the latter marries! Then she forces the youngest daughter to marry the husband of her dead eldest sister. She truly challenges her counterparts on Indian shows. Tauqeer Nasir?s Kashaan?s graph is predictable, but as he opens up to Sadaf, his restraint is commendable
A soap to its very suds, Thakan shows how to get the melodrama out of the way in a few quick well cut scenes. It isn?t great scripting, but the direction, editing and the exteriors footage make a worthwhile viewing experience. At the end of the day, the script intentionally melodramatic is kept taut.
-------------------------
This week Taarak Mehta Ka Ooltah Chashma crosses the 1500 episode milestone. It is 300-odd episodes behind Kyun Ki Saas Bhi Kabhi Bahu. This probably makes it the longest running daily weekday sitcom on Indian television. One simply cannot dispute the show?s popularity. From plush high-rise apartments (in SoBo too) to middle class housing colonies, viewers have an appointment with Taarak Mehta. They see themselves as reflections of the Gokuldham residents, complete with Tapu and his Sena. May be the warm identifiable multi ethnic characters, their trials and tribulations are what have got India hooked on to the show. The actors, rather the characters are household names.
Comedy is a serious business and the full credit goes to Asit Kumar Mody, the writing talents of Neela Telefilms and the team of directors, for keeping the laughter going. Now wouldn?t be a bad time for the channel to show organized repeat episodes in a particular time slot, for those who missed the first 100 episodes. We do see scattered old episodes. More mirth power to Taarak Mehta, and friends.