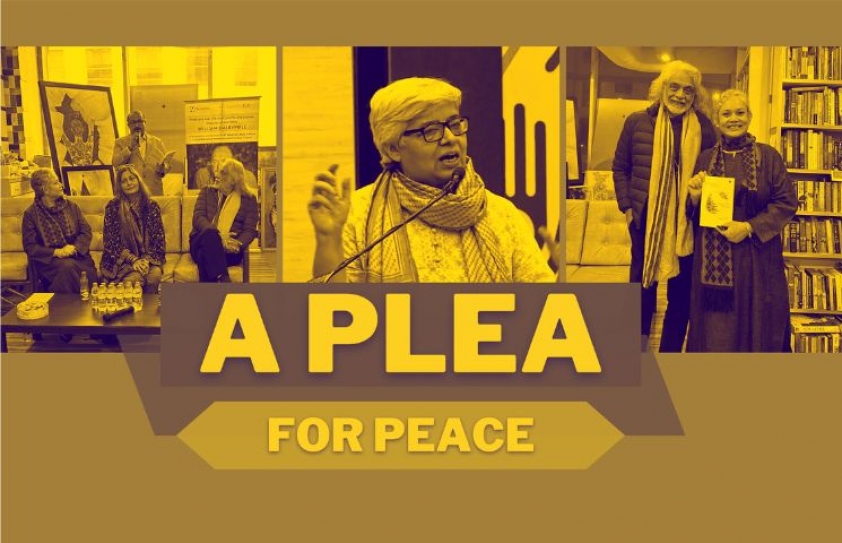 A PLEA FOR PEACE
by HUMRA QURAISHI
January 10 2023, 12:00 am
Estimated Reading Time: 4 mins, 54 secs
Humra Quraishi celebrates Sahana Ahmed's book, Amity Peace Poems, and Shubha Menon's Resilience: Stories of Muslim Women - the inspiration of which is none other than Shabnam Hashmi, World Economic Forum's latest Woman Of The Decade.
I was there at the launch of the book titled Amity Peace Poems, edited by Sahana Ahmed and published by Hawakal, last week. Muzaffar Ali and I were invited to release it at the bookstore Quill and Canvas, situated in Gurgaon. When Sahana invited me, telling me of the peace poems put together by writers and poets from India and countries across the world, I immediately agreed because peace ought to be placed centre stage. After all, aren't we all craving for it!
It was one launch where there was much spontaneity and enthusiasm, not only among the poets present, but also among the audience, which was so involved. Ninety-five poems by forty-seven poets from across the globe have been included in this book but obviously all the poets weren't able to make it to the event. Yet, it was heartening to meet some of them who had travelled to Delhi from Mumbai, Assam and other places. They read their verse at the event and it was touching to see their involvement - obviously because all of us want that peace is achieved.
It is a well published book, brimming with verse - thanks to the efforts of the publishers, Bitan Chakraborty and Kiriti Sengupta. And of course, the editor-poet, Sahana Ahmed. Here's a snapshot of what she has written in the introduction to the book: "The idea for this Anthology was born out of the confluence of two of my roles: as a poet and as the India Country Chair, World Peace at G100. G100 is a group of global women leaders that comprise a league of luminaries, including Nobel laureates, heads of state, entrepreneurs and philanthropists. My own vision for this collection was simple. I was interested in honest writing; all types of poetry, from free verse to traditional forms, were welcome. It was crucial to me that voices from different quarters were heard regardless of previous writing experience. So, we have soi-disant closet poets rubbing shoulders with those who have earned international acclaim; more than a dozen Amity contributors have at least one literary honour to their credit."
As for me, I would love to end each of my weekly columns with a verse from these 47 poets. Why not! They are focusing on peace. For this week's column, Sanjeev Sethi's lines tucked in this volume are here below:
Plea for Peace/Urgency is an attitude//The lever to check it lies/within us//Unthinkingly we cross way posts until/hindsight lobs its handbook at us//The sour notes of dissonance must be side-lined/in the waste basket of history with the sincerity/and stamina they deserve//If we attend to peace and its attendant virtues as/casually as another nosh with our nightly sips/our kids will never be able to enjoy their aperitifs.
And, there's another great news coming in! Delhi based activist SHABNAM HASHMI bags the 'Woman of the Decade' award. The well-known activist and founder of ANHAD, was honoured with the Woman of the Decade award by the Women Economic Forum. The 84th Global Edition of Annual Women Economic Forum 2022 (WEF) - G100 Meetings in Delhi, India, was inaugurated on 27th December and the deliberations continued till the 31st. Shabnam Hashmi, was invited to speak in the Plenary session on the second day of the summit on human rights.
Shabnam has been working for over three decades (perhaps, four) for the rights of the disadvantaged. She reaches out, speaks for, and sees to it that the affected are provided with adequate protection and care. Also, her work, and that of her team, stands out in regions where natural disasters and calamity have struck. And what can be termed amazing is the fact that she's seen working for the women of the bastis in New Delhi, among the pogrom and riots affected, and also the survivors in conflict zones of the country.
It becomes relevant to mention, that whilst reading Shubha Menon's book Resilience: Stories of Muslim Women, it is clear that the prime motivator cum inspiration for the "resilience" and the significant change is none other than Shabnam Hashmi.
Here I quote Shubha Menon: "In the early 1980s, social activist Shabnam Hashmi came to Delhi from the erstwhile Soviet Union during her summer break from college. At the behest of a friend, she started teaching the Basti girls at a local adult education centre. But she soon realized that the centre didn't want to go beyond basic literacy. Shabnam found the girls had a lot more potential, and decided to stay back. And thus Seher Adult Education Centre came into existence. Seher, however, started its journey on a bumpy road; coming from economically deprived families where even two square meals a day was a luxury at times, the girls had to struggle against severe hostility from the basti residents for whom Muslim girls going to study was anti-Islam… yet, the girls refused to give up, going not only to clear public examinations but also inspiring and motivating future generations."
Yes, Shabnam Hashmi can be termed as one strong courageous woman who has been raising her voice for both men and women, for their dignity and right to life and living. She has been taking on challenges. Not giving in, no matter how tough the going gets. It's the hapless human being that matters to her and to her team.