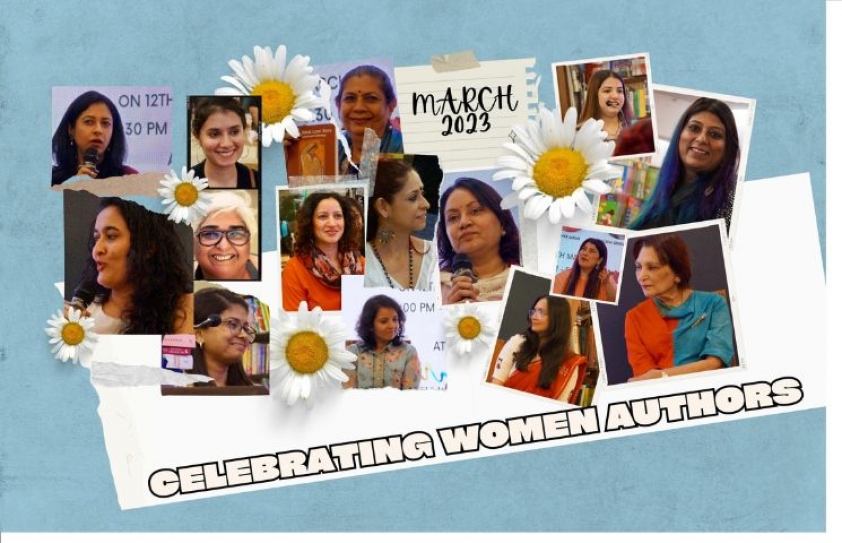 CELEBRATING WOMEN AUTHORS: CELEBRATING WOMEN'S VOICE
by Editorial Desk
March 28 2023, 9:50 pm
Estimated Reading Time: 4 mins, 9 secs
So, as the month of March 2023 comes to an end, The Daily Eye Newsdesk reports on one of the best celebrations around International Women's Day. As we know, the day now lasts a whole month.
Ajay Mago-helmed Om Books International organised a one-of-its-kind initiative involving some of its best authors and book bloggers for an evening of discussions around books and the process of writing. What made this unique is that the first edition featured only women authors and was moderated by a woman journalist-filmmaker as well.
The event featured discussion and readings from a variety of women authors, including Kainaz Jussawalla, Vinta Nanda, Gajra Kottary, Richa Lakhera, Maria Goretti, Priyanka Sinha Jha, Bharathi Pradhan, Rinki Roy, Ridhi Sarda, Nancy Katyal, Vedashree Khambete-Sharma and Sathya Saran among others on March 12th at Title Waves Bookstore, Bandra, Mumbai and was moderated by Anusha Srinivasan Iyer.
The authors participating in the event came from a variety of backgrounds and genres, but all shared a passion for telling women's stories and promoting gender equality through literature. As editor-in-chief of Om Books International, Shantanu Ray Chaudhuri, says, "We hope that such initiatives will engage our authors and the writing community in conversations about ways in which we can promote books."
Adds Ruchika Khanna, marketing manager at Om Books International, "It was amazing to bring together such an incredible group of women authors for this event; our hope is that this event will not only celebrate the achievements of these women, but also inspire others to write and share their own stories."
The attendees thronged to celebrate the power of women's voices in literature and the panel discussions were full of energy, enthusiasm, interspersed with laughter. The day meant different moments for different authors.
Author Vinta Nanda felt that this is "a time to focus on the many battles fought by women and the challenges that lie ahead for us, as also set the agenda for the things we as a community along with our allies must do."
To Bharathi S Pradhan, it meant, "a day for celebration. It feels elating to see how far women have come in most parts of the world. Words like patriarchy, victimisation and glass ceiling seem so passe today. March 8 is a day to stop whining and start feeling triumphant."
Gajra Kottary added, "It is a day for both men and women to celebrate how special women are and how much feminine power makes the world a better place. It's also a day to remind ourselves of what we owe the multitudes of women who aren't as privileged. Most of all, it's a day when we must include in our celebrations, the men in our lives who are feminists."
Priyanka Sinha Jha felt this to be "a good moment to acknowledge how far we have come thanks to the efforts of our brave predecessors. And reiterate that there are many more milestones to achieve."
Rinki Roy Bhattacharya made her point. "I believe that every day is women's day. Let's cheer and enjoy our life."
"What's women's day? We have only one day? I think women rule every day. I am more interested in celebrating men's day. And that should be once a year only. The rest 364 is for us," enthused Kainaz Jussawalla.
"Women's day is a reminder for the continuous need we have for all women to build a strong awareness of both their external environment and the inner environment and choose how best to respond and engage without being swept away by stereotypical societal behaviours and norms. Women give at the cost of their own well-being. It's time they become open to being receivers too," expressed Nancy Katyal.
"It is about celebrating women who negotiate for their success and demand a seat at that table; it's about celebrating women who, as they navigate through the harder choices between professional success and personal fulfilment, refuse to stay confined in narrow allotted societal, cultural, economic or political spaces or regressive roles," said Richa Lakhera.
"To me women's day is the ability to celebrate the soft power we possess and support one another always," felt Ridhi Sarda.
'I know there is a big fuss around this day, and even though I have never felt the disparity, it exists. As women, we need to empower the ones who are struggling to have their voice heard and accepted," emphasised Maria Goretti.
"No celebration of Women's Day is complete or relevant unless the sentiments voiced by men towards their family and colleagues if not all women are not held true through the rest of the year," stated Sathya Saran.
"It takes one woman to stand up for another. And it takes women of strength and resilience like this to be the change so we see the change," enthused Anusha Srinivasan Iyer.