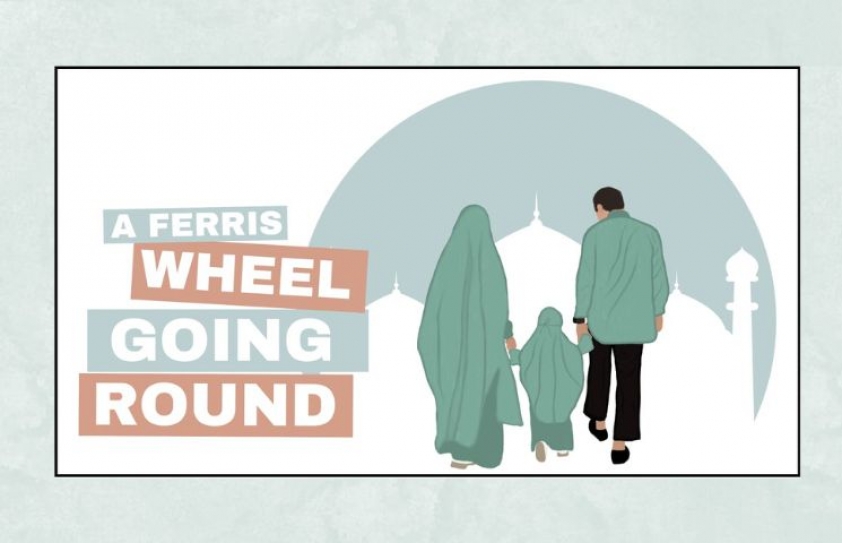 A FERRIS WHEEL GOING AROUND
by HUMRA QURAISHI
March 4 2023, 12:00 am
Estimated Reading Time: 6 mins, 16 secs
Humra Quraishi questions the mindless lynching's of Indian Muslims on mere suspicion of the carrying beef, although they could've been carrying a sack of cabbage and potatoes!
As though lynch killings weren't barbaric enough, there we go a step ahead. Burning people who are alive! Why?
Last week two men, Junaid and Nasir, from a village in Rajasthan's Bharatpur district, were charred to death in Haryana's Bhiwani. They are the latest victims of hate killings. The killers, that is the murderers of these two men, are said to be members of a particular Hindutva brigade.
It seems that today anyone can be killed, lynched or charred to death on mere suspicion of carrying beef! Such are the communally charged barbaric times we are destined to live in.
What also cannot be overlooked is the fact that the lynching of Mohammad Akhlaq in Uttar Pradesh's Dadri had paved the way for more such killings. News reports of lynching came from several places - from the outskirts of Delhi, the highways of Rajasthan, rural stretches of Haryana's Mewat.
In 2016, cattle traders were attacked in Jharkhand and the bodies of two of the victims were seen hanging from trees! Tragically, one of the victims was a 13-year-old-boy. And, later in the same year, Muslim men were not just thrashed but also forced to eat cow dung and drink cow urine. Mind you, that incident didn't take place in some forest but in Haryana's Faridabad district, at the outskirts of New Delhi. And in 2020, 32-year-old Mohammad Alamgir was beaten to death by local goons, on suspicion of cow theft, in Bihar's Phulwari Sharif.
Yes, many innocents have been killed in broad daylight and yet we have remained silent! No cries or tears, not even from any of the ministers or chief ministers! The darkest truth is that these murders are happening regularly and unchecked by the authorities. With the political climate turning murkier and communal by the day, strange and twisted ways of 'othering' are doing the rounds. Myths are manufactured and facts are distorted deliberately to dent the image of the Muslims.
Why should the largest minority community of this country be reduced to this third-class status by the political rulers who want power at any cost - by distorting if not changing the narrative, spreading communal hate and unleashing mindless violence? And they speak in different voices, to confuse the masses and with that they mitigate a collective outcry.
Weeks after the Modi led government had taken charge for the second term, in 2019, there were blatant attacks on the Muslims. The worst of them was the killing of the 24-year-old Muslim man, Tabrez Ansari, in Jharkhand. An orphan, he was visiting his ancestral village to get married, but before he could get back to his place of work in Pune, he was lynched by a mob of Right-Wing goons, who forced him to chant 'Jai Shri Ram…Jai Shri Hanuman' slogans and then murdered him. They tied him to an electric pole and beat him the entire night. Even when the police came on the scene, instead of shifting Tabrez to the nearest hospital, they put him behind bars. Not just that, they did not arrest any of the goons who had assaulted Tabrez. It was only much later, after Tabrez was declared dead and videos of those goons thrashing him went viral, that typical reactions did the rounds.
There was no lessening of communal attacks even after that brutal killing of Tabrez Ansari. Several news reports of Muslim men being forced to chant these slogans have been coming regularly. And, even after they had chanted the slogans they were asked to, there was little guarantee of their survival. Even in the videos going viral, Tabrez could be heard chanting "Jai Shri Ram…," yet he was beaten to death! Men and even young boys have been publicly thrashed by the local goons on any given pretext. Of course, the beef alibi seems to be the excuse.
Along with these attacks, propaganda is cleverly crafted to imply that only the Muslims relish gosht! This propaganda that Muslims go about devouring meat has been gaining ground - portraying them as 'adamkhoors'/Cannibals! This brings me to highlight the fact that almost all my non-Muslim friends eat mutton, chicken and fish and even cook a variety of nonvegetarian dishes in their homes. And they do so with great pride. There's no shying away from the fact that they are meat-eaters.
Butchers will tell you another story - the Indian Muslims are not the biggest buyers and consumers of meat in India. A high percentage of meat-suppliers and consumers are non-Muslims. They also focus on the age old theory: if food is denied to a human being, he will either perish or react! Today, with hundreds deprived and hungry, there are possibilities of malnutrition related deaths and disorders. Also, with frustration mounting the way it is, many could be affected by rising social disorders.
The 'beef scare' has also impacted the socio-cultural pattern. When I asked a middle-class Muslim family why meat was not served during their son's wedding, I was told, "Who will prove to the Hindutva brigades that it's not beef but mutton and chicken! We didn't want the goons to disrupt the shaadi, so only vegetarian food was served. What should we do? We have to live this way now, with these new halaats in the country."
And amid this fear Muslims are being made to feel, displacements have been taking place with regularity. I won't take you far back in history, but in recent years I have been interacting with people from rural stretches of North India that have been forcibly displaced. What has surfaced is this shocking trend: Several Muslim families in Hindu majority villages leave their ancestral homes, fleeing to Muslim populated areas to feel safe. They explained to me that there was no other option left for them but to flee, else their families would be attacked by the Hindutva brigades. I recall an elderly Muslim man summing up the scenario, after he was besieged by Right-Wing mobs: "It felt like a goat was being hounded by a pack of wolves!"
A similar pattern has emerged in the villages around Delhi, in Haryana, Madhya Pradesh and Rajasthan, where dozens of Muslim families have left their homes amid fear of death and destruction.
Humanity being forcibly moved from rural India spells disaster. After all, when communal politics reaches rural stretches and hits the farmers, cultivators and the land owners, it becomes eerie. For the farmer, his fields are his life - the ancestral land he and his clan had lived for centuries. A great majority among them stayed put during the Partition of India. Yet, today, entire families are being uprooted from their homes and forced, overnight, to become beggars on the streets of metropolises, towns and cities.
I'm leaving you with poet Minal Sarosh's Senryu Poems, tucked in the book Amity Peace Poems (Hawakal publishers):
Refugee/His heart beats/In two countries/
Unmarked grave/A dog sitting quietly/Near the mound/
World peace/A Ferris wheel going/Round and around.