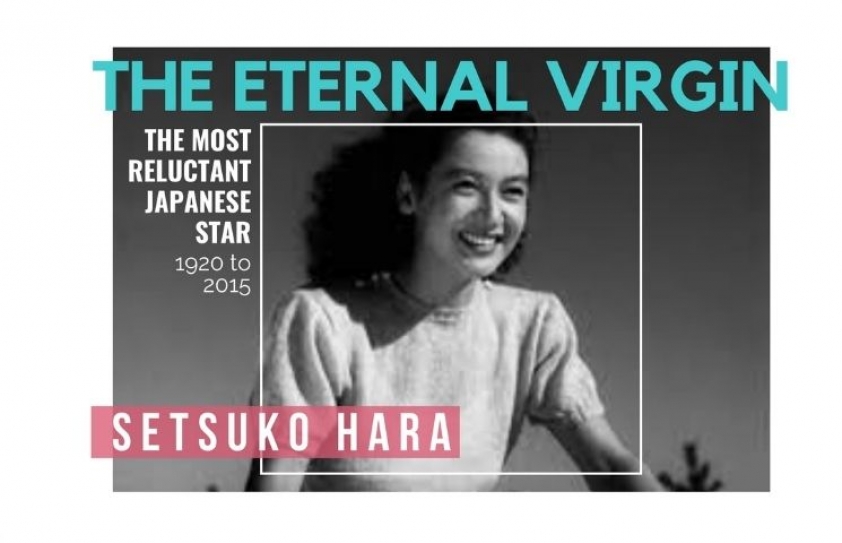 Eternal Virgin: Setsuko Hara
by Rwita Dutta
January 7 2021, 12:00 am
Estimated Reading Time: 3 mins, 17 secs
Among iconic names like Ozu, Kurosawa, Immamura and Koreeda is the name of Setsuko Hara who is celebrated as the 'Eternal Virgin', writes Rwita Dutta
For the cinephiles abreast with Japanese cinema and iconic names like Ozu, Kurosawa, Immamura to Koreeda, Setsuko Hara is already a name to reckon with. Celebrated as the 'Eternal Virgin', she is the most reluctant star Japan has ever produced. She was born in 17th June, 1920, started her acting career at the tender age of 15 and acted in more than hundred films (in total 108 films). She is most remembered for her performances in her mentor Yusoziro Ozu's films. In 1946, she starred in Akira Kurosawa's No Regrets for our Youth (1946) as a post-war heroine, in the role of a new age woman.
The interesting part of Hara Setsuko's ambivalent career was that she left acting at the age of 42, almost immediately after Ozu's death. For almost two decades, she confined herself in Kamakura, leaving behind her gigantic stardom. Till the day she died (September 5, 2015), she remained reclusive. Her biographer Ishii Taeko in her painstakingly detailed depiction of Setsuko in her biography named 'The truth about Hara Setsuko' revealed how the actress was never happy portraying the kind of roles offered to her - even by her mentor Ozu.
As a domesticated and ever sacrificing family oriented Norika in Banshun (Late spring - 1949) Bakashi (Early summer - 1951) & Tokyo Menogatari (Tokyo Story - 1953), Setsuko became a global phenomenon. Her tryst with world class film personalities like Jean Renoir, Josef Von Sternberg, Marlene Dietrich & Hitler's propaganda minister Goebbels left an everlasting exposure in her creative life. Critical about the situation in the film industry back home, she felt that women in her native land are not evaluated as well as respected in their filmic & real lives. She idolised Ingrid Berman & always appreciated western woman's approach towards life. Hara emerged as the face of Japan to the world in pre/past war eras.
Her subtle, naturalistic style of acting was mesmerizing. Her versatility is something that makes her immortal to the world. From an aggressive independent woman in Kurosawa's 'No regrets for our youth' to a docile homemaker in Late Spring (1949) and a plaintive young widow in Tokyo Story (1953), she epitomized the ideal Japanese woman, the perfect archetype in the then Japanese society. Her myriad character portrayals touch all the emotional chords life can offer. Her range of acting was stupendous. From being a part of a series of propaganda films during World War II, she moved comfortably from being a seductive temptress in Kurosawa's adaptation of Dostoevsky's Idiot, to the remarkable effortless portrayal of pious serene & coy daughter in Ozu's films. In 'Late Autumn (1960)', Hara acted as a widow and a mother. Hara's evocative acting heightened Ozu's depiction of love and sense of loss ever present in relationships.
Besides featuring in the memorable films by two giants of Japanese film history, Hara also featured playing three remarkable characters in three films by another significant film maker Mikio Naruse. In his Repast (1951), Sound of Mountain (1954) and in Sudden Rain (1956), she appeared as a tragic figure. Her portrayal of enigmatic yet bleak characters moved her admirers. In this way, Hara emerged as the epitome of post war Japanese Narrative cinema.
She was different in her psyche than the roles ascribed to her. Even then, she did it with enormous resilience. Playing multiple roles as a sublime woman, she as a person lived her life otherwise. Her sheer grit, sense of independence, rejecting the life of stardom while being at the helm of her decade long career, needed a lot of courage.
In reel life, she responded to the characters created by her directors, in real life, she remained deeply ambivalent.