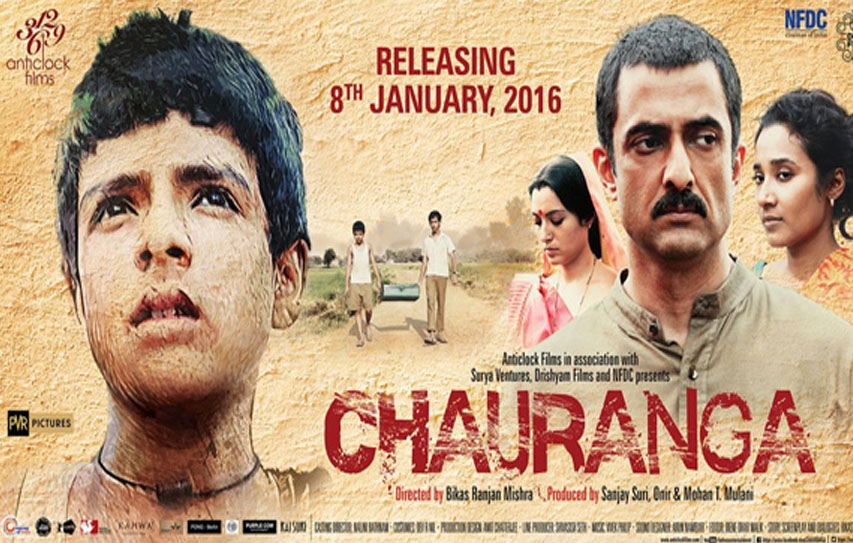 True Review - Movie - Chauranga
by Niharika Puri
January 10 2016, 1:30 pm
Estimated Reading Time: 1 min, 56 secs
Cast: Sanjay Suri, Tannishtha Chatterjee, Riddhi Sen, Soham Maitra
Direction: Bikas Ranjan Mishra
Produced: Onir, Sanjay Suri, Mohan Mulani
Written: Bikas Ranjan Mishra
Genre: Drama
Duration: 88 Mins
It happens often that well-intentioned stories on societal ills are considered preachy or catering to a niche audience. Chauranga does not fall in the former slot but will find credence only with the festival circuit audience.
Santu (Soham Maitra) is a low-caste village boy, whose daily routine involves raising pigs, trailing along railway tracks and sitting perched atop a tree while waiting for the upper caste Mona (Ena Saha), the object of his affection, as she coasts past on her scooter. It is young infatuation at its most innocent and reckless.
His older brother Bajarangi (Riddhi Sen) is back home for a break because his headmaster is using the school premises for his daughter's wedding. The illiterate Santu nags Bajarangi to write Mona a love letter on his behalf, without considering the far-reaching consequences or even being aware that their mother Dhaniya (Tannishtha Chatterjee) is sleeping with Mona's father, Dhaval, the village zamindar (Sanjay Suri). As it must, in a realistic setting without heroic flashes of defiance, things end tragically.
Chauranga is a modest effort but marred by the sluggish pace and the lack of a different, compelling insight on the caste system. It has its moments like the subservience Dhaval commands even while taking a group vote and speaking on behalf of the group. The little detail of Mona and Bajarangi being Salman Khan fans transcends caste. Santu and Bajarangi, bonding over textbook education of the biological variety, are endearing. The half-blind village priest (Dhritiman Chatterjee) being told that Dabangg is a film on Hanuman's burning of Lanka is comic. However, these moments are sparse, the plotting even more so.
There is also an endeavour to keep the dialogue authentic and earthy, but the accents sound awkward and inconsistent. Mona eventually disappears from the proceedings. There is a constant feeling that more could have been with the characters, who do not seem to progress beyond their one-note interactions with each other.
In deliberate irony to its title, Chauranga is bleak and slow. Despite the social message, it requires a different frame of mind for viewing - one that is exceedingly patient and with a taste for non-mainstream cinema.