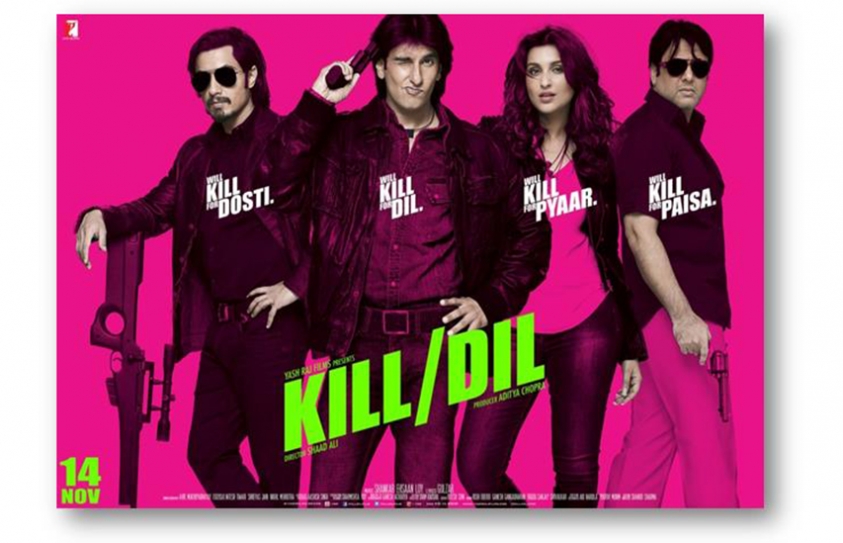 True Review: Kill Dil
by Niharika Puri
November 14 2014, 6:05 pm
Estimated Reading Time: 4 mins, 4 secs
Director: Shaad Ali
Cast: Ranveer Singh, Ali Zafar, Parineeti Chopra, Govinda
Rating: 2 stars
Ranveer Singh returns with the trademark scruffiness and some trigger-happy tendencies. Post-Gunday, he is paired with Ali Zafar, a partner who more than rises up to the challenge of complementing and clashing with his flamboyance. His restraint is more striking than his co-star's bouncy eccentricity. And therefore, it is for Ali Zafar alone that Kill Dil is worth a watch.
The film opens with a fourth-wall-breaking device, except not really, as you realise, but with a device – a video recorder. Dev (Ranveer Singh) begins to recount the events of the film and is joined by Tutu (Ali Zafar) as they are filmed in monochrome. The convenient writing kicks off from that point.
The two are established as professional shooters, sent to bump off a politician. For the benefit of audience members who may have missed that, the politico's white ambassador has a placard hanging above the licence plate labelled 'Neta'. How the killing is executed is to be seen, for words can never do it justice.
Gangster Bhaiyaji (Govinda) was a surrogate father to both of them, having found the two wailing infants in a garbage heap, being sniffed by strays. It is evident that neither Dev nor Tutu are twins or related. There is also a fleeting reference which indicates that the two have taken to different faiths. So why are both placed in the exact same spot? Was that a common drop-off point for all infants? Perhaps it is nitpicking but does come across as lazy writing.
The opening credits, which in the maker's mind is taking you through their journey from boys to shooters, is really about them doing a shaking-trembling dance with Bhaiyaji to a tuneless song, which works only because of the peppy 'Kill Dil' refrain. Sure, they do some killing too, but other than certain outlandish stunts, they accomplish their deeds in exactly the same way.
Yes. No change in strategy whatsoever. No disguise, no real attempt to cover their faces, no concept of silenced guns, quieter methods of killing or police investigations. This may be excessive logic for a mainstream film, but some more varied murders would have taken the story up a few notches.
When the twosome comes across Disha (Parineeti Chopra) at a pub, Dev takes a shine to her and is probably willing to take a bullet too. Except, Disha ends up taking his Bullet motorcycle for a spin on the day they meet. See the pun?
Disha: I love Bullets.
Dev: Mujhe bhi bullets bahut pasand hain. Bahut chalaayi hain.
Because social propriety and legal concerns demand that you are not upfront about your homicidal vocation, Dev tries to cover up for Tutu's near-fatal social faux pas, when Disha asks them what they do.
Tutu: Hum maar-
Dev: Hum maar-keting mein hain. Boss target deta hai-
Tutu: Aur hum poora karte hain.
Govinda- the boss- is, sadly, relegated to doing just that in the film. Pulling out pictures of the next victim and handing them over to the duo. He steals the scene in a raging outburst and could have done it again in the heartbeat if he was not reined in by the plot. Ali Zafar also does not have much to do, save for some action scenes he shares with Ranveer Singh. When he is not pumping a hail of bullets into the victim, he is the (unheeded) voice of reason for most of the drama. But despite the shortcomings, he is the one who deserved a greater moment in the spotlight.
You also do a double-take at an Alok Nath cameo with a framed picture of Nirupa Roy in the background. In another scene Disha says, "Jo tu karega woh tera problem, jo main karoongi woh mera problem." Teri problem, meri problem. See the grammar?
Parineeti Chopra and Ranveer Singh are typecast yet again. Despite the sheer, uninhibited talent, this is neither the best film nor the best performances of their careers. Their romance has interesting moments (including one atop the Qutub Minar, the access to which is still prohibited) but falls to the rut of repetition, an endless cycle which the plot is guilty of. The smallest milestone in the Dev-Disha relationship is commemorated with a song, which hinders the pace.
It must be said though that each frame captured in the song sequences is a departure from reality and a moving frame of a Filmfare spread.
Kill Dil had a promising premise, an exceptional starry line-up, little comic touches (like Dev's Pankaj Udhas ringtone) and an interesting use of colour filters. The film works if you are a patience audience with a taste for the timepass flicks out there. If not, this one can be a mood kill.