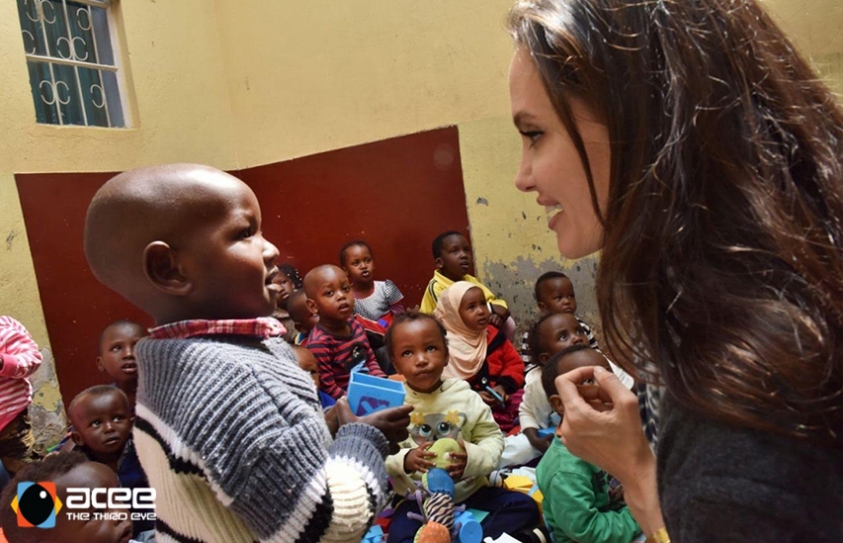 Angelina Jolie Endorses Women Empowerment Project In Kenya.
by Shubhangi Jena
June 28 2017, 3:22 pm
On World Refugee Day, UNHCR special envoy Angelina Jolie meets around 200 refugee girls in Nairobi to mark this important day and extend an empowering boost to their spirits. The adolescent refugee girls have been set-apart from their families and are being raised at Heshima Kenya Safe House.

In the wake of horrific persecutions and vehemence, the girls have tried to escape this plight and are now safe if not utterly happy. Sources reveal that these young ladies belong to the Democratic Republic of the Congo (DRC), South Sudan, Somalia, Burundi, and Rwanda. Almost everyone has been a victim to ghastly offensive crimes, been sexually abused or assaulted; clearly ripping them off their innocent childhoods. Inevitably, many of these young girls had to bear children.
The girls are now a part of the Girls' Empowerment Project, an initiative to empower and boost the morale of these young ladies who are either submerged completely or are reviving slowly from their traumatic experiences.
On her third visit to Kenya, as UNHCR special envoy Jolie says," On World Refugee day my only ask is that people consider the pain and suffering of young girls like these. Not only have they had to flee extreme violence or persecution, lost everything and witnessed the death of family members, but they have also had to face so much abuse and intolerance and hardship. They are doing their best to carry on, with minimal support trying to live lives on dignity against impossible odds."
Benedict, who is currently administrating the Heshima Kenya programme adds, "When you empower them, you bring them dignity."