India's Foreign Policy lacks substantial gains; requires Reprioritization
by Hassan Abbas
August 8 2018, 8:55 pm
Estimated Reading Time: 4 mins, 50 secs
When historians look back at this time they will say that India was at the cusp of greatness. A high demographic potential, a robust economy, a strong military and world respect. The decisions that we make today will define the role we play in the centuries to come. We have challenges that we need to overcome. A strong and robust foreign policy is critical to ensure India overcomes current challenges and is well equipped to lead the world in the future.
It's been 4 years since the Modi government came to power, and the speed with which our honourable Prime Minister has toured the world and hugged foreign leaders, one would expect the government to have significant foreign policy achievements. Unfortunately, just like anything else the government does, its foreign policy too is more a PR exercise than hardcore diplomacy with clear objectives.
Conventional Security: India needs a peaceful periphery for it to grow and prosper. For which it needs better relations with Pakistan and China. The Doklam standoff with China and cross border terrorism emanating from Pakistan both are signs that we are nowhere close to bettering relations with our two primary neighbours. The all-weather ally status that Pakistan has accorded to China just highlights the possibility of a two front war with our neighbours. To ensure a peaceful neighbourhood, India must
India China Border
Work to resolve its disputes with Pakistan and China;

Work with other like-minded countries in the neighbourhood to contain any untoward aggression;

Build its military might to fend off a multi front aggression
The government has failed to make any significant progress in any of the necessary areas to ensure a long sustainable peaceful neighbourhood.
India's Oceanic Strategy: India needs a strong naval presence in the Indian Ocean Region (IOR) to protect India's national and strategic interests. A strong network of naval infrastructure across the Indian Ocean Region would ensure Indian Navy's operability far from India's shores. This would enable India to protect or disrupt Sea lines of communication (abbreviated as SLOC) as needed. In an event of war with China, disruption of its oil imports could give India an advantage. A strong infrastructure also enables India to project naval strength with impunity anywhere in the Indian Ocean, again an advantage in a possible conflict with China.
The current government has failed to expand India's naval infrastructure and has also failed to curb China's encroachment in to the Indian Ocean which many considered India's backyard. In fact when it comes to infrastructure the situation has unfortunately deteriorated.
China has invested heavily in the Colombo and Hambantota ports, which give China a trade outpost in the Indian Ocean, resulting in increased Chinese submarine activity

Under the China-Pakistan Economic corridor, China has invested heavily in the deep-sea Gwadar port – a step in its encirclement policy of India

Maldives – where India had considerable influence, has shown its brazen inclination towards China very clearly in recent months

With Maldives having a free trade agreement with both India and China, China can use Maldives to flood the Indian market with its goods

Seychelles parliament has blocked the planned Indian naval base on its remote island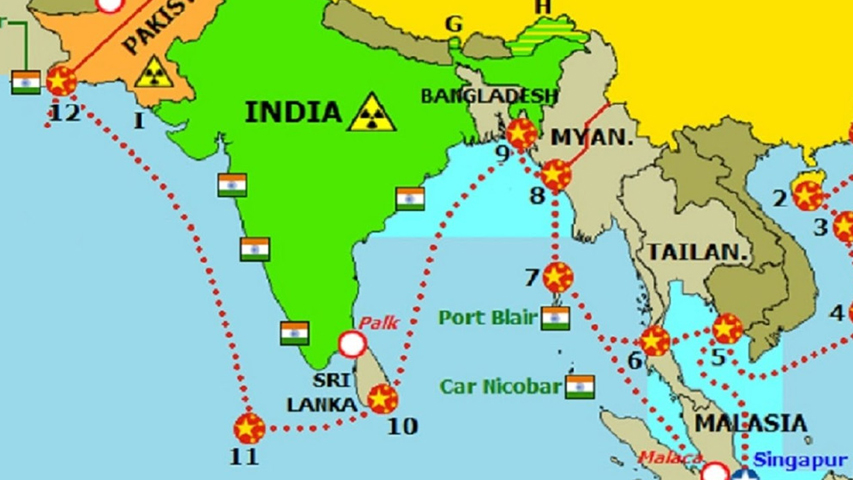 China's String of Pearls policy to strategically encircle India
China with its economic power, hardcore diplomacy and timely delivery of promises has ensured an expansion of its economic reach and strategic encirclement of India (String of Pearls. Refer Image). This has allowed China to project power and influence far away from its borders – a mark of a rising superpower. In fact, our influence developed over a period of time has been eroded under the current government's foreign policy – Maldives being a prime example of the same.
Study/work opportunities: India has a sizeable population which goes abroad for studies or work. Unfortunately, the challenges for them have only increased, from Visa issues to plain and simple losing jobs.
United Kingdom has removed India from the list of low risk countries which has relaxed student visa rules

Deteriorating relationship with Maldives has hit Indian job opportunities with employers asking Indians not to apply

New US H1B visa rules will affect Indians and will result in lesser number of Indians getting a green card.
Easy visa rules will open up new opportunities for our countrymen which are not available in India, allowing them to gain a rich education or work experience and send remittance home in case of working individuals.
Enemies at large: In spite of India's rising international stature, growing military might and the guts it has displayed in cross border military operations, enemies of the state like Hafiz Saeed and Dawood Ibrahim are still at large.
Black Money: This was one of the Prime Minister's major poll promises – to get back black money hoarded abroad. Till date there has been no success in this regard. Black money is still stashed in foreign banks and we are yet to see it come back to its rightful place.
It would not be fair to say that the government did not have any wins in the foreign policy area. Membership to the Australia group and Wassenaar Agreement are both wins. Memberships to both NSG and UNSC, however, still elude India.
What's concerning is India's decreasing hold on the Indian Ocean Region, threat to its conventional security and the interest of its citizens abroad. These are fundamental areas where India can't afford to be complacent. India must overcome these challenges to ensure a peaceful neighbourhood, strong economic growth and to project power and influence across the world.