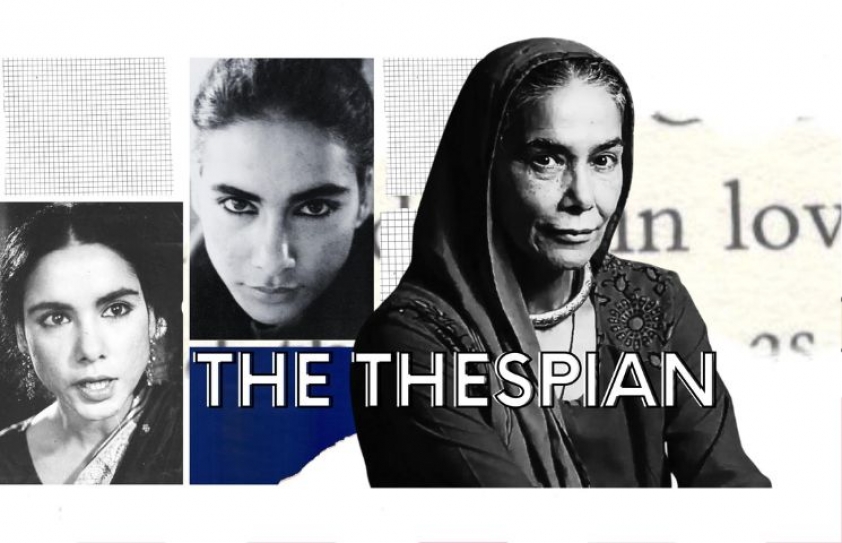 THE THESPIAN: SUREKHA SIKRI
by Aparajita Krishna
September 2 2022, 12:00 am
Estimated Reading Time: 16 mins, 5 secs
Her repertoire of work in theatre in particular and then in television and films is vast, writes Aparajita Krishna
I start with a disclaimer. This article dares not and cannot claim to in any way act as a definitive or a comprehensive feature on actor SUREKHA SIKRI. That demands a book. Herein I have collated my own memories of the thespian, a little summary of her chosen professional trajectory and very valuable inputs from those who have familial closeness to her and those who have been admiring colleagues.
Actor Surekha Sikri worked till the near-end of her life. She had before her demise in July 2021 performed a role in Netflix's Ghost Stories, an anthology of four-stories that got streamed in 2020. Her story was directed by Zoya Akhtar. She played a bedridden elderly patient. It had Janhvi Kapoor play one of the leads, the nurse taking care of the old lady. In real life this very health- challenged veteran artist would go to receive awards sitting on a wheelchair. In a fitting tribute to her craft, she met her end in-action as an actor.
To theatre newbies like me, back in the late 1970-1980s, this to-be Dadisa of future TV carried a legendary reputation as a young and senior theatre actor of the National School of Drama (NSD). This was much before television, internet, social media made everyone famous.
I regret not doing an article on Surekha Sikri during her lifetime. In Mumbai I had personally known her and her family for decades and she was also my neighbour for years.
The larger world popularly discovered the actor pretty late via TV serial Balika Vadhu and film Badhaai Ho. Post her demise First Post re-published one of her last interviews by Seema Sinha. Surekha Sikri is quoted as saying, "Feels like I've been discovered by a whole new generation, even as I have been into films, theatre, and television for over 40 years now." This was in response to her resurrection as an actor in the public eye with her act as a Daadi in the film Badhaai Ho (2018). She got the third National Award for it. She had earlier won the national award for Govind Nihalani's Tamas and Shyam Benegal's Mammo.
Phulmani Varma (Surekha's younger sister) and Heeba Shah (niece) inform this article of the familial aspect and the professional. Heeba went on to play the role of young Dadisa in Balika Vadhu. It could well be fortuitous or even destined.
PHULMANI VARMA (Younger sister)
We were three sisters, Parveen being the eldest, followed by Surekha, then myself. Our brother Gautam (now retired as colonel) being the youngest. We called Surekha, Kisho. My earliest memories of Surekha include her love of reading books. She was born in Dehradun in July 1945. We grew up in Aligarh where our mother taught at the Women's College. We studied at Girls School and then at Women's College connected to Aligarh Muslim University (AMU). Our father was the late Wing Commander L C Varma. Our mother, Zohra Varma, was a lecturer. The National School of Drama (NSD) admission-form was meant for me, but since I was then under-age, our mother persuaded Surekha to fill it out, and she got admission at the NSD.
I remember visiting Delhi often while studying at the AMU and watching her plays, but do not remember the names now. It was a long time ago. Surekha was a shy person and never showed off her talents. She preferred staying home rather than attending parties. Our relationship continued to be close, even though we spent many years apart, in different cities. She had an inquiring mind and loved reading and solving crossword puzzles. Non-fiction interested her most, especially those leaning towards spiritual topics. She took her work very seriously. But whenever we got together, we hardly discussed her work, though I know she enjoyed acting. She loved acting till her end.
HEEBA SHAH (Actor, niece, daughter of Naseeruddin Shah and Parveen)
She was called Kisho by her mother (our Nani) and by my mother and aunt. We would call her Kisho Khala. She was an extremely innocent person who worked very hard at her job. She was a loving and a caring aunt who helped us a lot in many ways. She was extremely well-read and had a beautiful voice. Suddenly she would start singing. She had an extremely keen observation of humans and a very sharp sense of humour. Phuli (Phulmani) had got the form of NSD because she wanted to apply. Phuli did not fill the form for a while and upon my grandmother's insistence she did her MA in English. Kisho Khala went on to fill the form and got in. Rest is history. She joined the NSD Repertory after completing her three years of acting at the NSD. The Repertory back then did not have a limit period and one could stay there forever. Now it is six years maximum. Kisho Khala did not want to do films or TV. For a long time, she refused a lot of work because she loved doing theatre. But later when the politics therein and the scheming by other actors got to her, she left for Bombay. Then she started working in films and television. She was my guide for my NSD fellowship, which I did after passing out of the NSD.
When I got the role of the young Dadisa in Balika Vadhu the producers spoke to me about the money without Kisho getting to know (so that they could save as much money as possible). After I got the role, I told her. She did not know that I was the actress doing her younger part. Then she asked me how much I was getting paid for the role. I got a quarter of what I should have got. She then got extremely upset with me for charging so less. She said that I was a grown-up now and should be more careful about how much to charge as an acting fee. She helped me with the dialogues and shared with me that when she had initially started to shoot for Balika Vadhu the dialogues handed to her were in plain Hindi. She told the unit that her character Kalyani would not be speaking in plain Hindi. They said that they could not do anything about it. But Kisho took it upon herself to change the dialogues to Haryanvi Hindi. She did that all by herself. So, basically the character of Kalyani and how she spoke was created solely by her!
She did her last theatre performance for our play 'Parindon ki Mehfil' in Hyderabad. We acted together. It'll be in 2018.
MK RAINA (Reputed alumnus of the National School of Drama (NSD), noted theatre actor-director and film-actor)
Surekha Sikri was my senior by two years at the NSD (Delhi). I joined the NSD in 1967. She and Uttara Baokar were two years my senior. Om Shivpuri, Sudha Shivpuri, Ram Gopal Bajaj and others had already left and had earned very big names in Indian theatre. Manohar Singh was my junior.
During that time, I did not interact much with Surekha. She had her group of friends among students, both junior as well as senior. Back then NSD was a very small school with sixty students and four repertory members. There were three classrooms and one studio-theatre with a capacity of around seventy seats, designed by the director of the school, Shri E Alkazi. Those were tough discipline times. From morning to night we were tempered, grilled and shaped in our classes, rehearsals and through session after session on various subjects apart from theatre: music, designing, art, appreciation etc. This was to carve out a professional theatre person for contemporary Indian theatre.
During this time Surekha was one of the many students attending her classes and performing her roles in the plays that were then produced. These were Greek, Sanskrit, contemporary plays, both Indian and western-sourced. She left the NSD without any memorable impact. Not the kind that Uttara Baokar, Sudha Shivpuri, Om Shivpuri had left. After the NSD she joined a small repertory of Little Theatre Group. She did some plays with Brij Mohan Shah, a senior from the NSD. But Surekha eventually left this repertory because I feel she was not happy with the work they were doing.
During the 1970s Hindi writer Ramesh Bakshi had written a play, Devyani Ka Kehna Hai. I had known him through my first feature film 27 Down. This film was based on Bakshi's novel Athara Sooraj Ke Paudhe. He had dedicated the play to me. We did the reading Devyani ka Kehna Hai at the NSD hostel. It was very liked. The theme was bold and quite explosive. It was of a confident, contemporary young girl who uses very foul language. The buzz went around about who could enact the Devyani role? And who will produce it? After a few months Rajendra Gupta, a good friend and NSD alumnus, asked me to get Ramesh Bakshi's permission for he wanted to produce and direct it. Rajendra Gupta cast Surekha in the role of Devyani.
The production became a phenomenal success. Surekha was discovered as a major talent with great possibilities. After doing a large number of shows Alkazi Saheb invited Surekha back into the repertory. Herein she went on to do amazing work for about six years. She became the lead actress. Any director who would come to direct a play for the NSD repertory would cast her in one of the lead roles. She excelled. That was her golden period as a theatre actress.
I got the opportunity to work with her in the play Kabhi Na Chode Khet. It was adapted from an award-winning Hindi novel written by Late Jagdish Chander. It was a privilege to direct her in this play, but also very tough to convince her. She would demand answers for, or, question all that I would ask her to do. Perhaps it was so because I was her junior at the NSD. She loved contesting my ideas till I could convince her.
In the course of the rehearsals, I had to go away for a week. But the rehearsals were to continue. Once I returned back, I was to discover that she along with my assistant director Dolly Ahluwalia and Manohar Singh had changed all the movements and the blocking of the most crucial scene. I was very upset, angry and livid. I asked them how dare they change someone's creative work without their consent? We had a showdown. They felt they had a right to change. It took me two hours to explain to Surekha the meaning and significance of those circular movements and other details. I felt as if I was giving an exam and needed to be convinced regarding my interpretation of the scene.
After that Surekha was a changed person. She went on to work on the character by putting in the subtle nuanced details, which made the character like a reflection of a female character in Greek tragedies. She had the strength of her intellect, which made her poles apart from other actresses. In her work in theatre as well in films you can see her depth in applying her technique with the fusion of her intellect. Both flowing naturally into her performance. She was one of those rare talents whose absence is difficult to fill in.
OM PAREEK (Actor, Founder Member of Rangakarmee, Kolkata)
I have watched her in her NSD repertory plays. She could play the most difficult role in an easy and natural way. Her pronunciation and dialogue delivery were excellent. She also came to Calcutta with plays. I have seen her in Tughlaq. She was brilliant in Aadhe Adhure, Surya Ki Antim Kiran Se Surya Ki Pehli Kiran Tak and Sandhya Chhaya.
Mr Ebrahim Alkazi's past communication to me, in context of an assignment on hand, had evaluated the actors he had taught at the NSD. "In the course of my sixteen-year stint at the NSD, I found the late Om Shivpuri, Manohar Singh and Pankaj Kapoor to be absolutely outstanding in whatever role they played, however small. There was a wider range of talent among the actresses: Sudha Shivpuri, Surekha Sikri, Uttara Baokar, Usha Banerjee, Suhasini Kale, B. Jayashree, Rohini Hattangady, Anita Kanwar are the ones that come immediately to mind."
I had asked the immensely talented theatre veteran Uttara Baokar if the junior actors at the NSD were back then in awe of her and Surekha Sikri? Did a hierarchy exist? She had said, "I don't think there was any hierarchy at the NSD. When working together then no age or seniority was at play. With Manohar Singh maybe a little distance. He was the chief of the repertory."
Surekha Sikri had while working in the NSD repertory bagged her debut film, the 1978 political drama Kissa Kursi Ka, with Shabana Azmi in the lead. Among her noted film assignments are Prakash Jha's Parinati (1986), Saeed Mirza's Salim Landge Pe Mat Ro (1989), Shyam Benegal's Mammo (1994), Sardari Begum (1996), Hari Bhari (2000) and Zubeidaa (2001), Aamir Khan starrer Sarfarosh (1999), directed by John Mathew Matthan and Rituparna Ghosh's Raincoat (2004).
She never got to play the lead in films as befitted her remarkable theatre repute. When satellite television came into the picture Surekha Sikri was chosen to address roles in Banegi Apni Baat (1994-1998), followed by Just Mohabbat (1996-2000). However, it would be as Dadisa in Balika Vadhu (2008—2016) that she would become a household matriarch.
Theatre did get left behind. For years her generation of theatre actors had worked with smallest of remittance and no financial security. TV offered the latter in abundance.
SIDHARTH SENGUPTA (Director of television serial Balika Vadhu)
I was nervous, nervous as hell, when Purnendu Shekhar told me that he had cast Surekha Sikriji as Dadisa in Balika Vadhu. I had never met her or worked with her earlier, but just the thought of working with such a stalwart was giving me the jitters. I had the same fears as any director would have when working with someone who is a master of the field. She was an institution by herself and I was a fanboy. How would I direct her?
I'll never forget my first meeting with her. We were shooting at Khejarla near Jodhpur and I was doing a scene with the children, Anandi and Jagya. She came and sat behind me. Her scene was next. Just her presence was very intimidating for me. I was wondering how to break the ice with her, how to address her, how to create a bridge of communication.
Just as the shot got over, she came and sat beside me and humbly, almost with nervousness of a school child said, "Sir, I'm very nervous. I've been doing too many daily soaps of late and tend to go loud nowadays. Anup (Soni) was telling me that you like natural performances. So please correct me if I go wrong." I was speechless. I just looked at the grand lady for a while. I simply could not stop admiring her humility. Here was one of the finest actresses' ever eager to explore her limits and better herself. It was one of the most humbling experiences for me.
We had our initial discussion about her character, that Dadisa was not a dark character, and was a victim of the system herself and had now turned out to be a staunch believer of the same system. I then just sat on the monitor and saw her perform. She was magic. Her in-depth interpretation and portrayal of the character was a learning experience for me. Her silences were so loud and effective that I used to get goosebumps watching her perform. She was divine.
At the risk of sounding dramatic, as long as I live, I will always be indebted to the 'one above' that I got the opportunity to work with her, to see her perform, to learn from her. She used to call me Goldieji and I used to address her as Ma'am. There's a thin line difference between hard-work, dedication and devotion. And she was definitely the best teacher of what it means to be 'devoted to your art.' Thank you, Ma'am.
SADIYA SIDDIQUI (Actor)
I remember first seeing Surekhaji when I was in school. She was buying fruit at a stall. I did not know her then, but I almost immediately got attracted to her. I loved the way she was dressed in a skirt, her hair tied in two plait and her eyes shining bright. She attracted attention even when she did not want to. Years later when I started out as an actor myself, I looked for an opportunity to work with her and I did get a chance in film Kali Salwaar (2001). Then came Balika Vadhu.
During the filming of the serial I had the opportunity to share her make-up room. I was thrilled. She would finish her makeup and costume and read her scenes again and again quietly. After that she would read the newspaper and if there was still time on hand before her shot, she would write in her diary. In a twelve hour shift I never saw her resting. She was a very private person, but very gentle to speak to. She was a wonderful co-actor. She always gave space to her co-actors and never underestimated other talents. I learnt so much by just being around her. She will always be missed.
SHAHID TANDON (Production Designer)
As an actor I found her to be graceful, expressive with knowledge of the mood and characters. She was like a character in motion. I particularly liked her in the film Sarfarosh and in the television serial Balika Vadhu. She was a very senior Aligarh Muslim University alumnus, of 1964 batch. I completed my post-graduation from there in 1994. When she got the National Award, AMU celebrated it. She was a very respected alumnus of AMU. Later I met her often at her residence in Mumbai. Last I met her about three years ago. She was then not keeping well and had become very weak. But still, she would laugh and talk like she did before.
Surekha Sikri would sink her teeth into roles. She continued to do so till the end of her acts, The film Badhaai Ho (2018) would have satiated a good measure of hunger in her as an actor.
As a conclusion to this remembrance piece, I request you readers to please google search for 'Surekha Sikri reciting Faiz's 'Mujhse Pehli Si Mohabat Mere Mehboob Na Mang'. Rongte khade ho jaate hain. It sends a shiver down one's spine. A black and white photo of the rendition moment is carried in this article. It is spell-binding.