The Daily Eye News Desk curates stories relevant to the objectives of the portal. Please feel free to send in your stories to contact@acee-thethirdeye.com
Related Articles
Award winning feature film 'Evening Shadows' is screening on in-flight entertainment service.
This will be available over and above the current Urban/Rural cuts to facilitate more effective planning.
...
Read More
Producer, Director and Actor Rajiv Kapoor, shared this precious piece written by his school mate John Mani, with me on Whatsapp last night and I publish it here in The ...
Read More
Consulate General of Canada in Mumbai is Associate Partner of the festival to be held in Mumbai from June 12-16, 2019.
Read More
Mumbai 20th June 2019: Ingenious designs, global sensibilities, sustainable ideologies and some of the best dressed audience in town in a...
Read More
Guatemalan movie 'Jose' won top honours at the 10th KASHISH Mumbai International Queer Film Festival that concluded on June 12, 2019. The Best ...
Read More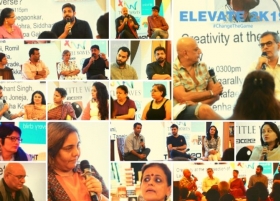 Asian Centre for Entertainment Education and its flagship program The Third Eye launched its annual conclave, ELEVATE, in July 2013 as a platfo...
Read More
KASHISH 2019 to screen 9 Swedish LGBTQ films and also launch music album 'Rainbow Riots India'
Read More
The mainstream Hindi film industry's template for the community reflects ideological and political shifts in contemporary India.
Steven Zietchik reports in the Washington Post that, it began with a few sentences from Quentin Tarantino.