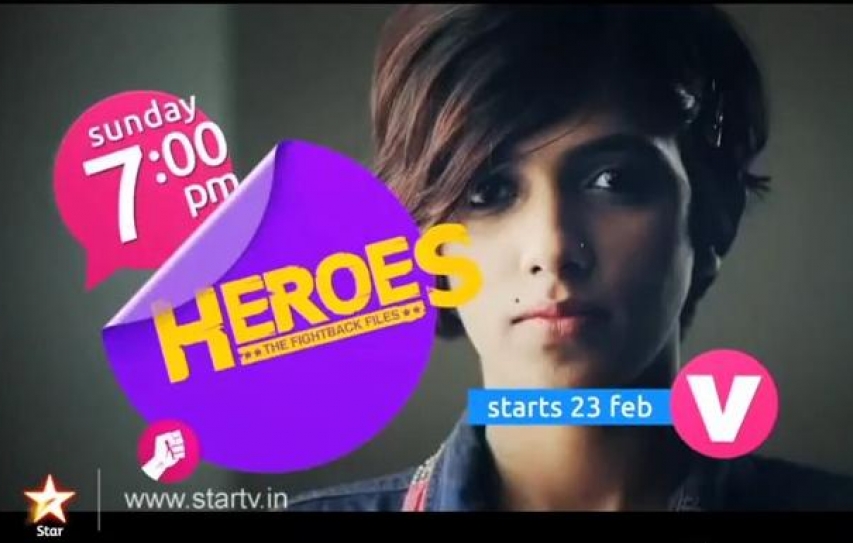 True Review: Heroes - The Fightback Files on Channel V
by Piroj Wadia
March 12 2014, 2:59 pm
Estimated Reading Time: 3 mins, 21 secs
Heroes- The Fightback Files is Channel V?s say on reality television. The target audience is definitely the youth; so far the stories are very urban-centric. Who knows when rural India will feature their stories? Each story is true and narrated by the victim herself, the identity and names are protected; but the assault is re-enacted.
Based on actual incidents of sexual violence on young girls.The hour long narration of Heroes begins with the victim herself introducing the crime perpetrated. She starts from the time when she was subjected to advances, continually harassed as the perpetrator took advantage of her silence. But she arrives at that key moment, when she can take no more and exposes her violator. ?
On air since February 23, the three episodes telecast so far have been different from each other ? in a family situation, during a train journey and the college. The resolution of each shows the courage and ingenuity of the victim to pull the plug on her assailant.
?
Meghna is traveling by train to Bangalore for a fashion designing course. Two young men? ?continually tease and harasser. ??The journey turns into a nightmare. ?None of her fellow passengers or the ticket checker responds to her pleas.? She remembers seeing a few eunuchs boarding the same train, and approaches them for help. ?At nightfall, when the boys stealthily approach a sleeping Meghna, they get a rude jolt. Now they are assaulted the same way they intimidated Meghna. As the boys try to push the eunuchs away, one of the eunuchs tells them: How does it feel now, when we are touching you and teasing you the way you did this girl?? If you ask me, Meghna?s? ?was a superlative combat strategy. Keep an eye out for an alternative rescuer. Meghna drew a blank with her fellow passengers and the ticket checker; but the eunuchs taught her offenders a lifetime?s lesson we hope.
Ankita was violated by her own uncle and within the four walls of her family home. At the age of 18, the na?ve girl from Palampur visits Mumbai, for the first time, for a family wedding. ?Staying with? ?her aunt, Ankita is dazzled by the city sights. ?As she is from a conservative family, she feels uncomfortable when boys come near her. Her uncle Arup makes sexual advances and follows her around.? Miserable, at first she finds an ally in her cousin Madhavi, who helps her to expose Arup's misdemeanors. Ankita was fortunate, that within a few days this unsavoury aspect of her Mumbai visit was nipped. Her case isn?t singular, how many young girls get trapped by the family leach and suffer the humiliation in silence.
Professor AK Mehra expels a brilliant student, Sheetal. ?Kanika, a fresher joins her fellow students and signs a petition against AK Mehra, but was na?ve to sign her real name. Kanika fails in her lab examination because of faulty equipment deliberately issued to her. She turns to AK Mehra for help, he takes advantage of her. When she applies for a subject change to get away from him, but that is in vain, as he is the son-in-law of the trustee. ?Facing a dead end, she uses a social networking site to grab the support of her fellow students ? initially with a faceless campaign, and only after she gets 500 hits does she precede another step, finally her face has been posted. The college is abuzz with Ankita?s revelations; ??Sheetal too is avenged. Mehra never taught after that.? ??
Seven out of 10 girls are victims of sexual harassment on the streets, within their family homes?. Most remain silent because of fear. The rare one will raise her voice and take her offender to task. Heroes- the Fightback Files encourage young women to raise their voices against the depraved men stalking the roads, office corridors, passages in the house, etc.
Kudos to Channel V for this hard hitting, quick paced ?show which will bring more women out with their stories under the guarantee of privacy protection.?