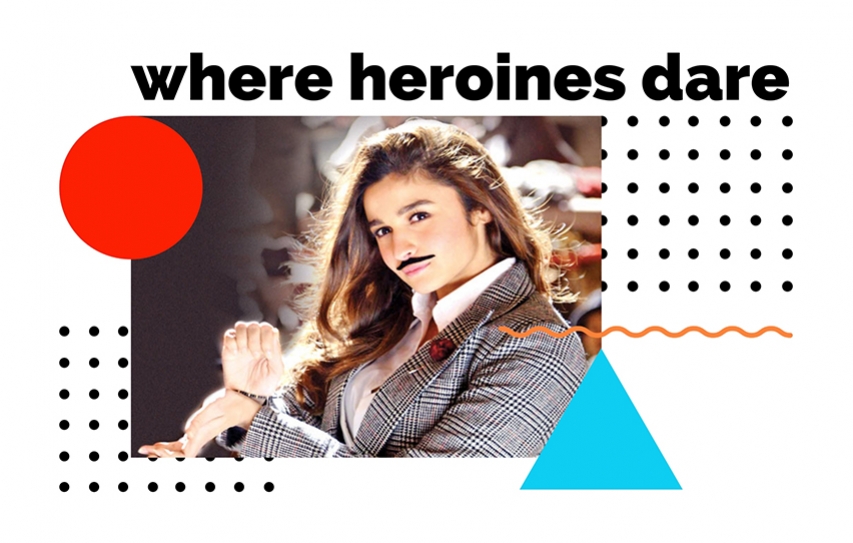 Where heroines dare
by Dhruv Somani
December 13 2020, 12:01 am
Estimated Reading Time: 5 mins, 15 secs
Film historian, Dhruv Somani, writes on leading ladies who have donned male garbs to assert gender neutrality and equality
Javed Akhtar, would often joke, that there was a time when a hero just has to add a 'massa' (wart) on his face and it would become a disguise, not even faintly recognisable. And more to the point, every leading man of Bollywood had at one time or the other,even garbed himself as a woman to create whoops of laughter among the audiences in the times when metrosexuality was a distant idea and cross dressing was underground and called 'drag'.
Take for random examples. Rishi Kapoor and Paintal in Raffoo Chakkar inspired by the extended drag acts of Jack Lemmon and Tony Curtis in Billy Wilder's Some Like it Hot, Amitabh Bachchan as a sexy dancer in Laawaris swinging to the tune of Mere Angne Mein Tumhara Kya Kaam Hai, and even Naseeruddin Shah in Tahelka have been through gender-bender act, which continues right down from Aamir, Salman and Shah Rukh Khan to Varun Dhawan in the upcoming remake of Coolie No. 1.
Comparatively, the leading ladies have not dressed up as men as frequently in Bollywood. 'Comparatively', is the key word here, though. Over time, the audience have found heroines disguising themselves as men cute to a degree but have not always roared with laughter. If leading ladies have slipped into male garb, complete with a thin moustache and a dangling bidi, it's been essentially for a lean twist in the plot.
Kalpana Kartik did it in Taxi Driver and Nau Do Gyarah, Geeta Bali in Rangeen Raatein in a role created just for her to be close to Shammi Kapoor during the shoot), Madhubala (Raj Hath), Mala Sinha (Bewaqoof), Asha Parekh (Love in Tokyo), Saira Banu (Junglee, Victoria No. 201), Kumkum (Lalkaar), Tanuja (Do Chor), Babita (Kismat), Mumtaz (Himmat), Reena Roy (Jaani Dushman), Zeenat Aman (Kaatilon ke Kaatil), Dimple Kapadia (Aag ka Gola), Karisma Kapoor (Prem Qaidi) and Shipa Shetty (Pardesi Babu). These change-overs were just in the course of throwaway sequences, which were in retrospect, quite charmingly performed.
So let's just accept it. Males simulating an adrogynous image is viewed as hilarious and discloses a switch personality written for them in the scripts, which are open to myriad interpretations. As for the heroines, if they strive to don the male avatar, it certainly has not been a cause for any serious analysis or thought. Just a bit of momentary fun and that's it.
Having said that, there have been at least a handful of films in which the heroine has had to switch gender, so to speak, to combat the male syndrome. So for this Sunday, here's a selection of five films which fit into this category:
PADMINI, MERA NAAM JOKER (1970)
One of Raj Kapoor's three-parter opus, featured Padmini as orphan Meenu, pretending to be a boy with a dog in tow. The Joker, she and the pet start performing on the streets (somewhat reminiscent of Fellini's classic La Strada). When Meenu's shirt tears, revealing that she is a woman, she explains that she was compelled to do so to survive on her own in a big city. Not the best segment of the Joker triptych though, the repressed love story between her and the Joker, was enhanced by the song Ang Laga Ja Balma, composed by Shanker-Jaikishen.
On its initial release, the film flopped calamitously but over the decades, has amassed a cult status.
SRIDEVI in MR INDIA (1985)
One of the best comedians Indian cinema has ever known, she just had to do an inspired impersonation of Charlie Chaplin to make that interlude the mega-entertainers top highlights. Directed by Shekhar Kapur with the use of vintage fast-motion technique from the silent era, here's one among many of Sridevi's iconic acts.
Coupled with the memorable Hawa Hawaii dance set piece, she became the mainstay of the memorable film, in which Amrish Puri snarled that famous line "Mogambo khush hua". Anil Kapoor was in fine form too. Yet the Chaplin take-off is so integral to the plot, that Mr India is unthinkable without it.
RANI MUKHERJEE in DIL BOLE HADIPPA! (2009)
Directed by Anurag Singh for the Yashraj banner, Dil Bole Hadippa! narrated the story of a young woman who pretends to be a man to join an all-male cricket team. Inspired by Hollywood's She's the Man and echoing elements from Barbara Streisand's Yentl, here was a showcase for Rani Mukherjee (who evidently has a thing about the Mardaani image). In the event, leading man Shahid Kapoor was sidelined. The outcome flopped, yet there was something so gutsy about Ms Mukherjee's performance, that it still lingers in the memory files.
VIDYA BALAN in BOBBY JASOOS (2014)
Unfortunately quite chaotically helmed by Samar Shaikh and produced by actress Dia Mirza, a storyline with tremendous potential of woman power was lost in translation. The redeeming factor, expectedly, turned out to be Vidya Balan's no-holds-barred performance as Bilqees Ahmed aka Bobby from an orthtodox family of Old Hyderabad. Defying conventions, she aspires to be a private detective, a profession dominated largely by males.
Throwing caution to the wind, she solves neighbourhood cases and dons a variety of get-ups such as a beggar, peon, hawker, a wimpy student and a fake TV content producer. Watching Ms Balan go for her role with utter relish was the silver lining in the otherwise dissatisfying product which failed to connect with both the critics and the masses.
ALIA BHATT in SHAANDAR (2015)
Directed by Vikas Behl, this romedy was a commercial disaster although it headlined Shahid Kapoor and Alia Bhatt. It's included in this list, purely because Alia - at that time was trying to cultivate the image of the New Pretty Kid on the Block - and still had the gumption to assent to a male act in the midst of the song-and-dance number Gulaabo. If anything, that moment was the only bright spark in an otherwise snorefest.