Chadwick Boseman gives his MTV Award to the Waffle House Hero
by Yash Saboo
June 28 2018, 4:33 pm
Estimated Reading Time: 2 mins, 35 secs
The 2018 MTV Movie and TV awards happened on June 19, 2018. Chadwick Boseman won the recognition of Black Panther fans and also won the awe-striking golden popcorn trophy for Best Hero. His performance in the record-breaking film was indeed deserving of the honour, but the actor had some other plans. He decided to use his time in the spotlight to appreciate a person he called his personal hero — James Shaw Jr.
Who is James Shaw Jr? I'll come to that. But first, I want to talk about one shocking incident dating back to April 2018. A man allegedly shot and killed four people at a Waffle House in Nashville, Tennessee, early Sunday morning on April 22, reported The New York Times. The suspect, who has since been identified as Travis Reinking, reportedly was only wearing a green jacket when he allegedly opened fire on the restaurant with an assault-style rifle.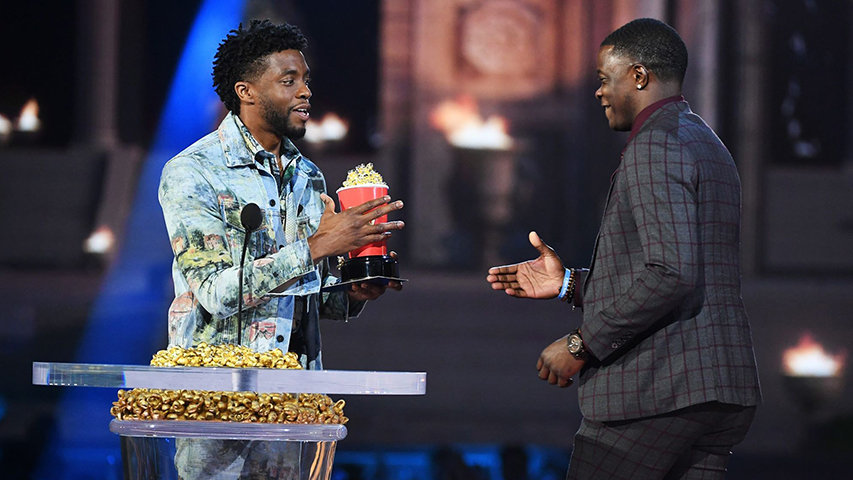 Goalcast
Eyewitnesses noted that the shooting could have led to further bloodshed if it weren't for one customer who reportedly took the gun away from the suspect. CNN reported that a man identified as James Shaw Jr. "rushed" the gunman before he fled. Metro Nashville police spokesman Don Aaron elaborated that James "actually wrestled that assault rifle away [and] tossed it over the counter," adding that the suspect left the scene shortly after their interaction. James, who was reportedly unarmed, is now being touted as a hero by police officials. Witness Chuck Cordero agreed, telling CNN: "Had that guy had a chance to reload his weapon, there were plenty more people in that restaurant."
In conversation with the Tennessean, James said that he doesn't feel like a hero. "When everyone said that (of being a hero), it feels selfish," he explained. "I was just trying to get myself out. I saw the opportunity and pretty much took it." Nevertheless, people on social media would disagree, as James has received a lot of praise online for his actions.
James Shaw Jr, now popularly known as the Waffle House Hero started a GoFundMe to help offset the cost of the victims' funerals, in addition to his act of bravery. His fundraiser has earned more than $200,000 in donations.
As Chadwick took to the stage to accept his award, he noted how "amazing" the honour was for his performance in the hit film. He continued, saying, "It's even greater to acknowledge the heroes we have in real life. So, I just wanna acknowledge someone who is here today... James Shaw Jr." He then invited Shaw Jr. to stand, and revealed that the "Waffle House hero" had "no idea" that Chadwick planned to acknowledge him.
"This is gonna live at your house," Chadwick told James as many audience members stood for a standing ovation.
Fans went crazy after Chadwick's heart-warming action. They noted their feelings about the moment, tweeting, "So much respect to Chadwick Boseman for giving his award to James Shaw Jr and recognizing his heroism" and "Chadwick Boseman acknowledging James Shaw Jr. and bringing him on stage and GIVING HIM HIS HERO AWARD is the greatest moment I've ever seen on television."