A Journalist and two Gentlemen: Farooq Shaikh and Parvez Dewan
by HUMRA QURAISHI
June 29 2020, 12:47 am
Estimated Reading Time: 5 mins, 45 secs
In the backdrop of actor Sushant Singh Rajput's suicide, Humra Quraishi is reminded of what two gentlemen, Farooq Shaikh and Parvez Dewan had once told her.
One of them, actor Farooq Shaikh, was a definite part of Bollywood and the other, Parvez Dewan, was a civil servant until he retired and today, he's a writer and commentator.
I had met and interviewed actor Farooq Shaikh twice.
Once in the 1990s and then around the year 2005. Both times Farooq Shaikh was at his out-spoken best. He never minced his words, nor diluted his views when describing and detailing the hard ground realities of Bollywood.
Farooq Shaikh lamented that there were no film producers like K Asif, Guru Dutt, Bimal Roy and Mehboob Khan sahib any longer – those men who had dominated the industry once.
He had said, "Mehboob sahib had no money yet his passion drove him to make films and, it's a fact that Bimal Roy lived in rented accommodation all his life. Also, it took M S Sathyu 20 years to repay the debt he took upon himself to make the classic, Garam Hawa."
He stressed that the level of commitment required to be a creative person of calibre was missing today. "The film producer of today simply goes by one fact, whether the film will be a box office hit or not. There are too many vested business interests involved. Successful film-makers in Bollywood have big budgets to make their films but lack sensitivity… cinema has become totally commercial, a commodity to be somehow sold."
Farooq Shaikh also talked to me about false perceptions that Indian Cinema continues to build on, "Community perceptions in our films have always centred around stereotypes; the Christian character is a girl dancing or wearing short skirts, indicating that she's a fast girl and a Parsee is shown blundering. The Sikh is either a soldier or eating parathas; none of the screen portrayals show him like a Manmohan Singh (former – then current - Prime Minister of India). In the case of Muslims, the characters are hardly believable. Why do they always portray a Muslim man wearing a lungi and a vest? Or as a gaddaar? It is mere tokenism when one among all of them will be shown to be patriotic; just so that the entire community is not misunderstood. The other stereotypes - 300 adaabs in one film and women wearing ghararas and cooking kormas - are also absent in an average Muslim household of today."
It was towards the end of the last interview when I'd asked him to name one filmmaker in present times who he could confidently say gave him hope. And, he was spontaneous in taking the name of Anand Patwardhan, "Yes, Anand Patwardhan has fought the system and fighting a system is not an easy task."
Parvez Dewan, a researcher and bureaucrat as well, delved deep into Bollywood portrayals when I spoke to him about his research. He is a retired civil servant - Indian Administrative Services Officer (IAS), Jammu and Kashmir cadre - who has not just authored several books but he has also penned lyrics as well as undertaken several offbeat research studies.
In fact, so intrigued was Parvez Dewan by certain portrayals, which he had been watching on the big and small screens, that around twenty years ago, he started collecting data around Indian media's representation of caste and religious communities in the country.
His research study was based on 786 Hindi films, 300 television episodes and another 300 commercials.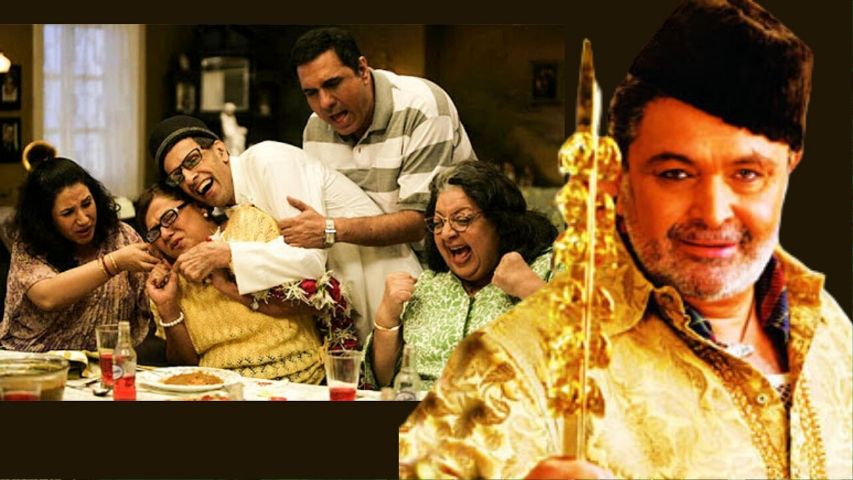 Among the many groups that had emerged, there were Sikhs, Christians, Muslims, Tamilians, Scheduled Castes and Scheduled Tribes, Sindhis, Marwaris, Parsis, Hyderabadis, Maharashtrians and the Chinese who had settled in India from a long time ago.
Dewan's findings have revealed that, in a great majority of Hindi films, Christian men are unattractive and invariably clutching a bottle of alcohol. They are also mostly portrayed as petty criminals against gang leaders who are practically always Hindi-speaking Aryan Hindus. This presumably signifies power.
A Christian man will rarely marry a high caste Hindu woman and when he does, the marriage will end in a disaster. On the other hand, Christian women are projected as fair skinned and generally with loose morals - smoking and drinking alcohol.
His findings further went on to concede that Muslim men are depicted in typically 'Muslim' attires. They are either old, handicapped, subordinate, sterile, impotent or homosexual. If they are not any of these, then they produce too many children.
Less than 20 percent of Muslims are portrayed as young men but even in this particular category they are depicted as backward and as fundamentalists - mazhab ke pakke - so much so, that many of their introductory shots begin with them offering namaaz.
Also, in all romantic affairs between a Muslim, Scheduled Caste, Scheduled Tribe or Christian girl with a Hindu boy; it is the girl who is chasing the boy and not the other way round. On the other hand, it is also true that some Muslim film producers and directors have portrayed prostitutes and 'fast' women as chaste Hindus.
Some Muslim producers and directors, namely; Nadiadwala, Mehboob Khan and K A Abbas have also portrayed upper caste Hindus oppressing lower castes. Parsis are invariably shown and portrayed as silly and old. The Chinese who are settled in India are usually evil and they're shown to be gangsters.
Dewan's findings have also focused on biases that weren't limited to religious minority groups and include the non-Hindi belt.
By and large, except for the Hindi-speaking Aryan caste Hindus, nobody seemed to have been spared. And, even in this category, the Kayasthas and Kshatriyas are safest in hierarchy.
On the other hand, depiction of Tamilians across the media was perhaps the worst; for they were not only referred to as 'idli dosa type', but of late they are being shown as dons.
Dewan argues that this is factually incorrect, as his survey establishes, that a great majority of dons and bootleggers were neither Tamilian Hindus nor Tamilian Christians and Muslims.
His findings have also brought to focus that:
Sindhi's and Marwari's are largely projected along stereotypical lines
Scheduled Tribe women are being depicted to be desperate to get married to the high caste Hindu heroes
While the Scheduled Tribe women are portrayed as clean and forever bathing at river banks, their men are shown to be unattractive and dark skinned
Hyderabadi's were invariably portrayed as clowns and made the butt of many a joke
Maharashtrian were shown either as domestic help or police inspectors