Mother Nature adds to the woes of the Sex Workers
by Yash Saboo
March 19 2018, 5:09 pm
Estimated Reading Time: 2 mins, 45 secs
Bangladesh, home to over 160 million people, was the sixth most affected country by global warming between 1997 and 2016, and scientists calculate that more trouble is to come. A three-foot rise in global sea level, which the United Nations projects will happen by the end of the century, would submerge almost 20 percent of Bangladesh and displace more than 30 million of its citizens nationwide. To add to this, the country also has to contend with river erosion, which annually displaces between 50,000 and 200,000 Bangladeshis.
Now, climate change affects each and every human being on this planet. The rapid change in climate has lashed Banishanta, a legally approved brothel in the southern part of Bangladesh. According to its older inhabitants, some 1,200 women lived and worked at Banishanta during the early 1950s when Bangladesh was still East Pakistan. But since then the brothel has been battered by cyclones and inundated by floods. Sex workers who didn't die in these storms moved to safer inland brothels while large parts of the island continued to disappear into the Pasur due to river erosion. At the end of 2017, there were only 105 sex workers on the island.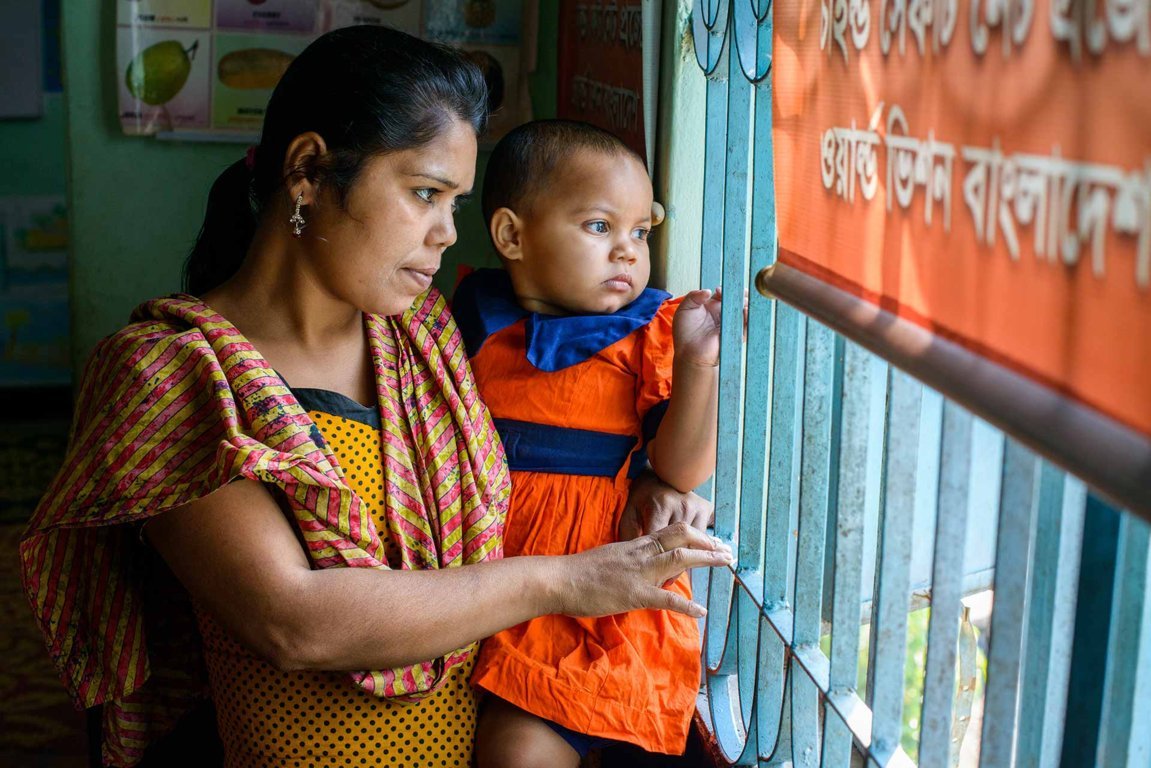 Source : World Vision
During the start, Banishanta was very sprightly with mid-night party, live songs, and dances for the surge of domestic and exotic clients of its sex workers. The sex workers in the Banishanta island had long been struggling with social stigmas and prejudices for adapting prostitution in a Muslim-majority country. Although they were isolated from the mainstream community of southern Bangladesh for decades, nothing could throw them out from their inhabitants. Things have changed now.
River erosion washed away more than half a kilometre land on the wombs of the Poshur river where sex workers had been dwelling from the establishment. Rising level of salty water for the reason of climate change has created another threat to the livelihood of the island.
Sathi, 55, a sex worker of the Banishanta who had been dwelling in the area since 1980 said: "Water level of Poshur has been increasing in awfully from the beginning of the twenty-first century that's forcing us to be relocated every year. But it could not happen when I came here in 1980."
"Many sex workers died in the devastating cyclone of 1991 and rest of them resettled in other brothels as most of them lost shelter due to river erosion," she added.
Livelihood in twenty-eight coastal districts of the country is fighting against the impacts of climate for a long like Banishanta. According to experts, continuous speed up of the climate change is dramatically evaporating traditional livelihood in 28 Coastal districts in southern Bangladesh.
Climatic disaster-prone people are being migrated to embrace floating urban life as the environmental sources of livelihood are being shut down. Researchers in coastal areas are experiencing severe calamities, they merely had found in their observation even before two decades, like extended rainy season, river erosion, increasing water level, and salinity of drinking water in the coastal livelihood that is forcing people to be migrated.
Earlier, when the business was booming, there was not much time left for the sex workers to think about the money they make in a day. But now that things have taken an ugly turn they have to think about the environment that's affecting them first. Money comes second.