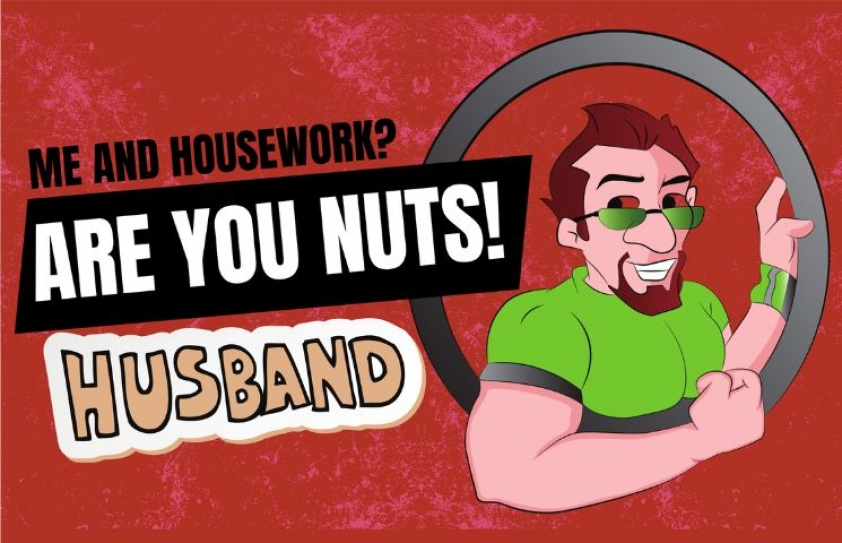 "ME & HOUSE WORK? ARE YOU NUTS ???"
by Monojit Lahiri
December 8 2022, 12:00 am
Estimated Reading Time: 5 mins, 45 secs
Monojit Lahiri zeros in on the pampered Indian male. He asks, "Is Incredible India really all that incredible? Is Mera Bharat Mahan a reflection of all that is truly mahaan? Is Achhe Din actually on its way?"
The realists don't seem too convinced. Despite impressive economic growth - booming sensex and hi-decibel celebration of woman power (in the workplace and positions of authority by the media across fora, seminars and national and international meets) the sad fact is that rigidly-rooted-in-tradition stereotypes still rule, making resurgent India appear to be in a state of perpetual confusion and transition - whichever came first!
This thought was startlingly pointed out to me by my 28 year old Delhi-based nephew, recently married. He said that when he casually mentioned, at an informal get-together at a colleague's home, that he often helps his wife with the housework (shopping veggies, helping with the dishes, even baby-sitting), it was greeted with deafening silence… and some "funny looks". Having studied and lived abroad in his student life, he found it natural and no big deal - especially when married.
A friend, taking pity on his "angrez and phirang" outlook, gently took him aside to remind him that, "Oh Darling, this is India where these, traditionally assigned roles 'belong to Mom, wife, sister and women-folk of the parivar', so just chill. Haan, kabhi kabaar kuch kar liya, theek hai, lekin don't overdo it, boss. Strictly their territory! Besides, the New Indian Woman is a whiz at multitasking, so tu mast rehna yaar… tension kyun lete hain? Relax!"
A recent Nielsen India survey covering Indian households found that over two-thirds of Indian women felt 'pressurized' by their dual-existence while their menfolk did exactly what my nephew's smug, chauvinistic friend advised him to do - relax! Across Mumbai, Delhi, Chennai, Hyderabad and Bangalore, the same sorry sentiment echoed. Ironic when one considers that never before had India gone so pro-active and aggressive on bridging the gender gap in the corporate world, opening up new areas of challenge and opportunities. And, never before had women zoomed up in top positions with big bucks, often racing past their partners, contributing substantially to the ghar-ka-kharcha and more and yet…
What is the reason behind this apathy, laziness, indifference, a determined and studied blank when the H word comes into play? Why this shock and surprise at being asked/requested to lend a helping hand to the overworked biwi? Behavioral Scientists put across several reasons, first of which (hardly original!) is conditioning.
Mere Paas Maa Hain continues to resonate so powerfully for the Indian male largely because it conforms to the much-revered gender stereotype, which rates boys over girls, making them 'Mamma's Boys for Life' - consciously or at a subliminal level. Their role in the family structure from day one is clear-cut and most certainly does not include housework!
The waters are further muddied by a part of the blame lying in the woman herself! Cross-current of forces continue to shape and control her domestic equation with the male. She can't dream of him getting involved with "Jhadoo, kapda, bartan – yeh to aurat ke kaam hai! Achha nahi lagta mard yeh sab kare". The Home-maker's blueprint and space also appears to be usurped and threatened, and that is not acceptable. The occasional foray into her world is okay but "mein to definitely nahi chahungi that my kids say Papa is a better cook than Mama!" Then of course, there is the Pati's utter disbelief at being asked to join forces in household chores. Admits a hard-core chauvinist "I can't dream of entering the kitchen or negotiating with the sabziwala, dhobi or whatever… never seen my father or chachas ever do it, boss. Strictly Ma-Biwi-Bhabhi female territory. Besides, women themselves ridicule, tease and mock us if we, even galti se, attempt to help."
This (shocking?) old-school mindset still prevails in 2020. Amit Bharucha, a Mumbai-based House-Husband who voluntarily chose to stay in to look after the two kids, aged 6 & 4, and household while his high-flying Banker wife was busy at the office, says, "I continue to be at the receiving end of endless barbs, saucy comments and wisecracks. On the one side, friends and relatives are constantly badgering my parents about how I've reversed the roles of husband and wife and created history! Close pals, with nudge and wink, enquire in mock-seriousness if women-on-top is really so hot that I've fallen flat! Others wonder how, as a superior male I can bear to hang around the house doing stuff, wives are meant to do, instead of doing my number in the office? Don't I feel reduced as a male, and inferior? Is this normal or natural? My answer to all these dumb, antiquated, ignorant and sexually regressive questions is simple and same: Division of labour in today's world cannot and should not be gender-based, be it America or India. It is about being grounded, understanding realities and circumstances, consciously choosing a role and taking it through with passion and purpose, with total tolerance and zero ego-clash".
There is another aspect, in addition to Bharucha's brilliantly articulate and liberated retort to the fatigued and clichéd posers: the Pati Parmeshwars fall from grace due to the lack of age difference. Earlier, point analysts, there would be a huge difference of age between husband and wife, ten years was normal. This would create an implicit sense of superiority. Today's Patis are frequently either the same age or at best, marginally older. So, to this young couple, friendship is the name of the game.
However, while things are changing, some habits die hard, and the reason is simple. As one of the cavalier chauvinists declared flamboyantly, there is no reference to context regarding role-models of men doing housework. No father, uncle or elder brother ever was required, or asked, to lift a finger in earlier generations.
Then there is the perception of female roles being played out by males, where notions of masculinity and office go together. Finally, until Indian society is willing to whole-heartedly engage and embrace the true worth of the role and importance of the new woman, and reach out, in thought, word deed, to partner her in the journey of life, the sad state of false 'mardangi' will continue.
However, all is not lost. Another survey carries an illuminating report that states: 83%, of this very dynamic and progressive new woman, wants their sons to help their life partners with chores when they grow up! Boooo to the 17% - and Yaaaaay to the agents of change!