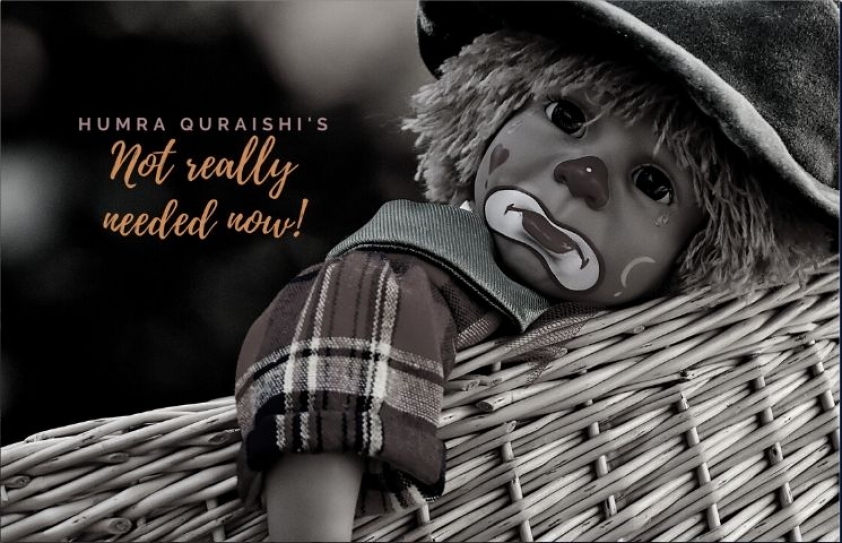 Not really needed now!
by HUMRA QURAISHI
June 13 2020, 10:01 am
Estimated Reading Time: 10 mins, 57 secs
Why talk about the past… why talk of the future. Who knows what more is there… yet to be seen! - Humra Quraishi
The interiors of the garage stood dark, somewhat suffocating with a peculiar smell that had overtaken.
And when the Baby Hindustan car had to be sold, several people knocked on our front door; desperate to accommodate themselves in the garage.
A tall Afghani woman stood near the front gate.
She stood out, with her three young children standing close to her... getting still closer to her as she started pleading, 'Would do any work. Clean, sweep floors… my children are dying in this heat of Hindoostan. This roof will save them. Please… have some mercy on us!'
She needn't have uttered a word. Her eyes conveyed much more.
And just as she stared, with that look of sheer desperation in her eyes, we opened the creaky doors to our garage. 'You'll be asking for some rent? No money with me. I work as a maid to feed ourselves.'
'No, no rent. Just clean the floors, throw the garbage and …'
'Will do this early in the morning before going to two other houses.'
'Whose?'
'Kamaal and Kareem sahibs' big houses on the main road.'
'On Park Road?'
'Yes, yes…They're very big exporters of human beings and…'
'What!'
'They send so many people from here to there… from one country to the other.'
'They got you from Afghanistan?'
'No, no. We have come running… we reached here somehow… to your Hindoostan'
'You and your husband?'
'He's not with me. Not anymore.' In the same forthright tone she'd blurted out some more, 'I've come running with these three, from our land to your land, when my son was killed in a big attack.'
'Killed! Where?'
'In our Afghanistan. Killed by those foreign soldiers, they're going crazy killing… so many killings by those soldiers.'
'They killed your son?'
'My first born… my son was shot dead by them, in front of my eyes! Couldn't protect him… I cried and cried and looked at the sky and shrieked! And then, I buried my child…. Yes, I buried him. Wrapped his body in a sheet, lowered it in a grave. Then started running with these three, reaching here with great difficulty… so many difficulties that I can't even describe.'
'Your home?'
'Ruined… destroyed in those attacks.'
********
Within minutes the narrow passage leading to the garage filled with cheerful screams, as Marium and her three young children moved in. And before the sun could set, she took to clearing the entrance, wiping the grills, dusting the doors, sweeping the floors as well as collecting the garbage heaps.
A routine she seemed to follow, day after day.
Not once getting swayed nor affected by mood swings or by cold-cough- influenza attacks. At the crack of dawn a twisted pan would be placed on the gas stove. Whilst water boiled for chai, she would start cutting and chopping potatoes and tomatoes and some other tarkari for the curry.
Over with that, she would enter the verandah and the bedrooms of our home, with a large broom tucked in her hands.
The gentle swish - swash denting the very monotony…
By the time we would be fully awake and could interact with her, she'd be rushing out of the house.
Brushing aside queries about turmoil in Afghanistan.
Or about the upheavals in her own life? 'Why talk about the past… why talk of the future. Who knows what more is there… yet to be seen!'
She would head back to the garage to feed her children before venturing on. Returning late, looking visibly exhausted but not squatting in some corner. Cooking, cleaning, teaching her children in one of those ongoing ways. Rolling rotis in different shapes, coming up with names of fruit and flowers, birds and animals. Or else, singing a verse or two, reading out fairy tales, one after another - from old books, which we had given to her. And, for some strange reason one particular fairy tale distracted me to such an extent that till date it remains implanted in my mind.
In fact, even her children looked attentive as she told them how Bibi Birdie - mother of seven pigeons and the prime character of this tale -flew away, never to return.
And as she narrated details of the baby pigeons flying across oceans and mountains, searching for their lost mother, her children would look tense, till she'd muttered assurances and reassurances, 'I'm not a pigeon mother! Me not flying away. I'll always and always be here with the three of you.'
********
The window of my room used to face the garage.
And I'd be so engrossed following activities of this family, that I failed in the mid-term tests.
But those distractions didn't lessen, as I would sit staring at this family's uncomplicated ways of trying to survive against all odds.
Until one evening, when all commotion broke out. A huge clumsy looking Afghan stood at the entrance of the garage.
He stood there, stubbornly unmoved, even as she screamed, 'He… he my husband! He's here to snatch away my baby… take away my Mehtab. He's running to that foreign land… he's going to Amreeca!'
Before we could sabotage his intentions, he thrust a knife at us. He grabbed the child and rushed out, towards the outer road.
Marium uttered incoherent half-sentences, beat her chest, cried out all too hysterically. But even in that condition she vetoed all suggestions made to her to call the cops.
'No, no. He's very dangerous. He'll attack… he's too dangerous!'
'Policewallahs will catch him.'
'They'll shoot. He will shoot! My child will die. Seen nothing but killings all my life... She's gone… My child is gone! My child! Don't know what's for her in her fate!'
The next morning her two young sons, Momin and Mohsin, stood outside the garage, looking frail and forlorn.
And she lay near-lifeless inside the garage. Pleading with us to contact the office of Kamaal and Kareem.
*******
Two men arrived from that office.
She read out three- lines from her handwritten will: 'My two sons, Momin and Mohsin, to go to Amreeca. They'll do any work… wash, clean, dust. Send them there.' And whispered an additional two lines to her bewildered looking sons, 'Sending you both to that foreign land, so you both go searching for your sister. Find her… look after her… see no harm comes her way. Go… time to go!'
She had died that same night.
And as her sons were being taken away by exporters of humans, they murmured to us, 'Did we trouble our mother? Did we? She's gone like Bibi Birdie!'
And, from the day that she had died , the garage and the patch around it didn't seem vacant, but as though Marium's spirit lurked and hovered around there; restlessly in those shadows.
Until again, one morning, when an ageing man knocked on the front door of our home, asking about her and her children.
'Are you Marium's father?'
'How can a commoner be her father! Her father has been trying to trace her for months and months. He was living in exile in Qatar. He's too old to travel so he has sent me. Some sources informed us that she was last seen here, in this house.' Then he looked around as though searching for her, 'Where's she, where are the children? She has to go back to her father.'
'She died. Her husband took away the youngest child and the two boys were sent to America.'
'To America! Can't be! Impossible! How could she send her children to America! Of all the places, to that land! No, no… impossible! She couldn't have! Impossible to believe this!'
'She sent the boys to search for their sister, after her husband fled with Mehtab to America.'
'Stop this useless tale! This is terrible rubbish! What will I tell her father? To go tracing his grandchildren in America! Tell me where they are in America… which place, which city?'
'Those exporters would know… we can go there?'
'Now and immediately.'
********
The exporters' office stood out.
What, with gold and silver painted exteriors. The multi-coloured board 'Kamaal & Kareem' gleamed, as did the gold toppings atop their teeth.
Teeth through which passed stale breath and staler words.
'Which two children! Afghani children! We export hundreds. Children are children .Whether from here or there.'
'Their mother Marium worked in your homes… the woman who cleaned your houses, who'd sent her sons to America, to… '
'We're packing off so many children and men and women… can't remember so many details.'
'But this was only last month… we called, spoke to you and your two office fellows came to our home to take her sons and send them to America the very next day! Where are they? In which city?'
Whilst Kareem poked toothpicks into his bleeding gums, Kamaal swayed his neck, like a rusted pendulum.
Just then a bizarre sight arose.
Across the outer lawns to the office, Marium's sons, Momin and Mohsin, sat hunched in the sun, each with a broom in his hand.
When confronted, the two exporters lisped, 'Clones of those Afghan boys! '
'Clones… what nonsense!'
'We're off to a meeting… No time for useless arguments… Have to send another consignment of human limbs… er, beings!'
And as they walked out of their gaudy office, the polyester trousers on them went swish – swash - swish – swash! Swish-swashing all the way!
As though Marium's broom or its clone in action. As though beating them. Whipping them. Hitting their souls.