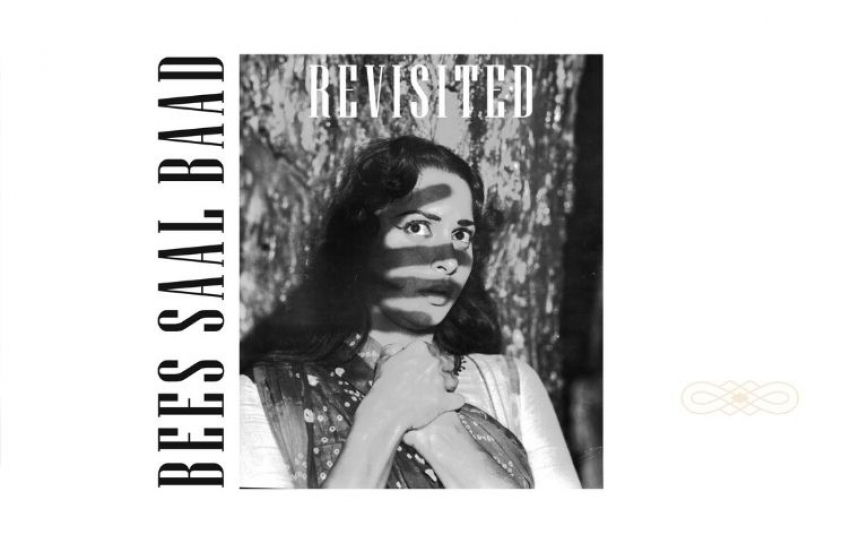 Bees Saal Baad Revisited
by Dhruv Somani
May 23 2021, 12:00 am
Estimated Reading Time: 6 mins, 50 secs
Film historian Dhruv Somani, rewinds to the classic chiller, which continues to enthrall viewers of all generations, ever since it was premiered in 1962.
We often wonder what it is about the horror and thriller genres, which make us feel edgy and afraid and yet so many of us are addicted to them. Why do, such tropes like the sound of anklets, a woman warbling a haunting song in the wilderness, the thickening mist, and the swaying stalks of grass continue to fascinate us?
Plus, there's the howling wind, swaying chandeliers in a ramshackle mansion, and a lone lamp post casting faint glow at a forgotten railway station, not to forget a sinister old caretaker carrying a lantern and that sudden shriek followed by the fearsome hand of the devil, known in Bollywood parlance as the 'khooni panja'.
All these elements were highlighted in the classic Bees Saal Baad (1962), directed by Biren Naug, starring Biswajit, Waheeda Rehman, Madan Puri, Asit Sen, Manmohan Krishna and Sajjan. Although Kamal Amrohi's memorable Mahal (1949) had also ventured into the same terrain, perhaps it was way milder in keeping with the temperament of the late 1940s.
The debut-making director Biren Naug elevated the genre taking it to a different level. Bees Saal Baad was publicized as a horror film but on closer analysis it is a suspense thriller. The film was inspired by Arthur Conan Doyle's Sherlock Holmes widely read story, The Hound of the Baskervilles, which had already catalyzed the Bengali film Jighansha (1951), directed by Ajoy Kar, starring Biren Chatterjee, Manju Dey and Kamal Mitra. Biren Naug who was the art director of Jighansha used the original screenplay and developed the story and included songs to suit the demands of the Hindi film market.
Launched under his banner of Geetanjali Films (initially known as Hemant-Bela Productions), the black-and-white Bees Saal Baad was produced by music composer Hemant Kumar. The narrative revolves around Thakur Kumar Vijay Singh who has returned from London to claim his legacy at Chandangarh. He is welcomed at the deserted station by Dr. Panday who wears strange shoes. Both of them are unaware that a scary, one-eyed sinister man is watching them.
En route to the ancestral property, Dr. Panday warns Vijay Singh to stay far away from the marshes, regarded as 'unlucky' since his ancestors were killed there. The London-returned Vijay, dressed in a long overcoat and a hat, doesn't believe in such things but is determined to find out the identity of the killer who according to the villagers was a vengeful ghoul.
On reaching the mansion, Thakur Kumar Vijay Singh is introduced to the only remaining servant Laxman (the others ran away due to the spooky stories about the mansion). Kumar tries to extract some information from Laxman whose neck is always tilted to one side. He tells Vijay that his family is cursed due to the sinister crime committed by his grandfather. A girl he raped had committed suicide. Now, her spirit was thirsting for vengeance.
Vijay dismisses the story as baloney but is suspicious of Dr. Panday who will inherit the wealth and property after his death. He also has doubts about a mysterious crippled man, Mohan Babu, who is often seen roaming around in the jungles nearby. Vijay also comes in contact with the vivacious Radha, the niece of the local vaid - Ramlal. Radha is mischievous but Vijay fools her by pretending to be deaf and dumb. Inevitably, they fall in love.
Next, a dead body wearing Vijay's overcoat, is found in the marshes. Initially, the body is presumed to be his. Undaunted, our hero sets out to investigate the reason behind the killings in the marshes. For a touch of comedy, enter detective Gopichand who has arrived in Chandangarh in pursuit of the reward announced for anyone who tracks down the mysterious killer.
Bees Saal Baad introduced Biswajit Chatterjee, already a popular actor in Calcutta, to Bombay cinema. Hemant Kumar had been impressed by his performance in the Bengali play staged in Calcutta, Saheb Bibi aur Golam, in which he played the character of Bhootnath, also enacted by Guru Dutt in Saheb Bibi aur Ghulam (1962). Such was the impact of Biswajit as Thakur Kumar Vijay Singh in Bees Saal Baad that he was lionized as a suspense film hero in Calcutta. His trademark overcoats and boots, with an errant curly lock of hair on his forehead became a fad of sorts.
Subsequently, his pencil-thin moustache fetched him roles of aristocratic Thakurs and rajas in Bin Badal Barsaat (1963) and Kohraa (1964). Waheeda Rehman's performance as Radha was impressive, with her eyes conveying her innocent, pleasant nature. A taut screenplay by Dhruva Chatterjee kept the surprise element going strong right till the climax. Bees Saal Baad, released at Bombay's Imperial cinema, became the highest grosser of 1962.
Biren Naug, then, launched Sharmilee starring Uttam Kumar and Waheeda Rehman. However, Uttam Kumar backed out of the project at the last minute. Biswajit replaced him and the project was retitled Kohraa (1964). Hence his successful pairing with Waheeda Rehman was repeated once again.
Hemant Kumar continued with his film productions: Biwi aur Makaan (1964), Faraar (1965) and Khamoshi (1970). He attempted to re-do the suspense thriller formula with Bees Saal Pahele (1972), introducing his son Jayanta Mukherjee as Ritesh in the lead role opposite the Marathi heroine, Anupama supported by Farida Jalal, Ramesh Deo and Padma Khanna. Even though it had some great songs, which are rare to find, it crashed at the box office.
Bees Saal Baad also became popular because of its music composed by Hemant Kumar and is considered to be one of his top three best scores besides those of Saheb Bibi Aur Ghulam (1962) and Khamoshi (1970). The most popular song of Bees Saal Baad - Kahin Deep Jale Kahin Dil was a thematic motif which was heard four times over, with the last one consisting of just four lines sung by the composer himself. At other points, it is heard in the voice of Lata Mangeshkar, who effectively conveyed the anguish of a wronged woman. Lata Mangeshkar's voice was powerfully effective as the alienated wail of a woman wronged and unable to leave the moor.
Interestingly, the three antaras of the song have separate themes. The antaras "Mera Geet Mere Dil Ki Pukaar Hai" and "Na Main Sapna Hoon Na Koi Raaz Hoon" are interpreted as a plaint to a beloved, while the last one "Dushman Hai Hazaron Yahan Jaan Ke" cautions the beloved that there is a threat to his life in the marshes.
Incidentally, this song came after 13 years of Aayeega Aaane Wala from Mahal and surpassed its popularity in the repertoire of haunting melodies by Lata Mangeshkar. That's quite another story since Lata Mangeshkar might not have recorded Kahin Deep Jale Kahin Dil at all. Suffering from a bout of sinusitis and asthma, the melody queen had stopped playback singing for a while, since she was afraid of losing her voice. It was after a long wait that Hemant Kumar convinced her to resume singing, and the track was finally recorded on 13 June 1961. The other songs, Beqaraar Karke Hamein, Sapne Suhane Ladakpan Ke and Zara Nazron Se Kehdo Ji all went on to become chartbusters on the Binaca Geetmala and are hummed to this day and age.
Bees Saal Baad won the Filmfare Award for Shakeel Badayuni for the Best Lyricist for Kahin Deep Jale Kahin Dil, Lata Mangeshkar for the Best Playback Singer again for Kahin Deep Jale Kahin Dil, Keshav Nanda for best Editing and S.Y. Pathak for the Best Sound Design, which had the audience literally jumping out of their seats.
Eventually, Raj Khosla's suspense trilogy Woh Kaun Thi (1964), Mera Saaya (1966) and Anita (1967), all featuring Sadhana as the woman of mystery, carried his own individualistic stamp. Yet, there's no denying that Bees Saal Baad paved the way for the movies, which whipped up so much tension and throb, that it remains a favorite, cutting across viewers of all generations, today on the OTT channels including Prime Video.