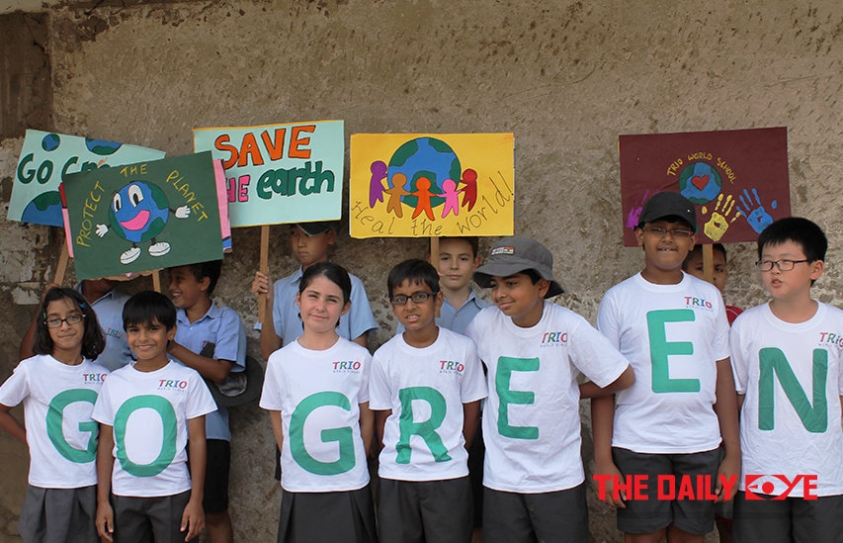 Tomorrows Citizens take Matters in their Hands Today!
by Yash Saboo
December 4 2017, 7:55 pm
Estimated Reading Time: 3 mins, 33 secs
Louisiana has been losing coastal wetlands since at least the 1930s, but the long-term rate of land loss has slowed since its peak in the 1970s, and U.S. Geological Survey scientists have recently found a further slowing since 2010. "The lack of a major hurricane strike since 2008 is probably the main reason we've seen a decrease in the rate of land loss," said USGS research geographer Brady Couvillion, the lead author of a new report on land area change in coastal Louisiana, "although ongoing government and private efforts to conserve the state's coastal wetlands are also a contributing factor."
Instead of waiting for the state and federal bureaucracies to funnel resources into the area - which could take years, if it happens at all - a group of designers, philanthropists and teachers have stepped up. They recently founded a high school with the mission of educating students across disciplines, while preparing them for potential careers in coastal preservation and restoration.
With classes, exams, and busy schedules, being environmental-friendly isn't exactly at the top of every college student's to-do list. But going green isn't as difficult as you might think. It only takes a few simple changes. The best part is that you'll be saving more than just the planet; you'll be saving money as well.
Educators at New Harmony High (NHH) will equip their students with the knowledge and skills to engage in local projects that address current ecological concerns while seeing to it that they meet state-wide education standards. They have also put up a 60-page proposal for bringing in 45 high school freshmen for the first time by fall 2018, and they can expect to dive right into some very different learning scenarios.
When it comes to saving the environment, high schoolers and college goers in India aren't any less.
One such example of students being involved in saving the environment was of 120 volunteers from Rotaract Club of HR college, UPG, Salaam Baalak Trust, Mithibai College, Thadomal Shahani College and Chetna College joining in the cleaning drive of Juhu beach, Mumbai, one of the dirtiest beaches of the world. They collected tonnes of garbage, mainly black plastic bags and coconut shells.
Basic tips that would help a teen contribute to saving the environment starts from a simple method of recycling. Just think about how many cans and glass bottles you threw out after that ragin' party you had last night. What if you had recycled them? Next up, go vegan. By cutting down your meat intake, even just a little, you can save energy as it takes gallons of water, grain and gas to produce only a pound of meat. Get out of the comfy blanket every now and then by switching off the AC. We all need ACs turned on to 16 degrees every time we walk in our rooms, right? How about opening up the windows instead? This will not only reduce the carbon emission in the environment but also reduce your electricity bill amount.
Also, The Little Directors Program started by Children's Film Society of India in association with Asian Centre for Entertainment Education (ACEE) The Third Eye, is an initiative for children, to engage them in making their own films- right from the stage of ideation, scripting, acting, directing and shooting etc. "We offer them the platform of a film festival and they can compete. We provide these kids the platform to showcase their finished product," said Shravan Kumar, CEO, Children's Film Society of India.
Their endeavour aims at getting the views of the children reflected in these films. Children were equally disturbed by the condition of the environment and expressed their fear regarding the future of the planet. The gravity of the matter has been brought forth by beautiful, 3 to 5-minute short films on the issues concerning Water & Sanitation and Gender, specifically related to Swachh Bharat Mission.
The tomorrow's citizens of our country are fearful and mindful of the reality that today's citizens will leave them in and they are taking control of the situation slowly and we hope a gradual change in the near future will help save our environment.